BTWF: Joaquin Phoenix in Superboy
May 28th, 2020 under Before They Were Famous, Joaquin Phoenix. [ Comments: none ]

Before Joaquin Phoenix was the Joker, he dressed as Superboy. How cute was 14-year-old in that 1989 episode?

---
Did Jimmy Kimmel get revenge on Joaquin Phoenix for David Letterman?
October 2nd, 2019 under Batman, Jimmy Kimmel, Joaquin Phoenix. [ Comments: none ]

Last week, there were rumors that Joaquin Phoenix was so in character on the set of Joker that he was hard to work with. Of course, no one would go on record about it.
Yesterday, when the actor was on Jimmy Kimmel Live, the ABC host asked him what it was like working on the film. He said it was a "light set" and director Todd Phillips "is really funny." Then he added, "I feel almost guilty but we had a really good time."
Kimmel then told his guest that was "interesting to hear" because Phillips sent the show an outtake of Phoenix bitching out the cinematographer Lawrence Sher. Since you cannot just say something like that and not show the clip, they showed the clip.
When the rant ended, Phoenix seemed to be embarrassed that that private video was shared with the show and the show, in turn, shared it with everyone. After stumbling to find the words to express his reaction to it, he finally apologized to Sher. However, he said that Sher was at fault for whispering a lot causing him to lose concentration and the mood he created for his character.
Since this is Kimmel and Phoenix, I am not sure I believe this video was real. It would not surprise me if they faked it to make people sympathize with him so he can be the second actor to win an Oscar for playing the Joker. What do you think?
Also, do you think he is starting to look like Mel Gibson?

---
Joker seems more about a suicidal comedian than a villain
August 28th, 2019 under Batman, Joaquin Phoenix. [ Comments: none ]

There is a new trailer out for Joker and I never thought Joaquin Phoenix could do anything worse than I Am Here. Turns out he can.
This movie looks more like one of those boring independent films that gets Oscar buzz, than a film about the notorious comic book villain. Thankfully, it is not kid-friendly because it would forever ruin the perception we have the Joker.
He is the Joker, not the Tear Jerker.
Are you going to see it on October 4th?

---
Joker makes Pennywise look like a circus clown
April 3rd, 2019 under Batman, Joaquin Phoenix. [ Comments: 1 ]

The first trailer is out for Joaquin Phoenix's Joker and it looks more like a depressing independent film that is just gunning for an Oscar instead of a movie about one of the most notorious villains.
I hope that this movie is such a bomb that DC Universe realizes they need to stop make superhero movies like this. They need to do more films like Shazam and Aquaman.
Who wants to see the Joker be a depressed man on October 4th? He is evil not someone who needs to be on antidepressants. Heck, it looks so depressing, it will make us want to take antidepressants or up our doses.

---
How do you like Joaquin Phoenix's Joker?
April 2nd, 2019 under Batman, Joaquin Phoenix. [ Comments: none ]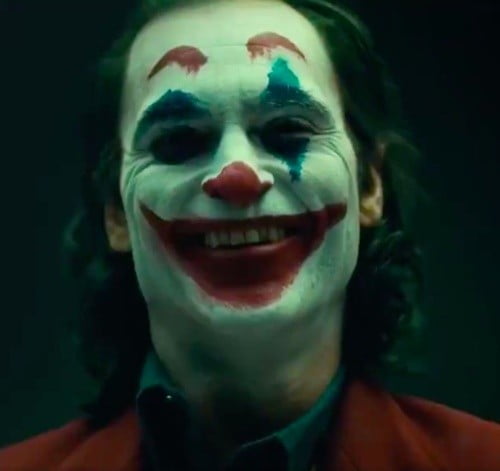 Warner Bros released the first photo of Joaquin Phoenix as the Joker and it is a joke, right? I mean why can't they put on his makeup evenly. Why does he look like his 2-year-old put it on? Hopefully, the movie will be better than he looks, but I highly doubt it.

---