How do you like Joaquin Phoenix's Joker?
April 2nd, 2019 under Batman, Joaquin Phoenix. [ Comments: none ]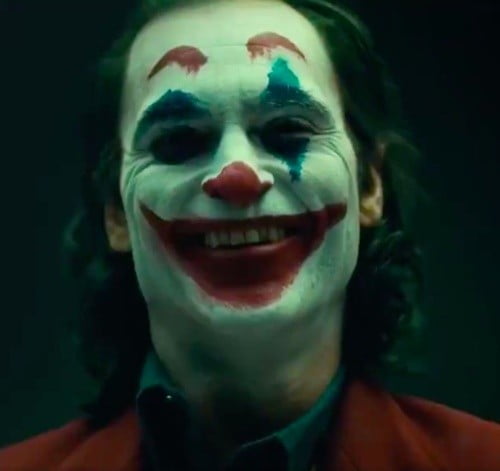 Warner Bros released the first photo of Joaquin Phoenix as the Joker and it is a joke, right? I mean why can't they put on his makeup evenly. Why does he look like his 2-year-old put it on? Hopefully, the movie will be better than he looks, but I highly doubt it.

---
Joaquin Phoenix gets his Joker's face
September 22nd, 2018 under Batman, Joaquin Phoenix. [ Comments: none ]

On Sunday, we got to see Joaquin Phoenix as the Joker before he was the villain. Now we are getting to see him after he becomes the notorious Batman bad guy for Warner Bros.
I don't know about you, but it does nothing for me. It doesn't scare me or make me like him. But I am not the target audience because I cannot stand the new DC Universe movies.
What do you think of the latest look for the iconic character?

---
The Joker without his makeup
September 16th, 2018 under Batman, Joaquin Phoenix. [ Comments: none ]

We know that Joaquin Phoenix is starring in a film about The Joker's origin, but we do not know what he will look like in it. Today, Director Todd Phillips shared the first photo of his villain.

What do you think of "Arthur"? To me, he looks just like how Phoenix has looked in his last few movies, so I do not see any difference.

---
Joaquin Phoenix is a Joker
July 10th, 2018 under Batman, Joaquin Phoenix. [ Comments: none ]

After months of rumors that Joaquin Phoenix is going to star as The Joker in an origins film, Warner Bros confirmed today that it is a go today according to The Hollywood Reporter. No word when the Todd Phillips directed film will be coming out, but it is slated to begin filming in September.
What about Jared Leto's Joker from Suicide Squad? That feature is still in the works. Because what does Hollywood need more of? They need more movies from DC Comics and Marvel. Says fewer and fewer moviegoers.
Back to Phoenix as The Joker, I think it is a bad choice. Ever since his stupid stunt for a movie that totally sucked, I lost all respect for him. He is crazy enough to play the villain but he does not have the same charm as Jack Nicholson and Heath Ledger who have also played the iconic role.

---
David Letterman knew what Joaquin Phoenix was doing ahead of time
August 17th, 2017 under David Letterman, Howard Stern, Joaquin Phoenix. [ Comments: none ]

One of the most memorable interviews ever to happen on late night television was when Joaquin Phoenix went on The Late Show as his rap star alter ego and gave David Letterman his most awkward sit downs. Yesterday, when the TV host was on Howard Stern's radio show the Shock Jock wanted to know if he knew that was going to happen. Letterman told him, "I knew what he was doing ahead of time." Did he enjoy it? He said, "I did enjoy it because it was like getting your work in on the heavy bag. It was easy. It was batting practice." And with that that whole moment was ruined.
But it does not stop there, Letterman also admitted that he knew Jerry Lawler was going to punch Andy Kaufman during that shocking confrontation. He revealed that the late brilliant comic always let him know what he was going to do on the show beforehand.
Just like wrestling, late night TV is fake and my bubble has been busted. I am so sad.
But what makes me happy is listening to the full interview where Letterman held nothing back about his life in late night television like how crazy the publicists are and so much more.

---