The Love Boat cast meets The Real Love Boat one!
October 24th, 2022 under CBS, Jerry O'Connell/Rebecca Romijn, Jill Whelan. [ Comments: none ]
In case you missed it, CBS brought back The Love Boat as a dating show starring Jerry O'Connell and Rebecca Romijn as the hosts.
Over the weekend, the crew from The Real Love Boat met the cast from the scripted series. So we got to see Doc (Bernie Kopell), Gopher (Fred Grandy), Isaac (Ted Lange), Julie (Lauren Tewes), and Vicki (Jill Whelan) together again.
They all look so amazing; I don't know why they are reprising their roles every week on the reality reimagining. Although Lange was the premiere and Whelan will be on the show this Wednesday at 9p. So at least we get to see them.
There is only one person missing, besides the late Gavin MacLeod, and that is Charo. It is a travesty she is not entertaining the singles on the cruise! Cuchi Cuchi!

---
Is Jill Whelan really 55?
November 9th, 2021 under Are they really their age?, Jill Whelan. [ Comments: none ]
Back in 1978, Jill Whelan joined The Love Boat, a show aboard Princess Cruise Lines. Now, over 40 years later, she is still promoting their cruises.
The actress shared a photo from aboard the brand new Enchanted Princess Cruise Ship, and I can't believe that she is 55 years old. She looks younger now than she did on the final seasons of the classic show. I know that because I just binged the series on Paramount+.
Seriously, doesn't she look like a knockout in that Camilla dress?

---
Is Jill Whelan really 53?
February 20th, 2020 under Jill Whelan. [ Comments: none ]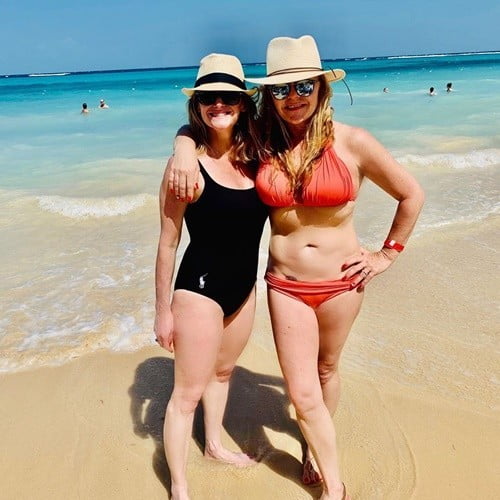 Back in the '70s and '80s, Jill Whelan spent her childhood on a boat. Thirty years later, she found herself back on the S.S. Pacific Princess. If you take a cruise, then you are going to want to get into a bathing suit. That is exactly what little Vicki did. However, she is not that little anymore. The actress is now 53 years old, and she can work a bikini. If they did a revival of The Love Boat, then she would be the Doc of the boat. As in, she would be the person who had a new lover on each trip.
Seriously, why haven't they have brought back The Love Boat? They have all these reality shows with several celebrities on them, why can't they get them to be on a scripted show? It is a lot less of a commitment, and it was what they do for a living. Unless they do a reality show like Big Brother and film them living on a cruise ship for a week. I would prefer they switch ships to the Queen Mary because she is haunted. Why can't I have some fun?

---
A Love Boat reunion!
June 26th, 2019 under Jill Whelan. [ Comments: none ]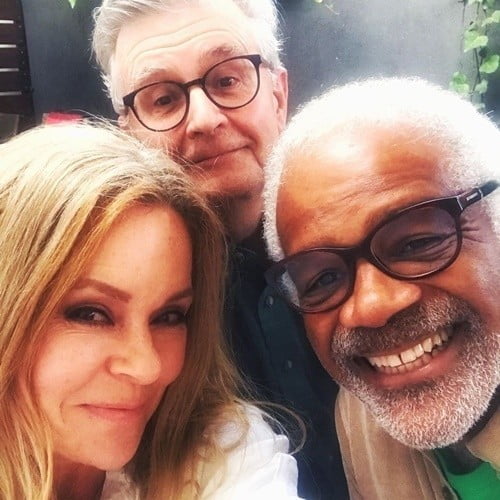 Back in 1977, the Pacific Princess set sail, and 42 years later the cast of The Love Boat is still friends. As you can see in this photo that Jill Whelan shared of herself with Fred Grandy and Ted Lange.
Vicki, Gopher and Isaac had dinner yesterday and I wonder what the three of them talked about. Besides all the good times they had on all of the trips they took with the show and all of the legendary stars they worked with for 9 seasons.
That is incredible enough, but I want a revival of the show with the OGs. I think now is the perfect time. One of the streaming sites can make it a weekly affair and use it to promote the old and new shows and movies that stream on their service. Plus, with a little more money than go to even more cool locations than they did the first go around.
I would book a ticket, wouldn't you?

---
Surely you can't be serious, it's an Airplane reunion. Don't call me Shirley!
June 21st, 2017 under 80s, Jill Whelan, Reunions. [ Comments: none ]

Back in 1980, Airplane! made audiences laugh like they never laughed before. Now, almost 37 years later, some of the cast and the director reunited at a charity event for The Achievable Foundation last week.

The reunion included Frank Ashmore (Victor Basta, he was in the cockpit), Lorna Patterson (Randy the Stewardess), Robert Hays (Ted Striker, the man who saved the day), Lee Bryant (Mrs. Hammen, the woman people lined up to slap after she loses it), David Zucker (Director), Joyce Bulifant (Mrs Davis, the mother of a sick child), Jill Whelan (Lisa Davis, the sick child who almost got killed by a guitar playing nun).

Seeing them all together like that makes me wish they would finally do Airplane 3. They do not make parody movies like that anymore. Granted, we do not have Leslie Nielsen anymore, but Hays and Julie Hagerty also have something special when it comes to comedic timing. And that is no Jive talk that the late Barbara Billingsley could translate for us.

I am off to watch Airplane for the millionth time because just like the actors, it never gets old.

---