Ryan Gosling and Justin Timberlake had a bet to kiss Jessica Simpson
January 30th, 2020 under Jessica Simpson, Jimmy Kimmel. [ Comments: none ]

Back when Ryan Gosling, Justin Timberlake, and Jessica Simpson were preteens, they were all on the Mickey Mouse Club. An age when your hormones are going crazy. So imagine when you put that many good looking kids in one place, they are going to have crushes on each other.
Ryan Gosling and Justin Timberlake had one on Jessica Simpson, so they made a bet who would get to kiss her first. Which one got to first with her first? The guy who is bringing Sexy Back.
However, he did not do it when they were kids. Instead, it happened when they were in their 20's, and both singers were single. She told Jimmy Kimmel yesterday they were hanging out and the two made out. Then when they were done, he took out his phone and started texting someone. She thought she did something wrong, but then he admitted the bet to her. Yet, he did not tell her what they won.
While he might have won the bet, he would not have gotten the girl back then. Simpson had Gossling in her notebook of crushes. She thought he was cool because he was from Canada, a place she could not find on a map.
This story and some of the other things she told Kimmel, makes me want to read her autobiography Open Book even more on Tuesday.

---
Jessica Simpson talks about sexual abuse, drinking and diet pills
January 29th, 2020 under Jessica Simpson, Kathie Lee and Hoda. [ Comments: none ]

Jessica Simpson has a memoir coming out, and in it, she gets real about her life. This morning she spoke to Hoda Kotb on Today about parts of her book that are not easy to read.
The singer was sexually abused by a family friend for six years starting when she was just 6 years old. She knew it was wrong, but she did not know how to tell anyone about it. One day she told her parents, and she never had to go back to his house again. She also says her parents did not know how to talk to her about it.
When she was teenager, she was offered a record deal. They told to lose 15 pounds and that order started her 20-year addiction diet pills.
Also, when she was a teenager, she met Nick Lachey. As soon as she saw him, she knew he was going to be her husband. Together they were good. Yet, when their careers were separate, they were not as good. Her getting all the attention was hard on their marriage. When she couldn't fake it anymore, they got divorced.
Eventually, she met Eric Johnson, the man of her dreams, and they have three kids together. They looked happy, but she was always drinking. In photos,, it appeared that everything was perfect and that is what she wanted us to see. When the cameras were not flashing, she had no idea what was going on.
Then on Halloween in 2017, she knew she had to stop. She had no idea who got her kids ready for Halloween, and she wanted to be present as a mom. She stopped drinking, went to therapy and got her life back on track. Or maybe you can say for the first time in her life.
Now, she is sober, an author, and she is ready to get back to what she does best. That is singing. She will have new music coming out along with the book. Open book comes out on Febraury 4th.

---
Jessica Simpson is down 100 pounds since having Birdie
September 24th, 2019 under Jessica Simpson. [ Comments: none ]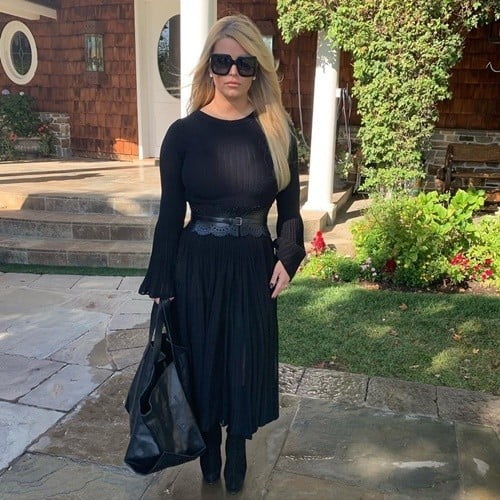 On March 19th, Jessica Simpson gave birth to her third child. Since then she has lost 100 pounds. As we know, she put on a lot of weight during that pregnancy as normal women do.
That was then, now she is back to svelte self. She did not say how she lost the weight, but she did reveal she tipped the scale at 240 pounds. You would never know that looking at her now. Time for her to put in those Daisy Dukes again.

---
Jessica Simpson is releasing a memoir!
July 10th, 2019 under Jessica Simpson. [ Comments: none ]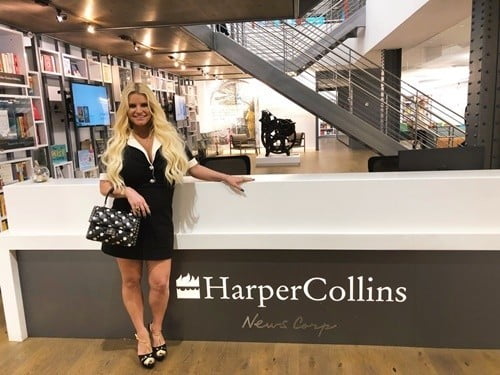 Today, we learned that not only can Jessica Simpson read, but she can also write. That is because the singer announced that she is releasing a memoir in February with Harper Collins. She says, "I have been working so hard on it – I have opened my heart up in a way I never have before and I can't wait to share it with you 💚."
What can we expect from her untitled book? The publisher describes it as, "From her popular television show Newlyweds, to a very public divorce, starring on the big screen and topping the Billboard charts, finding new love, raising a family, and running a successful business empire, her new book will be a candid, inspiring, and behind-the-scenes look at how she chose to learn from each difficult moment, evolve musically, become a more fearless businesswoman, and consistently shatter all expectations of who she was 'supposed' to be."
We can say a lot of things about her, but she has always been real and honest with us. I expect her book to be the same. I think it will be the type of page-turner you cannot put down. Especially since it will be an easy read. Sorry, I had to go there. I will never forget Chicken of the Sea.

---
Jessica Simpson's legs are returning to normal
June 18th, 2019 under Jessica Simpson. [ Comments: none ]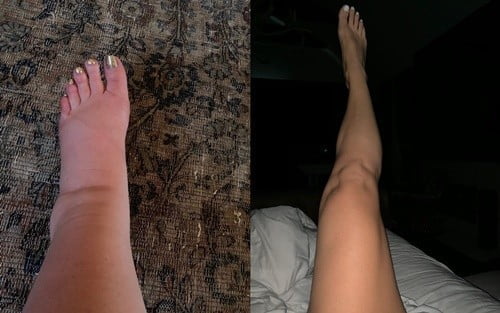 Back in January, Jessica Simpson shared a photo of her swollen leg from pregnancy. Now that Birdie Mae is out of her, her legs are returning to normal. It only took her three months to see her ankles again which is not that bad considering her third child almost weighed 11 lbs. at birth. She is lucky she was ever able to see her legs again.

---