Jennifer Finnigan tests positive for COVID-19 while on vacation in Mexico
January 14th, 2022 under Coronavirus, Jennifer Finnigan. [ Comments: none ]
Jennifer Finnigan and her husband, Jonathan Silverman, finally got to take a long-needed vacation to Mexico. It started off amazingly, but then it took a turn for the worst.
First, their dear friend Bob Saget passed away suddenly. Then the actress tested posted for COVID-19, while her husband didn't. To make matters even worse for the couple, their nanny quit unexpectantly, so Silverman had to fly back to LA, leaving his wife all alone in another country while she was sick. And since she is stuck in Mexico, she will have to miss Saget's funeral.
Here is something positive for the actress; at least it isn't hurricane season. That and she still looks beautiful with all of this going on.
Hopefully, she will be better soon and reunited with her husband and daughter, Ella Jack.

---
Weekend at Bernie's 3?
January 22nd, 2021 under Andrew McCarthy, Jennifer Finnigan. [ Comments: none ]

There have been hundreds of memes dedicated to grumpy, cold Senator Bernie Sanders at President Joe Biden's inauguration. However, the one that Bob Saget created for his friend Jonathan Silverman is the best one of them all.
It is Bernie playing Bernie in Weekend at Bernie's. Nothing can top that. Therefore, Saturday Night Live, do your magic. Since Andrew McCarthy and Silverman are both working on NBC Good Girls on the Universal Lot in LA, you can have them film a Weekend at Bernie's 3 bit. It is what America needs, and you can make it happen. Please! Pretty, please!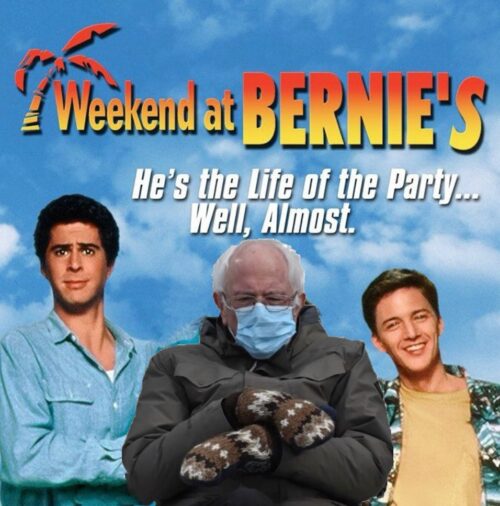 ---
Salvtion does not get salvation from CBS
November 20th, 2018 under Jennifer Finnigan. [ Comments: none ]

Salvation was a show about an ice age causing asteroid pummeling towards Earth. At least that is how it was pitched. After a few episodes, it turned in an international political drama. By the time they got into the second season, it had become unwatchable. At least for me. And the millions of others who tuned out.
The ratings were a bigger disaster than the one they were facing. Therefore, it should come as no surprise that Variety reports it was canceled.
Now we will never if the asteroid turned out to be aliens visiting us. Yeah, that is how the show ended. And they wonder why they won't be back for another season.
Dear CBS, please stop doing Sci-Fi shows in the summer, you always mess them up. See Under the Dome, Extant, Zoo and now Salvation.

---
Jennifer Finnigan can multitask in the bathtub
September 11th, 2018 under Jennifer Finnigan, Taking a bath. [ Comments: none ]

Johnathan Silverman caught his wife taking a bath, but Jennifer Finnigan did not let Calgon take her away. As she explained, "Busted by 📸 @jonnysilverman at my work station. Yes, I learn lines AND live tweet in the bath 🤷🏼‍♀️ #busted #multitasking #bathwork 🛀."

When you are the mom of an 11-month-old girl, you take your baths whenever you can take one. When you do have the time to soak in the relaxation, that does not mean you just get to enjoy it. You also have to multitask. As she is doing here. She just was not expecting her husband to take a photo of her doing it.

I wonder how she multitasked him!

---
Gerard Butler answers, who's a better kisser Jennifer Aniston or Angelina Jolie?
January 18th, 2018 under Andy Cohen, Brangelina, Gerard Butler, Jennifer Finnigan. [ Comments: none ]

Brad Pitt is not the only person who has kissed Jennifer Aniston and Angelina Jolie, the other man is Gerard Butler. Yesterday, when the latter was on Watch What Happens Live, Andy Cohen wanted him to kiss and tell and he did.
Not by choice, but because he had to. You see, Butler was playing Plead the Fifth, and he already plead the fifth to which movie he just did for the money. So when it came to reveal which ex-Mrs Pitt is better to lock lips with, he grudgingly, emphasis on the grrrr, said "Jennifer Aniston," but did not explain why. You would think that Jolie's softer and bigger lips would make her better at it, does not seem like it. I guess that is that why the say, "It is not the size of the boat, but the motion in the ocean."

---