Who says older people still can't rock out?
July 29th, 2019 under Go West. [ Comments: none ]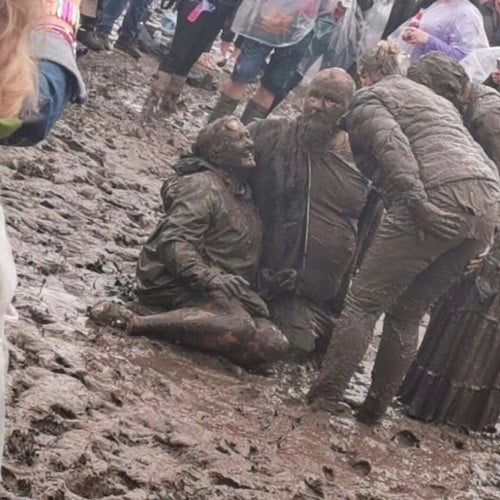 Over the weekend, several bands played Let's Rock Liverpool, and it down poured. However, the wet weather did not dampen their spirits. They kept on rocking through artists like The Human League, Midge Ure and Nik Kershaw, even though they were covered in mud.
Go West's Peter Cox posted the above photo and said, "Huge thanks, respect and love to the 20K indomitable souls who braved the monsoon to party with us at Let's Rock Liverpool in Croxteth Park yesterday! You were AWESOME. 🌧☔️💪🏻👌🏻👍🏻🌟" F*ck yeah, they were awesome!
No way I would have stayed through that. That is just another reason why I don't do outdoor festivals. I don't know how the people of Woodstock did it and I don't know how these fans did it. I love Go West. I would love to see them live finally. But not enough to be covered in wet dirt. No matter how good it is for your skin.
While that is not me, those concert-goers look as happy as pigs in, well, mud!

---
Jimmy Fallon and Paul Rudd are the King of Wishful Thinking
February 12th, 2018 under Go West, Jimmy Fallon. [ Comments: 1 ]

I am going to let you know a little secret about myself, I am a huge fan of Go West. Ever since I was I kid, I have loved their music. Their tune Call Me is my ringtone!
Anyways, when I saw that Jimmy Fallon and Paul Rudd recreated their music video for King of Wishful Thinking, their #1 hit from 1990 movie Pretty Woman, on The Tonight Show, I just had to watch it.
While they are nowhere as hot and as sexy as Peter Cox and Richard Drummie, they still did an amazing job recreating that ridiculous (sorry not a fan of it) music video. To you kids out there, that was MTV used to show before they were all about the Jersey Shore and teen moms.
How does the band feel about it? Cox Tweeted, "Wow. SOMEone's feeling the love! The mighty @jimmyfallon and Paul Rudd recreate our 'King Of Wishful Thinking' video for @FallonTonight. Incredible attention to detail! Kudos to all concerned. 👌." While Drummie wrote, "Thanks again gentlemen. Peter's dance moves will never look the same to me again." Fallon responded to the first Tweet with, "Made with love. Thanks for the original! Also, I have so many questions…" We all do.
When it comes to just Go West, hopefully they will finally tour in the US again. I have been waiting my whole life to see them live and they have not been back on this side of the pond since I was old enough to go to concerts. I mean, how many times do I have to Tweet Cox about coming over here? I want to see Go West, and want to see them now.
To see how Rudd and Fallon really did pay close attention to the details, then click here!

---
BTWF home videos: Lin-Manuel Miranda in 1992
June 7th, 2016 under Before They Were Famous, Go West, Lin-Manuel Miranda. [ Comments: none ]

Before Lin-Manuel Miranda was singing and dancing to packed audiences on Broadway in his Tony Award winning musical In The Heights, he was singing and dancing to a videocamera in his bedroom located in the Heights. You could totally tell the 12 year old was going to be a star back in 1992 when rocked out to Go West's King of Wishful Thinking!

---