Has Fox cancelled The Resident?
March 2nd, 2023 under For sale, Fox. [ Comments: none ]
The Resident has been a bubble show for most of its six-season run. However, their chances of getting another season from Fox are looking grim.
That is because Peachtree Battle Estate Sales & Liquidation in Atlanta listed this "Own a Piece of Hollywood! Major Network Medical Drama Prop & Wardrobe Liquidation" on their site. The pictures show a bunch of items from a warehouse with some boxes that have the label "The Resident" on them and another label in another photo that reads "Padma's condo." Padma is a character on the medical drama. Plus, the show films in Atlanta. Therefore, it sounds like the items belong to the series.
So, is it cancelled? A source told me, "No decision has yet been made one way or another." So it looks like we are just going to have to wait until May to find out. And last year, Fox went all the way up until right before announcing their schedule to tell us the show was renewed for another season.
If you are interested in owning a part of the mystery medical show, then the sale is going live from March 22nd-March 25th.

---
Want to own the Schitt's Creek motel?
March 30th, 2021 under For sale. [ Comments: none ]

Did you watch Schitt's Creek and think you want to stay at the Rosebud Motel? Well, you can do one better because it is up for sale. That is if you have 2,000,000 Canadian dollars.
The inactive 10-room motel is located an hour away from greater Toronto, and it is housed on 6.7 acres of land with an active river on the site. Unlike the Roses, you don't have to stay in one of the rooms. There are a 2-story manager's suite and a separate cottage.
Once you buy it from Colliers Canada, then you can call HGTV and see if you can get them to recreate the rooms to look like the ones we knew on the show. Maybe one of the rooms can look like David's store, and you can sell schitt from Schitt's creek in there.
Forget you, who wants to give me the money so I can buy it?

---
Want to own the Schitt's Creek mansion?
February 9th, 2021 under For sale, Real Estate. [ Comments: none ]

Remember the magnificent mansion the Roses owned at the beginning of Schitt's Creek before they were kicked out of it? Well, it is for sale. If you have an extra $15 million laying around, you can own it.
According to Realtor.ca, the three-story La Belle Maison-Lux is 24000 Sq. It has 12 bedrooms and 16 bathrooms, along with a garage that has 14 parking spaces. Wait, there is more. The extras include a Home Theatre with 8 Seats Equipped with a Modern Sound System, Audio, Video & Gaming (Lutron Home System & Golf Sim.), Feats On Big Screen, Amazingly Crafted Wine Cellar, Billiard Room, Fitness Room, Indoor Swimming Pool, Sauna, and Humidifier.
Who doesn't want to own that stunning property? Just like the Roses, we just don't have the money to own it.

---
Do you want to own the Golden Girls' house?
July 15th, 2020 under Betty White, For sale. [ Comments: none ]

We all know the exterior of the Golden Girls' house. Did you know that it is not located in Miami, Florida? It is actually in Brentwood, California, and it is up for sale.

If you have $2,999,000, then the 4-bedroom, 3.5-bath house can be yours. However, not only does the exterior of the 1965 home look different now, so does the inside.

That makes me think HGTV is going to buy and give it the Brady Bunch treatment. Something I am all for them doing, especially since I don't have the $3 million to buy it.

---
Want to own the Full House house?
March 28th, 2019 under For sale, Full House. [ Comments: none ]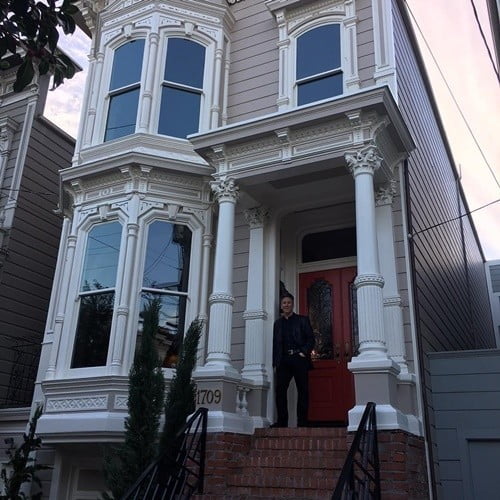 Back in 2016, Executive Producer Jeff Franklin bought the San Fransisco home that is used for the exterior of his shows Full House and Fuller House. Now, he tells the San Fransisco Chronicle that he is putting it on the market next month.
He explained his decision to paper, "It is a symbol of the shows I love, and the second family I have formed with the casts of 'Full' and 'Fuller House.' Now that 'Fuller House' is ending, I will be putting the home back on the market. I hope to find a buyer who wants to make it a full house once again."
He never lived in the house that he paid $4 million for, but he did do some renovation inside of it. The paper says that it was what he wanted to make it look on the inside like it does on the show, but his neighbors, who are not happy with all the fans stopping by, put the kibosh on that.
It is unknown what he will be selling it for, but I would assume it would be more than what he paid for it. Thus, if you have an extra $5 million laying around, it can be yours.

---