This makes me want to never eat another Whopper again
February 19th, 2020 under Fast Food. [ Comments:

none

]

Remember when Morgan Spurlock did Supersize Me, and people stopped eating McDonald's for a while? Well, he has nothing on this commercial from Burger King.
The fast food company wanted to show us that they do not use any preservatives in their food, so they left a camera on one of their Whoppers for over a month. The result is that the hamburger is covered in mold.
I get what they were going for, but it did not work. They want us to focus on the fact that they don't use preservatives. However, all I see is a moldy sandwich, and that is so unappealing to me. That is the only takeaway we are getting from this advertisement.
Are you going to run out and eat a Whopper after this? I cannot imagine that you will. I can still taste the mold just thinking about it. Yuck.
---
A wrong answer on Family Feud still made the contestant a winner
January 14th, 2020 under Fast Food, Game Shows. [ Comments:

none

]

Eve Dubois and her family played Family Feud in Canada, and she thought she had the winning answer in the Sudden Death round. Gerry Dee asked the two contestants, "What is Popeye's favorite food?" Dubios proudly buzzed in and screamed, "Chicken!" Not only that, she did a little dance.
As us old people know, the answer is spinach. However, Popeyes the fried chicken restaurant agreed with her. Therefore, they tweeted her, "@sublimevey! Our survey says you got that right. DM us to claim your $10,000 worth of Popeyes. #LoveThatChickenFromPopeyes" We don't know if she took them up on their offer, but she did tweet back, "THANK YOU #CHICKEEEN"
I would rather have the chicken! Although, I was not as wowed by their chicken sandwich like everyone else is.
BTW this was not their first attempt to get the winning answer. They tried three other times and failed. To sere those hilarious failed attempts, then click here!
---
Burger King uses Joker to troll McDonald's
January 8th, 2020 under Fast Food. [ Comments:

none

]

Even though the Burger King is creepier than Joaquin Phoenix's Joker, that didn't stop the fast food restaurant from using the villain to taunt McDonald's.
One of the most famous scenes from the movie is when Joker dances on the stairs. Those stairs are in The Bronx and BK is rewarding people from the borough for dealing with all of the tourists checking it out. If you are there and use Uber Eats, then you can get a free Whopper. If you live elsewhere, then the Joker is on you.
Which really pisses me off. I just spent a month there, and I would have loved one. But now I am back on the other coast, and I have to pay for one. Well, in honor of that, guess who is going to McD's today? You don't mess with a girl from Da Bronx because we get revenge.
Clowns can be annoying, but at least they are loyal to their fans. BK can learn from that,
---
Do you want a fire log that smells like KFC fried chicken?
December 5th, 2019 under Fast Food. [ Comments:

none

]

For the second year in a row, KFC is selling a fire log at Walmart.com that smells like their restaurant. For $18.99, you can have a fat free way to enjoy fried chicken.
However, it comes with a warning, "May attract bears or hungry neighbors." I wonder if you burn it on December 24th, then Santa Claus will leave you a few extra gifts? Especially since the Enviro-Log is made from 100% recycled material. That is a nice thing.
The log is the perfect gag gift to get for someone who is on a diet and really loves fried chicken. The temptation will be strong for that person! And with that, I was just put on that naughty list…again. Yet, it is worth it.
---
Did you guess the Oreo mystery flavor?
December 3rd, 2019 under Fast Food. [ Comments:

none

]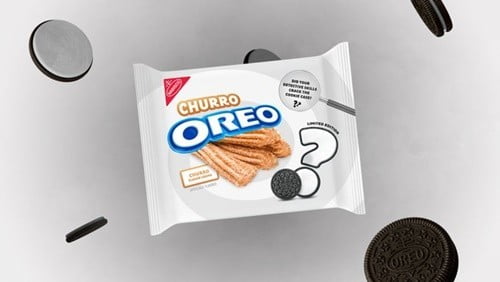 For the second year in a row, Oreo released a Mystery flavor cookie. They they asked us to guess what they tasted like.
Last year, it was Fruity Pebbles. This year, I thought it was Cinnamon Toast Crunch because I was keeping the cereal theme going on. I was close, but not close enough. The answer was Churro.
Did you guess it right? Would you get them again? I would not. However, I wish they would bring back the Flintstones' flavored one. Those were even better than the cereal.
---