Big Mac sauce cups coming to McDonald's
April 19th, 2023 under Fast Food. [ Comments: none ]
File this under what took them so long. Today McDonald's announced that they will be selling Big Mac sauce cups for a limited time starting on April 27th.
You can either get it for free when you order chicken McNuggets or pay to get it à la carte to dip your fries or anything else in. However, you can only order it via the app.
The dipping sauce cups are blue and silver in honor of the original wrapping the famous hamburger came in when it was introduced in 1968.
I hope this does so well that McDonald's makes this a permanent option. After all, they owe us for taking away the McRib. I am still pissed about that.

---
Krispy Kreme has donuts for the Cookie Monster in all of us
April 17th, 2023 under Fast Food. [ Comments: none ]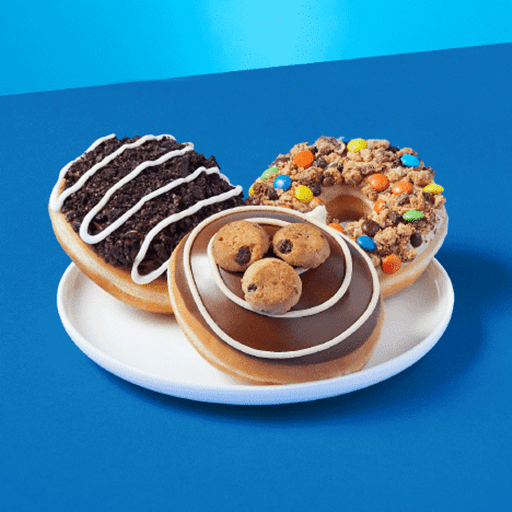 Have you ever been like, do I want a cookie or a donut? Well, you don't have to decide anymore because Krispy Kreme teamed up with Oreo and Chips Ahoy to make three donuts with cookies.
CHIPS AHOY!® Candy Blasts® Doughnut – an Original Glazed® Doughnut dipped in cookie dough icing and decorated with CHIPS AHOY!® cookie pieces, milk chocolate candy gems, and semi-sweet chocolate chips.

CHIPS AHOY!® Cookie Dough Kreme™ Doughnut – a doughnut filled with CHIPS AHOY!® cookies & Kreme™ filling, dipped in chocolate icing and drizzled with cookie dough icing, and decorated with CHIPS AHOY!® mini cookies.

OREO® Cookies & Kreme™ Filled Doughnut – a doughnut filled with OREO® Cookies and Kreme™ filling, dipped in chocolate icing, topped with OREO® cookie pieces and drizzled in icing.
C is for Cookie, and Krispy Kreme Kookie donuts are for me! So I will be avoiding the donut shop like it's the plague!

---
Carl's Jr. has the perfect munchies snack for 4/20
April 17th, 2023 under Fast Food. [ Comments: none ]
We are a few days away from 4/20. And several of us are going to get the munchies when we celebrate!
Well, Carl's Jr. is anticipating that, so they have a snack sack that is perfect for the occasion. For $4.20, you get 6 Jalapeño Poppers, Onion Rings, and Small Natural-Cut French Fries.
Not a bad deal. The only negative thing I can say about it is that it will only be around until April 24th.
Maybe it does well enough; they will keep it around all year. After all, we celebrate 4/20 even when it isn't 4/20!

---
Want to get married in the Wienermobile?
April 11th, 2023 under Fast Food. [ Comments: none ]
Some people want to get married by Elvis Presley. Others want to have their weddings at Disney. And somewhere, someone said they wanted to tie the knot in the Oscar Mayer Wienermobile.
Well, now is their chance because that is an option in Las Vegas in front of The Little White Chaple on April 15th and April 16th.
"From proposals and surprise meat-ups down the aisle to playing matchmaker to some of our own Hotdoggers, the Oscar Mayer Wienermobile has held a special place in fans' hearts – so much so, we receive thousands of requests each and every year to be part of couples' big days," said Ed Roland, Sr. Manager Brand Communications for Oscar Mayer at The Kraft Heinz Company. "Now, as more people seek stress-free ceremonies with their partners, our Hotdoggers are thrilled to reignite the joy of this special day and give them a once-in-a-lifetime experience: a wedding through a pair of meat-colored glasses."
And there will be meat. Along with the Oscar Mayer hot dogs, you can expect a wiener whistle quartet, a wiener cake, to go with the dressed-up 27-foot hot dog on wheels.
So if that sounds like your perfect wedding day, then you can apply here. And did I mention it is free?

---
Did Subway make the grossest sandwich?
April 5th, 2023 under Fast Food. [ Comments: none ]
This is the one year that Jews are happy they can't eat bread during Passover. Why? Because Subway is giving away a melted Cadbury Creme Egg sandwich on Italian white bread.
That's right, it is going to be free, because who would pay for that, this Friday at four locations in the UK.
Rusty Warren, Senior New Product Development and Product Innovation Manager at Subway, said, "Our Italian White Bread and Cadbury Creme Eggs make the most flavoursome combination, a perfect seasonal treat.
"All the team at Subway are especially excited to see how those Subway fans with a sweet tooth respond to this delicious SubMelt."
Why do I have a feeling he will be looking for a new job on Tuesday? I told my friends in London to try it for me, and I can't repeat what they told me to do with the sandwich.
However, if you are not like my now ex-friends, then run to Tottenham Court Road, central London, Central Shopping Centre, Liverpool, Llansamlet Service Station, Swansea, and Sauchiehall Street, Glasgow, on Friday because they are only giving away 500 of them. And you don't want to miss this. Oh wait, maybe you do!

---