Eliza Dushku welcomes a second son into her dollhouse
August 10th, 2021 under Eliza Dushku. [ Comments: none ]
Eliza Dukshu and her husband, Peter Palandjian, welcomed their second August baby.
"Welcoming our beautiful son, 'Bodan', this week has been a journey in & of itself 🌸. Gratitude & joy! These boys give life new horizons. Bourne & Bodie: #Boston brothers," she wrote. "Thanks to all out there who support & love us~ Ah, this is where we're supposed to be ✨"
The couple celebrates their third anniversary this month, along with their older son's second birthday. August is a busy month for the four of them. Enjoy all the positive milestones for years to come.

---
Eliza Dushku is welcoming another baby to her dollhouse
March 2nd, 2021 under Eliza Dushku. [ Comments: none ]

Eliza Dushku has some news to share for her second wedding anniversary. She and her husband Peter Palandjian are expecting their second child together.

The couple has an 18-month-old son named Philip.

---
Eliza Dushku's baby boy was Bourne
August 2nd, 2019 under Babies, Eliza Dushku. [ Comments: none ]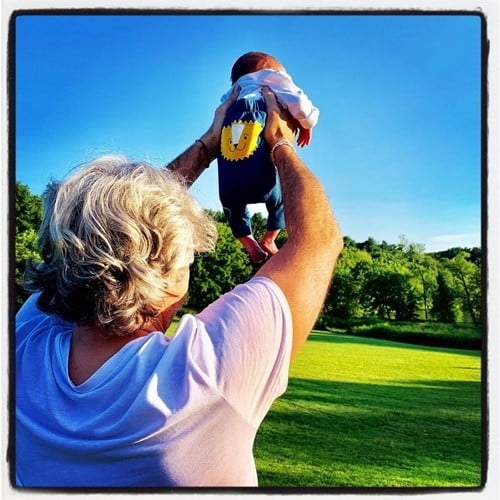 On Saturday, Eliza Dushku and her husband, Peter Palandjian, welcomed their first child together.
The actress wrote, "Philip 'Bourne' Dushku Palandjian (*we'll call him #Bourne! as in
the town down in Cape Cod vs 'Jason') rolled up & out this past Saturday night to the warmest welcome of his already madly in love w him parents (good god, I 💓 my husband!), fam & friends. WE ARE JUST SO GRATEFUL & overjoyed rn & thank you ALL for sharing this exciting journey w/ us."
She explained that several of the male members of her family including her father are buried in Bourne and she honored them all by naming her baby boy after them. Which is so beautiful.
Congrats to the couple, enjoy your bundle of joy!

---
Pauley Perrette says she is 'terrified of [Mark] Harmon'
June 7th, 2019 under Eliza Dushku, Mark Harmon/Pam Dawber, Pauley Perrette. [ Comments: none ]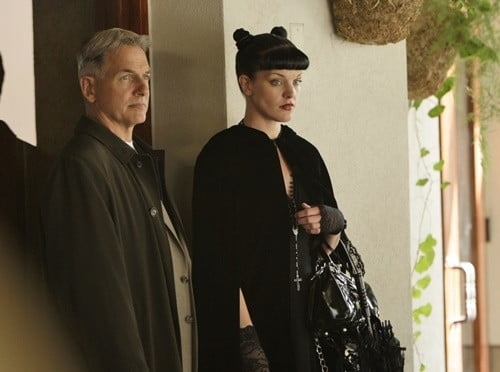 Back in 2017, Pauley Perrette announced that she would be leaving NCIS at the end of that season. Surprising fans of the show because she is a fan favorite.
After she was done with the show, she claimed that she quit the drama because Mark Harmon's dog attacked someone. Therefore, he said he would not bring the pitbull back into work, but when he did they got into an argument. After that, she then refused to shoot scenes with him.
That was then, today she has a different story. Fans keep asking her if they will see Abby again and she told them, "NO I AM NOT COMING BACK! EVER! (Please stop asking?) I am terrified of Harmon and him attacking me. I have nightmares about it. I have a new show that is SAFE AND HAPPY! You'll love it! #HappyPlace Love y'all!"
Then she followed up that tweet with photos of the crew member who was attacked and said, "You think I didn't expect blow back? You got me wrong. THIS happened To my crew member and I fought like hell to keep it from happening again! To protect my crew! And then I was physically assaulted for saying NO!?and I lost my job."
Good thing Broke does not debut on CBS until midseason. I am sure the network is going to try to rectify this situation before it premieres. NCIS is CBS's #1 show and its stars have huge fan bases but are the actors worth all the negativity they bring to the network? Michael Weatherly was accused of sexual harassment towards Eliza Dushku on the set of Bull and it cost the network almost $10 million. That show is still on the air and Perrette defended him.
You know, what goes on off camera on NCIS is more interesting than what we see on TV.

---
CBS explains why they kept Bull
May 15th, 2019 under Eliza Dushku, Michael Weatherly. [ Comments: 1 ]

When CBS announced that they picked up Bull for another season, many people called Bull. That is because they could not believe that the network would keep a show where they had to settle a sexual harassment case for $9.5 because of the legal drama's star.
Since the renewal, it was revealed that Amblin, the production company behind Bull, pulled out from producing the show; but we have not heard from CBS. Today, CBS Entertainment President Kelly Kahl explained his decision. He said, "Michael made a mistake in his comments [to Dushku]. He owned that mistake. He was apologetic at the time, and he was remorseful." Then he added Weatherly, "was willing to take any kind of coaching or training we deem necessary for him to create a positive environment on the set."
Ultimately the exec says, "When we looked at the totality of the situation, we felt comfortable bringing 'Bull' back on the air. He took everything very seriously and wants to move forward. He's a dad, he's a father. He was upset by this. He wants to make it better."
Should that be enough? We have not seen Weatherly make any public statement since then. Whatever he says will be ripped apart, but at least we can see if he is truly remorseful. I think he needs to do that. I also think CBS needs to let us know if has he done anything to rectify the situation. If not, it makes it seem like, to me, CBS is OK with sexual harassment as long as you tell them you want to do better. That is not enough.
Do you agree with CBS's decision to renew the show?

---