Dulé Hill reveals he had COVID-19
December 25th, 2020 under Dulé Hill. [ Comments:

none

]

Dulé Hill has been silent on social media for a few weeks. Now, we know what was on tap for him.
"I'm a little late because IG, 2 weeks ago, #covid caught me. Thankfully, I quarantined for the last ten days and recovered. And thankfully, no one else in my family contracted it, 🙏🏾" the actor wrote. "Thank you to the beautiful @jazmynsimon for the 🎥 assist and for always taking such good care of me, especially during this covid recovery time. ❤️🔒❤️"
Glad he is doing better and back to doing what he loves, being with his family and tap dancing.

---
West Wing gets a special benefit episode on HBO Max
August 25th, 2020 under Dulé Hill, HBO Max, Rob Lowe. [ Comments:

none

]

While we are still waiting for the Friends unscripted reunion to happen on HBO Max, the streaming service announced that they are staging another reunion. The cast of West Wing will reunite to reenact the Hartsfield's Landing episode.
The 2002 episode is described as, "Bartlet engages both Sam and Toby in intricate chess matches that mirror the wily game of brinkmanship that Bartlet is playing with the Chinese, who are conducting war games in the Taiwan Strait."
Aaron Sorkin, who created the legendary series, will direct Rob Lowe, Dulé Hill, Allison Janney, Janel Moloney, Richard Schiff, Bradley Whitford, and Martin Sheen. They will film it over a few days as the actors perform the script at the Orpheum Theatre in Downtown Los Angeles in early October.
The press release does not say when it will start streaming, but it will be before the election. That is because the performance is benefitting Michelle Obama's When We All Vote. The nonprofit wants to inspire increased voting participation.
I would not be surprised that if this does well, the series we might get a West Wing revival. One of them could be the President of the United States now. Who do you think would have the job?

---
BTWF: Dulé Hill in Ghostwriter
July 7th, 2020 under Before They Were Famous, Dulé Hill. [ Comments:

none

]

Before Dulé Hill worked for the President of the United States on West Wing, he was trying to get a presidential candidate for student government to do something for him on Ghostwriter. He cute was the 17-year-old in that 1992 episode?

---
Dulé Hill teaches his son how to tap dance
July 7th, 2020 under Dulé Hill. [ Comments:

none

]

Before Dulé Hill was Psyched to work in the West Wing, he was the Tap Dance Kid. Now, that his son, Levi, is learning how to walk, it is also time for him to learn how to tap.
I am not sure if the 13-month-old is following his father's footsteps just yet, or he is trying to take his first step. Although I have a feeling in the Hill household, they can tap before they walk.
What we do know for sure is this is the cutest video you will see all day. I can't wait to see them dance together. Something I am sure they will be doing before the little one is potty trained.
Before we get to see that duet, we can watch Hill in Psych 2: Lassie Come Home, July 15th on Peacock.

---
Dulé Hill shares the joys of parenthood
July 3rd, 2019 under Dulé Hill. [ Comments:

none

]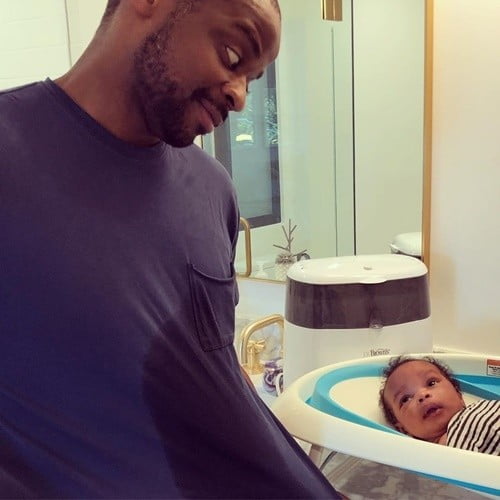 Back in May, Dulé Hill welcomed his first son. He is used to girls because he has a daughter, but boys are different. For example, when the actor went to give Levi a bath, the baby thought he should not be the only one to get wet. Therefore, the newborn peed on his proud pop.
We know that Dulé is proud because he shared this photo of his wet shirt. Thankfully, the little tyke did not do his business on one of his father's Suits. Get it?
When it comes to Levi, how could you get mad at him? Look at that sweet face! You just want to squeeze those cheeks.

---