Dulé Hill shares the joys of parenthood
July 3rd, 2019 under Dulé Hill. [ Comments:

none

]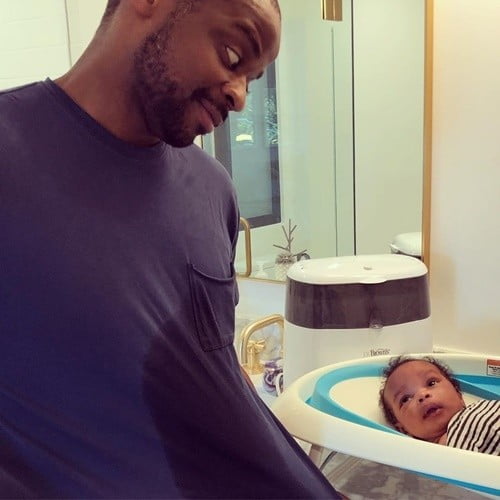 Back in May, Dulé Hill welcomed his first son. He is used to girls because he has a daughter, but boys are different. For example, when the actor went to give Levi a bath, the baby thought he should not be the only one to get wet. Therefore, the newborn peed on his proud pop.
We know that Dulé is proud because he shared this photo of his wet shirt. Thankfully, the little tyke did not do his business on one of his father's Suits. Get it?
When it comes to Levi, how could you get mad at him? Look at that sweet face! You just want to squeeze those cheeks.
---
Dulé Hill is really psyched to share this news!
May 29th, 2019 under Dulé Hill. [ Comments:

none

]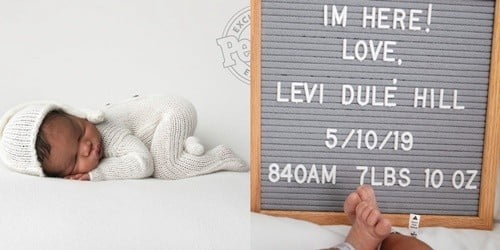 Dulé Hill and his wife Jazmyn Simon are the proud parents of a beautiful boy. Levi Dulé came into this world, with just his birthday suit, on May 10th.
While now everything looks calm, his dad tells People that he was breech and he had to be born via c-section. Now, his parents and his 14-year-old sister, Kennedy, are enjoying him by taking as many photos as possible. While the actor waits until he is old enough to teach how to tap dance.
Hill wrote this about his baby boy, "Just when we thought life couldn't get any better…then came you ❤️🔐❤️ #Ephesians 3:20 #BabyHill #BabyBrother #SimonSaysBaby #SleepDeprived." The new father cannot sleep in, even if he wants to because he is filming the final season of Suits as you read this great news.
Hill and Simon met on the set of Ballers in 2014, he proposed in a hot air balloon in 2017 and got married last April and this is their first child together.
---
Are you psyched for Psych The Movie 2?
February 14th, 2019 under Dulé Hill, Psych. [ Comments:

none

]

Time to down some Malibu Pineapple because USA Network is giving us a second Psych movie later this year. Now that we know the good news, it is time to scream like Shawn (James Roday) and Gus (Dulé Hill). What will this film be about you ask? TV Line got their hands on the synopsis.
Santa Barbara Police Chief Carlton Lassiter (Timothy Omundson) is ambushed on the job and left for dead. In a vintage Psych-style Hitchcockian nod, he begins to see impossible happenings around his recovery clinic. Shawn (Roday) and Gus (Hill) return to Lassie's side in Santa Barbara and are forced to navigate the personal, the professional, and possibly the supernatural. Separated from their new lives in San Francisco, our heroes find themselves unwelcome in their old stomping grounds as they secretly untangle a twisted case without the benefit of the police, their loved ones, or the quality sourdough bakeries of the Bay Area. What they uncover will change the course of their relationships forever.
I wonder what that means? Will it end things between them and Juliet (Maggie Lawson), Henry (Corbin Bernsen) and Karen (Kirsten Nelson). We will find out soon enough. I also want to know who else from their past will come back to haunt them?
What I really want to know is why have they not brought Psych back as a weekly series? With Suits ending there is no excuse. Who cares about A Millon Little depressing Lies?
---
Dulé Hill is psyched to share this news
January 3rd, 2019 under Dulé Hill. [ Comments:

none

]

Dulé Hill and his wife Jazmyn Simon have been keeping a secret, they are expecting a boy in May. It is the couple's first child together and he will arrive about a month after their first wedding anniversary. They met when she was a guest star on Ballers and have been inseparable ever since.

This is the Suits' star second child, he has a 14-year-old daughter, Kennedy, from a past relationship.
---
BWTF: Dulé Hill for Corn Pops
November 20th, 2018 under Before They Were Famous, Dulé Hill, Psych. [ Comments:

none

]

Before Dulé Hillbe was good at solving mysteries on Psych, he was bad at figuring out how to get his Corn Pops back. He looks the same now as he did when he was 18 in that 1994 ad.
---