BTWF: S. Epatha Merkerson on The Cosby Show
March 18th, 2020 under Before They Were Famous, Bill Cosby, Dick Wolf. [ Comments:

none

]

Before S. Epatha Merkerson was running the Emergency Department on Chicago Med, she had timne to be in a book club on The Cosby Show. She looks the same now as she did when she was 35 in that 1988 episode.
---
Chicago Med turns 100 tonight!
March 18th, 2020 under Dick Wolf. [ Comments:

none

]

Chicago Med has a big milestone on NBC tonight at 8p. The show is airing its 100th episode! What better way to celebrate than with a wedding.
Maggie (Marlyne Barrett), who is recently in remission for breast cancer, is getting married tonight. That is if everything will stop going wrong.
What can go wrong when Dr. Choi (Brian Tee) and Dr. Marcel (Dominic Rains) perform a surgery together? Nothing happens to them, but April (Yaya DaCosta) has sudden and intense stomach cramps from the fertility treatments. She winds up telling her fiance' about the near-kiss she had with Dr. Marcel. How will Dr. Choi handle it?
Did you know that Dr. Charles (Oliver Platt) has a 12-year-old daughter? I didn't, and tonight she makes her dad question everything.
If that is not enough to handle, they still have all of their medical cases. A woman comes in with her daughter, and other hospitals have the mom on a watch list. What is wrong with both of them?
It is a game-changing episode for the people at Chicago Med. Because of that, I cannot wait to see what happens in their 101th episode.
---
All four of Dick Wolf's NBC shows will be back for three more years!
February 27th, 2020 under Dick Wolf, Mariska Hargitay. [ Comments:

none

]

Last season, NBC renewed This Is Us for three more seasons. This year, they did same for New Amsterdam. Today, they announced they want Law & Order: SVU, Chicago Fire, Chicago PD, and Chicago Med all back for three more years too.
That will bring SVU to a total of 24 seasons. This year, it became television's longest-running scripted drama series with 21 seasons. That is one more than the previous record holders Gunsmoke and Law & Order. Now, it is going for three more than that. It will be interesting to see if Mariska Hargitay will remain with the show. I hope she does because she is a HUGE part of that show. She is as beautiful on the outside as on the inside.
When it comes to the Chicago shows, Fire's total will be 11, PD's 10 and Med 8. That is a lot of seasons for the Dick Wolf shows.
On that note, he signed a five-year deal to stay with NBC Universal bring his today to 41 years. He has been with NBC longer than a lot of his actors have been alive. Pretty impressive and deserved.
Just one request. Can he stop doing crossovers with PD? I don't watch that show, and I hate being forced to do it when there is one. The same way I don't want to watch Grey's Anatomy tonight, but I have to because they are doing a crossover with Station 19. Don't these EPs and network execs know it is about me and not their shows.
---
Chicago Fire and Chicago PD team up to save the city
February 26th, 2020 under Dick Wolf. [ Comments:

none

]

Tonight at 9p on NBC, it is up to Chicago Fire and then Chicago PD to save their city from someone who is distributing deadly Fentanyl. Several teenagers have been hospitalized from it. Even worse, a few have died. To make matters even worse, an ex-Chicago PD cop's sister has gone missing, and she has been dating the dealer. Now, it is up to them to find her and stop him before it is too late. Will they be able to do it?
Also in the episode, Brett (Kara Killmer) decides to meet her biological mom. She does not want to do it alone, so she asks Casey (Jessie Spencer) to join. What happens when they get to her mom's house. Will it be everything she was hoping it to be?
You don't want to miss this thrilling two hours of television tonight.
---
Chicago Med celebrates 100 episodes with the best cake!
January 29th, 2020 under Dick Wolf. [ Comments:

none

]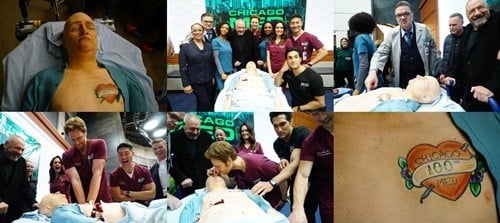 On March 18th, Chicago Med will air its 100th episode. However, they filmed and celebrated the milestone yesterday.
Since it is a medical drama, their cake was in the shape of a corpse. Creepy, but awesome! And no one had more fun with it than Nick Gehlfuss. No matter how much CPR he did it on it, the cake was still dead. He tried. After he called the time of death, it was time for them to become cannibals or should I say cakibals?
To see larger versions of photos< then click here!
---