Denis Leary wins the #DollyPartonChallenge!
January 23rd, 2020 under Denis Leary, Dolly Parton. [ Comments: none ]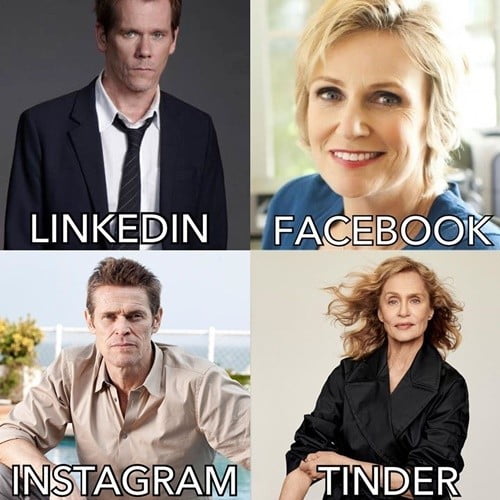 Earlier this week, Dolly Parton posted a photo with four different looks. One each for LinkedIn, Facebook, Instragram and Tinder. Since then several celebrites and non-celebs have done their take on the #DollyChallenge.
However, no one did it as brilliantly as Denis Leary. Instead, of using four photos of himself, he used images of the stars he is often mistaken for like Kevin Bacon, Jane Lynch, Willem Dafoe, and Lauren Hutton. I would like to see someone to top it. It will be impossible.
If you missed the post that started it all, then click here!

---
ABC dumps Mistresses, FX stops listening to Sex&Drugs&Rock&Roll
September 10th, 2016 under ABC, Denis Leary. [ Comments: none ]

As soon as ABC and Paul Lee parted ways, you knew that Mistresses was cancelled because he was the only one who was fan of the British remake. Due to the fact, the former ABC Entertainment President had already picked it up for the 4th season, they decided to air it. Now that that season is over, so is the show. Which comes as no surprise because it was never a ratings hit. Not even close to getting to the altar on that one.
Meanwhile, FX cancelled another show this week (Tyrant was first) that hasn't gotten any nominations and that show is Denis Leary's Sex&Drugs&Rock&Roll. While I loved the bitchin' comedy's first season, the second one lost its way. It was more about their loves life than Rock'n'Roll and that is what made the show so much fun to watch. Oh well, Leary will be back with something soon and it will be f*cking awesome. What he really needs to do is something on Netflix because he needs the freedom to be who he is and that is bad a$$ cursing MoFo!

---
Sex & Drugs & Rock & Roll is the rockingest show on television!
June 30th, 2016 under Denis Leary. [ Comments: none ]

When I envision what the life of a rock star is like, I think it has to be like how Denis Leary portrays it on FX's Sex & Drugs & Rock & Roll. The show is back for its second tonight at 10p and it is even more bitchin' than it was last year!
Tonight's episode starts out with them coming back from a funeral for a friend and it makes them start to look at their lives differently. Things will get even more crazy when they watch an old video of the band that shows Ava (Elaine Hendrix) and Flash (John Corbett) kissing. That not only pisses off Johnny Rock (Leary) off but also his daughter Gigi (Elizabeth Gilles) when they both find out their significant others were bumping uglies for a year and never told them about it. Because only in Rock'n'Roll can father and daughter be dating people who dated.
How will they get over it? Three ways. Not with each other, but Ava and Gigi both invite women into their beds for a night. Next week you will see Leary do something you never wanted to see him do. That is all I will say. And you will also see Ava and Gigi get it on with two other women. So it is like hot and cold and hot again.
As the episodes go on, Bam Bam (Robert Kelly) and Rehab (John Ales) will venture out of the band for another project. Ava will get a solo gig that will put a lot of stress on her relationship with Johnny. Flash will learn he doesn't know how to kiss and gets lessons how to fix that. While Johnny will learn he is not good in bed and he too will get schooled on how to please a woman. But don't worry, their education will pay off because after all this show is about Sex & Drugs & Rock & Roll.

---
Sex & Drugs & Rock & Roll is rockin'!
July 16th, 2015 under Denis Leary, FX. [ Comments: none ]

Sex & Drugs & Rock & Roll takes the stage tonight at 10p on FX. If you like Rock'n'Roll, then you are going to love this bitchin' show. It is like going to see your favorite band, going backstage and sleeping with the band member of your choice with no regrets. That's right it's like the best night of your life and one you will never forget.
Back in 1990, The Heathens were about to break, but they broke up on the day their first album came out. That's because Johnny Rock (Denis Leary) was sleeping with the other band member's wives and fiancées.
It's been 25 years since they split and they have all gone their different ways. Since their breakup it has never been as good for any of them. But that is all going to change when Johnny Rock meets a young woman at a club. Turns out Gigi (Elizabeth Gillies) is his daughter who he never knew about and she wants to get The Heathens back together to help launch her singing career. Only problem is no one in the band wants to work with Johnny Rock again. Once he gets Flash (John Corbett) the guitarist and his co-writer, who's been touring with Lady Gaga, on board, the rest follow.
Now that Johnny Rock, Flash, Bam Bam (Bobby Kelly) and Rehab (John Ales) are together again, all hell is going to break loose. In other words Rock'n'Roll is alive again for them. They are back to living the life of Sex & Drugs & Rock & Roll again and not in that order.
Sex & Drugs & Rock & Roll is the show that Denis Leary was born to do. This is him at his best, you know when he is playing someone at their worst. Plus, he has a great cast backing him up.
This show is Sex & Drugs & Rock & Roll & Comedy & Coolness & Love & Happiness & the best show on television this summer. It's for everyone who wishes they could live the crazy Rocker lifestyle because the show envisions how we all picture it. Party on!

---
Who does Denis Leary hate being mistaken for the most?
July 13th, 2015 under Denis Leary. [ Comments: none ]

Maybe because I am such a big fan of Denis Leary, but I would never confuse him for any other celebrities. That is me, but he told Us Weekly that he has been confused for Williem Dafoe, Jane Lynch and Christopher Walken. Believe it or not he finds the latter one, the biggest insult. He said, "Christopher Walken is 72 years old." Then he added, "I'm not 72. I'm 57."
Since he gets confused for other actors and an actress all the time, he recently starting signing autographs with their names instead of his own. Why disappoint them.
Now when it comes to the look alikes, I can totally see the Dafoe and Lynch resemblances, but not the Walken. Who do you think he looks like out of those three, and do you have a fourth person to compare him to.
Finally, his show Sex & Drugs & Rock & Roll debuts this Thursday on FX at 10p and you don't want to miss it. It's Denis Leary at his best. Which means he throws it all out there and everything stuck. No one is safe on this show and that includes Bruce Jenner and Kim Kardashian.

---