Shenae Grimes wants you to know she isn't Winona Ryder
March 15th, 2022 under Beverly Hills 90210 / Melrose Place, Degrassi, Winona Ryder. [ Comments: none ]
Shanae Grimes joined TikTok, and obviously, the people on there didn't watch Degrassi or 90210. That is because they think she is Winona Ryder. She is not.
The actress wanted to prove it, so she dressed up as some of Ryder's most iconic characters. Now, I am confused because she looks just like the Beetlejuice star.
You know, there are stranger things that one can be mistaken as. See what I did there?

---
HBO Max is giving us a new generation of Degrassi
January 13th, 2022 under Degrassi, HBO Max. [ Comments: 1 ]
Degrassi has been around for over 40 years, and that is long enough to give us a third generation of the show about high school and everything that comes along with it. Therefore, HBO Max is giving birth to the third take of it.
The original Degrassi launched in 1979 and ran until 1991. Degrassi: The Next Generation ran from 2001-2015. And coming in 2023, we will get the next next generation.
Since this is just an announcement, we don't know if anyone (minus Drake) from the original two versions will be back in some form. But, I am hoping they find a way to merge them all together. That is what made TNG so special.
Well, that and the fact that they take on uncomfortable issues and make them relatable for the teenage audience. They don't shy away from the challenging and controversial subjects like abortion, homosexuality, suicide, teenage pregnancy, and so much more.
Unlike American shows that focus on teens, Degrassi is not cheesy or dumbed down. They keep it real, and teens appreciate that. I am hoping they continue to do that with the upcoming ten episodes.
Even though the second sequel will not debut for another year, The Next Generation will begin streaming in the Spring on HBO Max. And the mothership is coming to the Cartoon Network soon. If you have never seen the 1,0, then you should watch it. It is television excellence.
Can you tell I am a Degrassi fan and can't wait to see what happens next?

---
BTWF: Dan Levy in Degrassi Goes Hollywood
September 25th, 2020 under Before They Were Famous, Degrassi. [ Comments: none ]

Before Dan Levy was an Emmy-winning producer for Schitt's Creek, he played a producer in Degrassi Goes Hollywood. He looks the same now as he did when he was 25 in that 2009 telemovie.

---
A massive Degrassi High Reunion!
June 3rd, 2019 under Degrassi. [ Comments: none ]

It has been 28 years since the kids from Degrassi High graduated. Over the weekend, several members of the class of '91 got together for a reunion at Joey Jeremiah's house. Even though they are 2 years away from their 30th (which means Spike's daughter Emma is in her 30's), they still look as close as did when they walked the halls together. Not only that, they look just as good if not even better now than back then.
What was the special reason why Pat Mastroianni invited his classmates to his home for a BBQ now? It was for a very good reason. On June 14th through the 16th, most of them will get together for the first Degrassi convention in Toronto. Instead of that being the first time they all see each since before the turn of the century, they met up yesterday to catch up before the big event. Oh to be a fly on the potato salad.
If you want to spend the weekend with them at DegrassiPalooza, tickets are still available. If someone wants to buy my airfare and put me up, I will join you there. It is a must for fans of the teenage soap opera that tackled so many important issues.
I hope all the Canadian stations cover the event because maybe then they will finally bring the show back for more episodes. They went through so much in high school, let's see what they are up to now. We only got a very small glimpse of their post-high school lives on Degrassi: The Next Generation. We need more.
To see photos from the reunion and see who will be at DegrassiPalooza, then click here!

---
Degrassi's Stefan Brogren got married and not to Spike!
April 24th, 2019 under Degrassi. [ Comments: none ]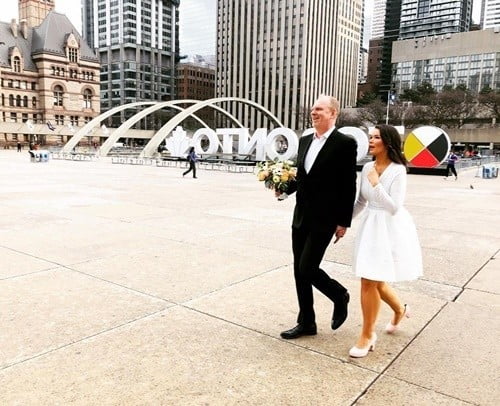 We watched Stefan Brogren grow up on all of the Degrassi shows and now we are getting a look at him being married. Snake and Michelle Shaughnessy tied the knot yesterday in a secret ceremony.
The actor and comedian explained their decision for a very small wedding, "JUST MARRIED! Surprise! In a small ceremony with our parents present we made it official and got hitched! We love our friends and family so much, but decided on a super simple day!" Then he added, "Stay tuned peeps! We will have a big 'ol shindig at a later date!"
❤️❤️❤️ xoxo"
It has been a big week for him, he turned 47 on the 21st and got married 2 days later. He better not confuse those date up next year and the year after that and so on. Good thing they got engaged in January, so he won't confuse that date with these dates.
BTW Am I the only one who is sad that Snake did not marry Spike with Joey Jeremiah officiating the wedding?

---