BTWF: Dan Levy in Degrassi Goes Hollywood
September 25th, 2020 under Before They Were Famous, Degrassi. [ Comments:

none

]

Before Dan Levy was an Emmy-winning producer for Schitt's Creek, he played a producer in Degrassi Goes Hollywood. He looks the same now as he did when he was 25 in that 2009 telemovie.

---
A massive Degrassi High Reunion!
June 3rd, 2019 under Degrassi. [ Comments:

none

]

It has been 28 years since the kids from Degrassi High graduated. Over the weekend, several members of the class of '91 got together for a reunion at Joey Jeremiah's house. Even though they are 2 years away from their 30th (which means Spike's daughter Emma is in her 30's), they still look as close as did when they walked the halls together. Not only that, they look just as good if not even better now than back then.
What was the special reason why Pat Mastroianni invited his classmates to his home for a BBQ now? It was for a very good reason. On June 14th through the 16th, most of them will get together for the first Degrassi convention in Toronto. Instead of that being the first time they all see each since before the turn of the century, they met up yesterday to catch up before the big event. Oh to be a fly on the potato salad.
If you want to spend the weekend with them at DegrassiPalooza, tickets are still available. If someone wants to buy my airfare and put me up, I will join you there. It is a must for fans of the teenage soap opera that tackled so many important issues.
I hope all the Canadian stations cover the event because maybe then they will finally bring the show back for more episodes. They went through so much in high school, let's see what they are up to now. We only got a very small glimpse of their post-high school lives on Degrassi: The Next Generation. We need more.
To see photos from the reunion and see who will be at DegrassiPalooza, then click here!

---
Degrassi's Stefan Brogren got married and not to Spike!
April 24th, 2019 under Degrassi. [ Comments:

none

]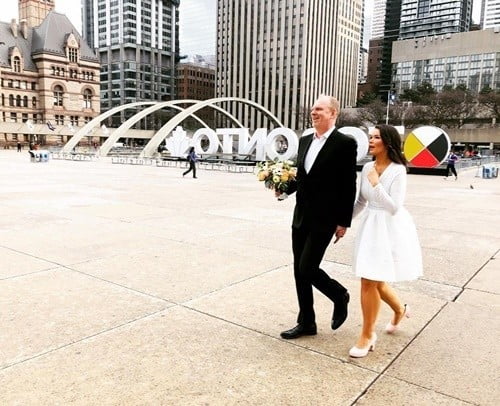 We watched Stefan Brogren grow up on all of the Degrassi shows and now we are getting a look at him being married. Snake and Michelle Shaughnessy tied the knot yesterday in a secret ceremony.
The actor and comedian explained their decision for a very small wedding, "JUST MARRIED! Surprise! In a small ceremony with our parents present we made it official and got hitched! We love our friends and family so much, but decided on a super simple day!" Then he added, "Stay tuned peeps! We will have a big 'ol shindig at a later date!"
❤️❤️❤️ xoxo"
It has been a big week for him, he turned 47 on the 21st and got married 2 days later. He better not confuse those date up next year and the year after that and so on. Good thing they got engaged in January, so he won't confuse that date with these dates.
BTW Am I the only one who is sad that Snake did not marry Spike with Joey Jeremiah officiating the wedding?

---
BTWF: Stephen Amell on Degrassi: The Next Generation
March 6th, 2019 under Before They Were Famous, DC Comics, Degrassi. [ Comments:

none

]

Before Stephen Amell was protecting Starling City from bad guys on Arrow, he was protecting a party from minors on Degrassi: The Next Generation. He looks the same now as he did when he was 22 in that 2004 episode.

---
Degrassi's Stefan Brogren is engaged!
January 29th, 2019 under Degrassi. [ Comments:

1

]

Even though it seems like Stefan Brogren has been married to Degrassi his whole life, he is actually single. In fact, the actor, who grew up on TV, is getting married for the first time.

He shared the news on social media with the above photo and wrote, "Don't know if @michellesfunny said yes to me or the ring. Either way, she's stuck with me now. #loveyou #engaged." When you are going to marry a comedian like Michelle Shaughnessy, you have to make the news of your engagement a funny.

He is not the only one who had some fun with the announcement, so did Snake's BFF Joey Jeremiah. Pat Mastroianni wrote, "Am I crazy 😜 or would DegrassiPalooza be the best venue for a wedding? 👰 🎩 I'm just spitballing …….. think about it." This June several cast members throughout Degrassi's run will be reuniting for their fans with a 2-day event. Do we hear June wedding with Mastroianni as his best man and performance by Zit Remedy? I hope so because everybody wants something!

---