It has been 28 years since the kids from Degrassi High graduated. Over the weekend, several members of the class of '91 got together for a reunion at Joey Jeremiah's house. Even though they are 2 years away from their 30th (which means Spike's daughter Emma is in her 30's), they still look as close as did when they walked the halls together. Not only that, they look just as good if not even better now than back then.
What was the special reason why Pat Mastroianni invited his classmates to his home for a BBQ now? It was for a very good reason. On June 14th through the 16th, most of them will get together for the first Degrassi convention in Toronto. Instead of that being the first time they all see each since before the turn of the century, they met up yesterday to catch up before the big event. Oh to be a fly on the potato salad.
If you want to spend the weekend with them at DegrassiPalooza, tickets are still available. If someone wants to buy my airfare and put me up, I will join you there. It is a must for fans of the teenage soap opera that tackled so many important issues.
I hope all the Canadian stations cover the event because maybe then they will finally bring the show back for more episodes. They went through so much in high school, let's see what they are up to now. We only got a very small glimpse of their post-high school lives on Degrassi: The Next Generation. We need more.
To see photos from the reunion and see who will be at DegrassiPalooza, then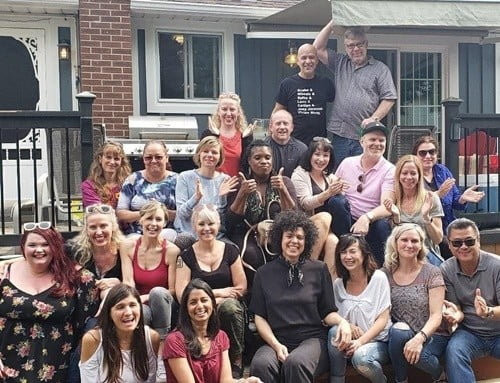 Stefan Brogren – Snake
Amanda Stepto – Spike
Kirsten Bourne Kelly – Tessa Effing Campanelli
Stacie Mistysyn – Caitlin
Pat Mastroianni – Joey
Nicole Stoffman – Stephanie Kaye
Rebecca Haines-Saah – Kathleen Mead
Dayo Ade – B.L.T
Maureen McKay – Michelle
Dan Woods – Mr. Raditch
Michelle Goodeve – Ms. Avery
Chrisa Erodotos – Diana
Cathy Keenan – Liz
Maureen Deiseach – Heather Farrell
Angela Deiseach – Erika Farrell
Siluck Saysanasy – Yick Yu
Jacy Hunter – Amy Holmes
Billy Parrott – Shane
Niki Kemeny – Voula
Darrin Brown – Dwayne
Arlene Lott – Nancy
David Parcells – Claude
Creative Team
Kit Hood – Co-Creator, Producer and Director
Judy Shiner – Art Director,Acting Coach, Set Designer, Wardrobe
Yan Moore – Head Writer
Kathryn Ellis – Author and Publicist

---