Claire Danes says season 8 of Homeland feels like its last
June 13th, 2018 under Claire Danes, Showtime. [ Comments:

none

]
Claire Danes was on Today and this morning and Willie Geist had to know if this is the last season of Homeland coming up? She told him, "I'm wondering too actually. There is no conclusive word about that." Then she added, "It feels like it. It looks like it, but yeah, there's still some kind of ellipsis. So, we shall see"
She also explained to the anchors that the filming of season 8 is delayed until the beginning of next year because her and her husband, Hugh Dancy, expecting baby #2. Therefore, a lot can happen between now and then.
If season 8 is it for Homeland, will you be all upset? Or like a time bomb going off the clock needs to reach 00:00? See I made a Homeland reference even though I do not watch the critical darling.
---
A bunch of movie stars got Emmy noms
July 10th, 2014 under Claire Danes, Emmys. [ Comments:

none

]

The Emmys noms were announced today and they pretty much suck. Basically a bunch of movie stars who star in shows that no one watches dominated the list. And if they weren't in movies, then they were people who have been nominated before. So in other words, Seth Meyers has his work cut out for him when he hosts TV's biggest night.
I could go on a rant about how Anna Faris and Melissa McCarthy only got noms because they do movies, but I did that. I could also say that The Big Bang Theory and Modern Family had their worst seasons yet, and didn't deserve to get as many noms as they did, but you are thinking the same thing. Maybe it's me, but I still don't think Orange is the New Black, Nurse Jackie and Girls are comedies. Basically, I am saying that The Goldbergs deserved noms over all the other "comedies" I listed in this paragraph.
When it comes to the drama noms, I don't watch any of the shows and I know I am not alone.
I am happy that Sherlock, Fargo and American Horror Story received a lot of noms, but I am not happy that The Normal Heart got a bunch. I am sorry, but that movie was OK. And the Band Played On was a much much much much better movie.
When it comes to reality, where the f*ck was Gordon Ramsay? MasterChef Junior was one of the best reality shows on television this season. Much better than the other nominations.
So now you know how I feel, how do you feel about them?

To see the full list, then click here!
---
Homeland is explosive and Masters of Sex is orgasmic!
September 29th, 2013 under Claire Danes, Showtime. [ Comments:

none

]

Homeland is back on Showtime at 9p tonight and it picks up 58 days after the explosion at Langley. Carrie (Claire Danes) is being questioned by the Senate Select Committee on Intelligence and they are revealing things they shouldn't know. So much so it might push her over the edge especially since she stopped taking her lithium. She is trying to control her bipolar disorder naturally and so far it has been working, but can it be the solution for her?
Saul (Mandy Patinkin) is dealing with pressure from work because the remaining people (survivors) at the CIA might be out of work now that the government wants to shut them down. Saul is getting some relief at home now that his wife is back, but things are not the same between Mira (Sarita Choudhury) and him.
Jessica Brody (Morena Baccarin) is dealing with the stress of her husband being blamed for the second worst terrorist attack in American and her daughter's suicide attempt. Dana (Morgan Saylor) is being released from the hospital, but she is a changed teenager. So changed you will be shocked.
Now you might have noticed that I didn't mention Nicholas Brody (Damian Lewis), that is because he is not in the first two episodes. Take that for what it is because we are all taking it the same way.
I have to say for those of you will be missing Breaking Bad, Homeland will pick up that excitement because the first two episodes of season three will blow you away.


Then at 10p just when you thought you heart couldn't beat any faster, it will be racing in a much different way with Masters of Sex.
In 1957, Williams Masters (Michael Sheen) was a leading fertility expert. He knows how to make a baby, but he wants to know more about the act of making a baby. So he decides to study the different phases that people go through during sex. At first he starts with prostitutes because they are the only ones who will take part in his study, but as time goes on he uses volunteers from the hospital where he works. Since it is a study, it needs to be funded and the Provost refuses to back the study knowing what it is about. So now he has to find other ways to conduct his work until he can get the money he needs.
He can't do this study by himself, so he needs a secretary and not just any normal woman because of his field of research is so taboo. He hires twice-divorced, mother-of-two Virgina Johnson (Lizzy Caplan), who is very liberated woman for the time. She believes woman can have casual sex and back then that was unheard.
Which could be why Masters' assistant, Ethan Haas (Nicholas D'Agosto), is so smitten with her. She told him just wants to be friends, but she does stuff with him he says only happens after a couple are married.
Haas not only has to worry about Virginia, he also has to worry about being Masters' wife's doctor. Even though Masters is the top fertility doctor, he can't seem to make a baby with his wife Libby (Caitlin Fitzgerald). So now they are trying the methods that he has worked his magic on with several woman before his wife, only problem is he can't do it himself so he has Haas help him out.
In order to get you to watch this titillating show, I will tell you that there is a lot, and I do mean a lot, of sex on the show. But to be honest it is so much more than a quick roll in the hay. Let's be honest we all want more than just a wham, bam, thank you mam, and that is exactly what you get with Masters of Sex.
---
Claire Danes so called life as a mom
December 19th, 2012 under Babies, Claire Danes. [ Comments:

none

]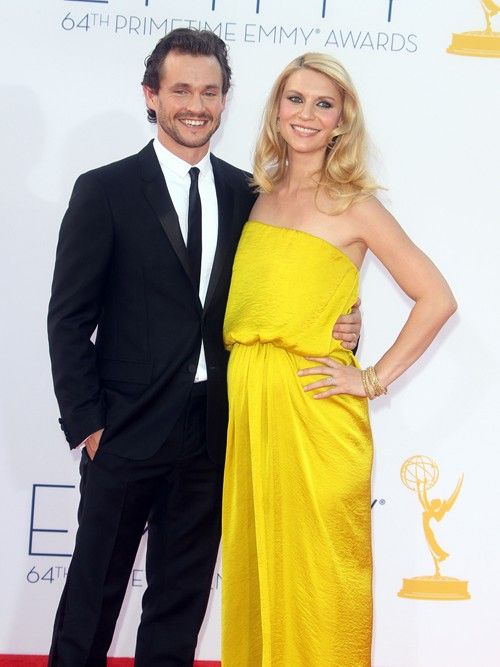 (photo from Fame Flynet)


Claire Danes has had quite year thanks to Homeland, but it is nothing like what the project her husband, Hugh Dancy, and her worked on in 2012. That's because the my so called life actress gave birth to their son Cyrus Michael Christopher Dancy on Monday according to People. The magazine did not say how she came up with the name for him, but I am going to say it is because the couples' song is Achy Breaky Heart and they named him after their favorite singer Billy Ray Cyrus.
---
Claire Danes so-called pregnancy
July 4th, 2012 under Claire Danes, Showtime. [ Comments:

1

]

(photo from WENN.com)


Claire Danes and Hugh Dancy are expecting their first child together according to People. No other information was given like when the baby is due, but a source told the mag her pregnancy should not impact Homeland.
---