Toy Story 4 annihilated Child's Play
June 24th, 2019 under Chucky, Movies. [ Comments: none ]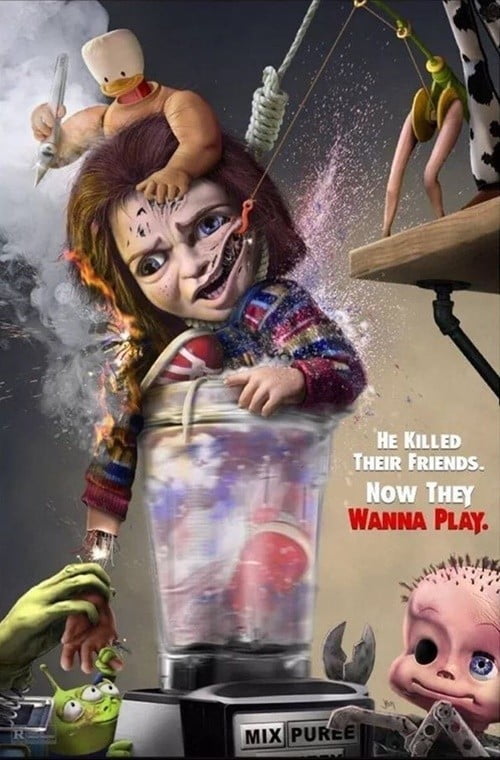 This weekend, it was Toy Story 4 versus Child's Play at the box office. Before they went head-to-head in the theater, Chucky was off with their heads. You know, because that is what he does.
Well, they had the last laugh. Not because the sequel made a killing with $121 million as compared to the remake's mere $14 million. It is because the surviving toys actually did a Chucky and killed him! No offense Mark Hamill, but he totally deserved it. He is not Don Mancini's Chucky. That is the only killer redhead doll creator's creation I care about.
To see how Chucky killed Slinky Dog and Hamm, then click here!

---
Ellen DeGeneres scares Aubrey Plaza with her own movie
June 14th, 2019 under Chucky, Ellen DeGeneres. [ Comments: none ]

For two month, Aubrey Plaza spent her days and nights getting scared by Chucky and she thought she was done with it. Now that she is promoting Child's Play, Ellen DeGeneres thought she needed one more scare from the killer doll.
Since it is Ellen, it is going to be scary, very scary. Or tortorous, I should say. First, the daytime talk show host asked the actress to play a game of Speak Out. You know, the one where you put a plastic mouthpiece in your mouth and try to get the other person to guess what you are saying. It is not easy for your opponent to understand you, so you really have to concetrate. Just as Plaza was really deep in thought on the next phrase, that is when Chucky jumped out of the desk. Scaring the living crap out of her.
What made this scare so much better than the other ones is the fact that Plaza had the mouthpiece in. She already had her scream face on! And kept it on even after she the prank was over.

---
The Child's Play remake seems more about technology than a killer doll
April 18th, 2019 under Chucky, Movies. [ Comments: none ]

There was something about '80s horror that made it so scary. It was so simplistic and you were more afraid of what you did not see than what you did see.
Then came CGI and you see more than you need to. Not only that, so many of these horror directors use the same techniques, so it all seems the same no matter what the movie is.
In recent years, Hollywood remade Friday the 13th, Nightmare on Elm Street, Halloween and Poltergeist. All those movies were promised sequels that were never made. Why? Because CGI ruined them. Yes, there was a Halloween 2, but not a 3 as reported.
You would think that Hollywood would have learned its lesson, but no. Only June 21st, Child's Play is back in theaters. This time the talking killer doll is being aided by modern technology. Which makes me wonder, why not just use another doll instead of Chucky to tell the story?
Another problem with today's horror is they took all the comedy out of the genre. That is why we still talk about the horror franchises from the past and not the new ones. A murdering doll that is possessed by death row inmate is so absurd that the movie has to be the same. The second you make it seem like it is real and take it seriously is when you lose the audience.
I am sure I will eventually see this Child's Play, and hate it. Sorry, Mark Hamill, I love you, but I cannot support you as Chucky.
I really wish Hollywood would try to be original and stop redoing stuff from their childhood. It is never as good.

---
Which Chucky do you like better?
April 16th, 2019 under Chucky, Movies. [ Comments: none ]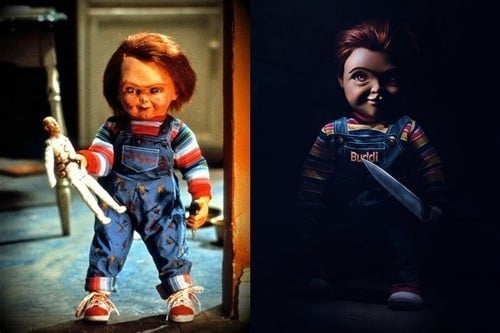 For some reason they are reimaging Child's Play even though the original creator Don Mancini is still making movies with the franchise.
Today, we got a look at the new Chucky and CGI ruins everything. As you can see he is not as creepy because he does not look like a real doll. That is why the original killer toy still haunts us until this day.
What do you think? Do you want to see the new Chucky on September 21st or do you prefer to watch the original?

---
Guess who looked like Chucky when he was a kid?
October 15th, 2018 under Chucky, Guess who?. [ Comments: none ]

Want to see who went from looking like a horror movie icon to an action star, then click here!

---