When will we say goodbye to The Big Bang Theory?
March 11th, 2019 under CBS, Chuck Lorre. [ Comments:

none

]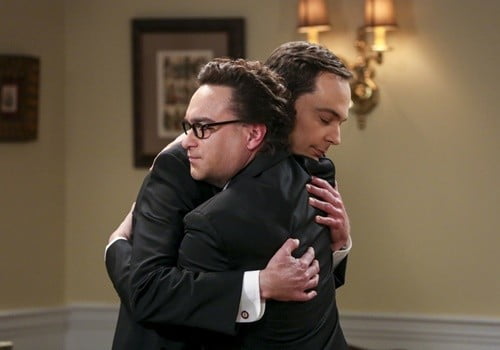 Ever since CBS announced in August that this will be The Big Bang Theory's final season, we have wanted to know when that last episode will air. Today, CBS told us that and when their other shows are ending their seasons.
To see how much time you have to stock up on tissues, then click here!
---
Bazinga, Young Sheldon renewed for 2 more seasons!
February 22nd, 2019 under Chuck Lorre. [ Comments:

none

]

Earlier this month, CBS picked up Chuck Lorre's Mom for 2 more seasons. Today, they did the same with his sweet show Young Sheldon. The spinoff from The Big Bang Theory was picked up for seasons 3 and 4.
Is the news a surprise. Not at all. Not only is it doing well in the ratings, but it is also getting better with each episode. I think it will do even better without TBBT being on the air. It does not have to compete with its older self.
Now if CBS was smart, they would do a spinoff with Old Missy and Older Georgie. After seeing them on TBBT, I want to know how their lives turned out.
Either that or Wil Wheaton's D&D. How fun was that storyline yesterday? The can switch up famous celebs each week.
---
Mom was given a 2-year chip from CBS
February 6th, 2019 under Chuck Lorre. [ Comments:

none

]

CBS picked up Mom for not one but two more seasons today. Bringing the Chuck Lorre sitcom's total to eight seasons.

When the show's female leads Anna Faris, Allison Janney, Mimi Kennedy, Jaime Pressly, Beth Hall and Kristen Johnson heard the news, they had a little party. You just think they could afford something more expensive to eat than a salad. Especially since there is a steak joint right across the street from the studio.

BTW out of all of Lorre's shows, this is the only one I have never watched.
---
Chuck Lorre gets serious with Michael Douglas and Alan Arkin
October 12th, 2018 under Chuck Lorre, Michael Douglas, Netflix. [ Comments:

none

]

Chuck Lorre has given us some of the biggest comedies over the last 30 years: Dharma & Greg, Grace Under Fire, Cybill, Two and a Half Men, The Big Bang Theory, Mike & Molly, Mom and Young Sheldon. That is a lot of funny television.
Now he is teaming up with Netflix to give us a dramedy starring two huge movie legends. Michael Douglas and Alan Arkin are partnering up in The Kominsky Method. The show is being described as, "On November 16, meet Sandy (Michael Douglas) and Norman (Alan Arkin), two lifelong friends who are navigating the ups and downs of life with humor, dignity, and some prostate trouble – reminding us that some friendships never get old."
I think all of Lorre's sitcoms have been leading up to this one show. The show that will finally change the perception that so many people have of him and realize he is one of the greatest executive producers to ever work in television.
Now the only thing I want to is will he do Vanity Cards for it?
---
The Big Bang Theory's 12th season will be its last
August 22nd, 2018 under Chuck Lorre, Kaley Cuoco, Mayim Bialik. [ Comments:

none

]

After season ten, CBS picked up The Big Theory for two more seasons. Now that they are into that second season, people have been wondering will its 12th season be its last one.
Today, we got the answer and this will be their final season. WBTV and Chuck Lorre set this statement to The Hollywood Reporter, "We are forever grateful to our fans for their support of The Big Bang Theory during the past twelve seasons. We, along with the cast, writers and crew, are extremely appreciative of the show's success and aim to deliver a final season, and series finale, that will bring The Big Bang Theory to an epic creative close."
It is interesting that they are ending the sitcom because it was the #1 scripted show last season. You would think everyone at the network and the studio will do everything it can to keep it going as long as they can.
Having said that as someone who has watched every episode, I am OK with ending. It has had run its course and I hope it goes out like it came in. By making us laugh.
How do you feel about The Big Bang Theory ending its hugely successful run?
UPDATE: Kaley Cuoco had this to say about the show ending, "This ride has been a dream come true and as life changing as it gets. No matter when it was going to end , my heart would have always been broken in two. Drowning in tears, we promise to bring you the best season yet. To the fans, our crew, families, Chuck Lorre, Warner Brothers, CBS, and everyone who has supported us for so many years, thank you. We are goin out with a bang 💫"
---