Chistian Bale redeems himself
July 24th, 2012 under Batman, Christian Bale. [ Comments: none ]
A few years ago Christian Bale was known for doing something bad, but today he negated all of that by doing something very good from the bottom of his heart. Bale flew to Aurora, Co on his own dime and visited several people who were injured in Friday's shooting according to the Denver Post. He did not do it for publicity, but the injured people and the hospital workers leaked that he was there. Not only did he spend time at the hospital, he also went to the shooting location. He didn't have to do it, but he chose to on his own. And because of that I respect the hell out of him. We need more actors like him because what he did brought a lot of people that really need it.

---
Christian Bale is a Powerpuff Girl!
December 15th, 2010 under Batman, Christian Bale. [ Comments: none ]

Christian Bale and Mark Wahlberg were doing the junket for their movie The Fighter, when they were asked to sing their way out of their interview for Popcorn with Peter Travers. Former-rap sensation Marky Mark was all down for it, but the Newsie wasn't. Eventually he gave in and sang the theme Powerpuff Girls. Listening to him explain why he chose that song with his native English accent and with the longer hair and facial hair, I think he feels more like a rock star than his co-star who really was one.

---
Christian Bale just lost his action hero cred!
June 16th, 2010 under Batman, Christian Bale. [ Comments: 7 ]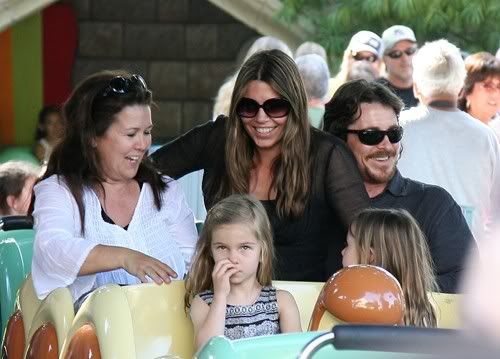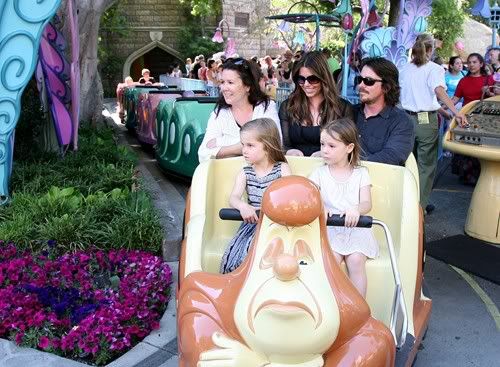 Bauer-Griffin Online
Christian Bale and his wife Sibi took their daughter Emmaline to Disneyland and together the family went on the Alice in Wonderland ride. I know he is being a good dad, but these pictures have totally ruined his action hero cred for me. Can you watch him fighting crime as Batman after these pictures? I know I won't be able to. Even though he does look so much better with the longer hair.
BTW I am surprised he was able to get in to the Happiest Place on Earth after his unhappy tirade on the Terminator Salvation set. You think he would be banned from the G-rated place after that F-laced rant. Guess doing a Disney movie (Newsies) gets him a get in for free pass for life.

---
Tom Cruise was Christian Bale's American Psycho!
October 21st, 2009 under Christian Bale, Tom Cruise/Katie Holmes/Suri. [ Comments: none ]

Mary Harron, the director of American Psycho let Black Book in on the secret of who was Christian Bale's inspiration for Patrick Bateman.
How did you and Christian Bale develop his character in American Psycho?
It was definitely a process. We talked a lot, but he was in L.A. and I was in New York. We didn't actually meet in person a lot, just talked on the phone. We talked about how Martian-like Patrick Bateman was, how he was looking at the world like somebody from another planet, watching what people did and trying to work out the right way to behave. And then one day he called me and he had been watching Tom Cruise on David Letterman, and he just had this very intense friendliness with nothing behind the eyes, and he was really taken with this energy.
OMG! Now that I know that, I am not sure I will ever be able to watch American Psycho the same way. Just re-watching the Hip to be Square scene, Bale reminds me of Cruise in Rain Man. He even sounds like him now that I think about it. Even the hair is the same. OK, I must stop analyzing this because I love American Psycho and this new knowledge is killing me softly like Patrick Bateman did to Paul Allen.

---
BTWF ads: Christian Bale for Pac-Man Cereal
July 27th, 2009 under Batman, Before They Were Famous, Christian Bale. [ Comments: none ]

Before Christian Bale was Batman, he was all about Pac-Man Cereal. How awwwdorable was the 9 year actor dancing around in his white suit in that 1983 commercial. I really hope he doesn't go off on a tirade on me like he did with that Terminator Salvation DP for posting that ad.

---