BTWF: Pee-Wee Herman on The Dating Game
August 2nd, 2023 under Before They Were Famous, Pee Wee Herman. [ Comments: none ]
Before we fell in love with Pee-Wee Herman, he was trying to find love on The Dating Game. Can you believe that she didn't pick the 26-year-old bachelor in that 1979 episode? I would've picked him!

---
BTWF: Paul Reubens in Working Stiffs
July 31st, 2023 under Before They Were Famous, Pee Wee Herman. [ Comments: none ]
Before Paul Reubens was looking for adventure in Pee-Wee's Big Adventure, his friends told him where he could photograph one on Working Stiffs. How funny was the 27-year-old in that 1979 episode?

---
RIP Paul Reubens, aka Pee-Wee Herman
July 31st, 2023 under Pee Wee Herman. [ Comments: none ]
Paul Reubens, better known as Pee-Wee Herman, passed away at the age of 70. "Last night we said farewell to Paul Reubens, an iconic American actor, comedian, writer and producer whose beloved character Pee-wee Herman delighted generations of children and adults with his positivity, whimsy and belief in the importance of kindness," the statement reads. "Paul bravely and privately fought cancer for years with his trademark tenacity and wit. A gifted and prolific talent, he will forever live in the comedy pantheon and in our hearts as a treasured friend and man of remarkable character and generosity of spirit."
Reubens also left some parting words for us, "Please accept my apology for not going public with what I've been facing the last six years. I have always felt a huge amount of love and respect from friends, fans and supporters. I have loved you all so much and enjoyed making art for you."
And we enjoyed the art he created because he made us smile as Pee-Wee Herman. It was a beloved character whose innocence made us just want to hug him and be his friend. Who didn't love Pee-Wee Herman?
That is why some people are finding out that it was not his real name. It is Paul Reubens. And as Paul Reubens, he starred in many memorable roles, including Buffy the Vampire Slayer movie and Murphy Brown.
Today's word of the day is sadness. But that is not what he would want. So let's watch Pee-Wee's Playhouse and let our laughter guide him up to heaven.

---
Pee-Wee Herman is immortalized as a Chai Pet
December 12th, 2022 under Chia Pet, Pee Wee Herman. [ Comments: none ]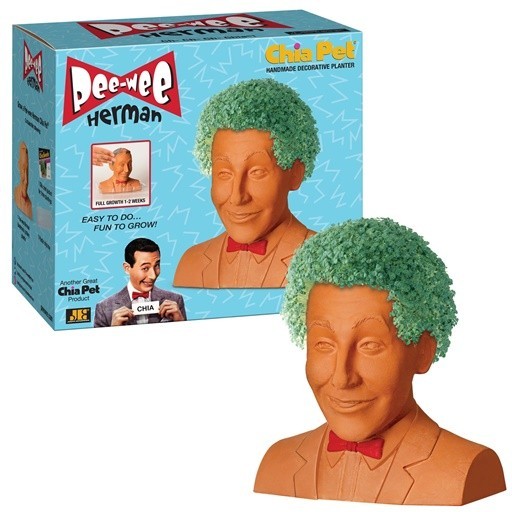 Don't know what to get that person who has everything for Christmas, then buy them the Pee-Wee Herman Chia Pet which is out now. It is the perfect addition to any window that needs a little something to brighten it up!
I know having him look at me with green hair would make me smile, just like the real thing does every time I see Paul Reubens on our televisions.
BTW Did you know that you can use regular Chia seeds if you run out of the ones that come with the original packaging? I learned that last week on my Buy Nothing group, and I am still blown away by that fact.

---
BTWF: Leslie Jordan on Murphy Brown
October 25th, 2022 under Before They Were Famous, Candice Bergen, Leslie Jordan, Pee Wee Herman. [ Comments: none ]
Before Leslie Jordan was working with cats on Call Me Kat, he was taking care of ants on Murphy Brown. It is easy to see why Pee Wee Herman fell in love with the 33-year-old in that 1989 episode.

---