Did you know that Chevy Chase has been married to the same woman for 37 years?
June 19th, 2019 under Chevy Chase. [ Comments: none ]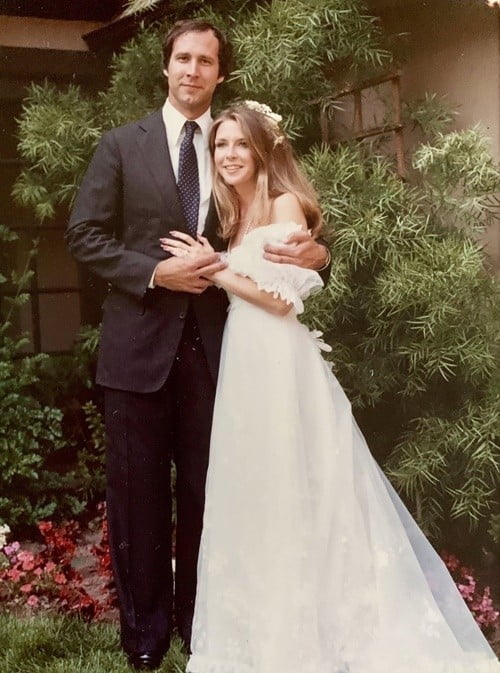 Back in 1982, Chevy Chase got married for the third time and he has been married to Jayni ever since. In fact, the couple are celebrating their 37th wedding anniversary today. Which in Hollywood is a lifetime.
However, to him, it does not feel that way to him. He wrote, "37 years!! How many of you, my fans, could still be actually faithful to my wife for 37 years? I've been faithful to yours..Wait. That doesn't sound right. Anyhow honey, I love you and here's to another 37."
I don't know about you, but I had no idea he was married. Let alone to the same person for over 35 years and that they have three adult daughters together. I thought he was an eternal bachelor.

---
Chevy Chase breaks his silence about rehab
September 8th, 2016 under Chevy Chase, Rehab. [ Comments: none ]

Earlier this week, it was revealed that Chevy Chase entered rehab for a "tune-up" and today he confirmed it on WhoSay. Flecth said, "I wanted to take a moment to thank all of you for your love and especially your words of encouragement this week. I'm here in Minnesota because I love my vodka a little too much and I think it's time I stopped. My focus is to keep my family from worrying and get back to my birth weight. Thank you so much for your support and I look forward to laughing with you again soon. Love, Bob (Chevy 😄)"
I can't wait to be laughing with him again because it sounds like "Bob" has sense of humor back.

---
BTWF shows: John Belushi, Chevy Chase & Christopher Guest in Lemmings
February 17th, 2015 under Before They Were Famous, Chevy Chase, Saturday Night Live. [ Comments: none ]

Before John Belushi, 24, Chevy Chase, 29, and Christopher Guest, 25, were all on Saturday Night Live, they all did a stage show called Lemmings for National Lampoon. You truly can see how talented all of them were in this 1973 live performance.

---
A mini-Griswold family reunion!
December 24th, 2014 under Chevy Chase, Reunions. [ Comments: none ]

We are still a whiles away from getting another Vacation movie, but until then we can get some Christmas cheer seeing two of the Griswolds together! Juliette Lewis shared a photo of herself with her movie pops, Chevy Chase, and you get that same feeling as when someone finally turns on the lights on the tree. Well, if Clark Griswold was doing it, we would be seeing a fire because you know he can't do anything right when it comes to situations like that!
Seriously though, how sweet is this photo of Audrey and her dad?

---
Yahoo, Community has been saved!
June 30th, 2014 under Chevy Chase, Joel McHale, Yahoo. [ Comments: none ]

First NBC broke our hearts when they cancelled Community, and then Hulu did the same last week when they said they weren't picking up the sitcom. But today Yahoo made us smile with glee when they announced that they picked up the show for a 6th season! That's right, this fall we will be getting 13 new episodes on Yahoo Screen.
Joel McHale, Alison Brie, Gillian Jacobs, Yvette Nicole Brown, Danny Pudi, Ken Jeong, Oscar winner Jim Rash and Executive Producer Dan Harmon will all be back in Greendale. Chevy Chase was expelled a while ago and will not be there. So how do they feel about the move? Harmon said, "I look forward to bringing our beloved NBC sitcom to a larger audience by moving it online. I vow to dominate our new competition. Rest easy, Big Bang Theory. Look out, Bang Bus!" And McHale added, "Thank you Sony. Thank you Yahoo. Thank you Dan Harmon. And thank you to the greatest f%$#ing fans in the history of the human race. It's the internet. We can swear now." F*ck yeah! That is what Community was missing, cursing! Now the show is complete!
So how happy are you that Yahoo saved Greendale? I know, I can't wait to see how they mesh this news in with the 6th season premiere in the fall. And I also want more musical numbers.

---