Cards Against Humanity is looking for your short films
July 3rd, 2023 under Cards Against Humanity. [ Comments: none ]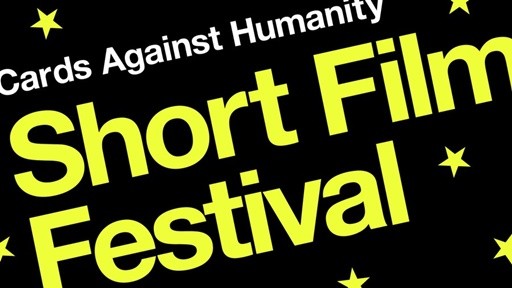 We have all played Cards of Humanity. And now they want something from you. They want your quirky short films (that are between 4-40 minutes long), that make you declare, "Oh, the humanity," like Les Nessman from WKRP in Cincinnati, for their Cards Against Humanity Short Film Festival.
How can you enter? You need to pay $40 to enter at CAHFest.com. Then you send them your short via YouTube or Vimeo by July 25th. Then they will select the finalists by September 12th.
How will you see who made the finals? In October, they are releasing the Movie Night Box with 30 new cards. Along with the cards, you will get the key to watch the festival and pick a winner.
What does the winner get? They will get $100,000! The second-place winner gets a tenth of that. And all the other finalists get a tenth of that.
While the money is nice, there is something even better for the finalists. Thousands of people will see their works of art! And people who will get it, unlike your Aunt Mary Alice, who is still only watching black and white wholesome movies.

---
Now you can play Cards Against Humanity with the kids!
August 19th, 2020 under Cards Against Humanity. [ Comments: none ]

Are you sick of giving your kids Benadryl to knock them out so that you can play Cards Against Humanity with your friends? Well, now you can play with them because there is a family edition of the best game ever made! It is PG-13, so they can play along and laugh at fart jokes like us. We might get old, but those jokes never do.

With 600 cards included in the box, we can have hours and hours of fun with our kids for once. Heck, since my friends' kids are in school remotely, I am going to go over to their house at 1p and play with the adults while the kids are virtually learning and can't play. This way they can what we do when they are in school. Now you know why they call me the Wicked Witch, and they have never seen Wizard of Oz.

Let's say you are playing at night, and you have finally put the brats to sleep. Can you mix the Family Edition up with the other editions? CHA says, "We once heard of a man in Dubuque, Iowa who did this, and his butt exploded." They reiterated, "Yes, it was quite serious. His entire butt exploded all over the place. If you still wish to tempt fate, please note that Family Edition cards are a little wider and have different backs than regular CAH cards." Aren't there a few cards about that in the adult editions?

Get the Family Edition now, so that you will have something to do for the holidays. It is not like we will be able to see our families this year because some a$$hole ate a raw bat in a wet market (not that type of wet market) and spread a killer virus all over the world.

---
Sir Mix-A-Lot is the face of Cards Against Humanity's A$$ pack
November 6th, 2019 under Cards Against Humanity, Cool Technology. [ Comments: none ]

Back in 1992, Sir Mix-A-Lot became a household name because of his song Baby Got Back. Now, 27 years later, Cards Against Humanity found a way to use him to promote their latest pack. It is dedicated to all of those backs aka a$$es. Because you can't be the butt of all jokes without a pack dedicated to just butts. Especially if you are this party game that helps you get to know your friends and family better than you ever knew them before. Maybe too much.
The A$$ pack with 30 cards goes for $5. Which is not bad if you consider that you get each card for less than $.17. Although can you really put a price on all the joy you will get from them?
BTW Sir Mix-A-Lot helped write some of the playing cards because we know baby got their backs. That was a lame joke.

---
Cards Against Humanity does something for humanity!
May 22nd, 2014 under Cards Against Humanity, Sports figures. [ Comments: none ]

Ever since you found out about Lance Armstrong's doping scandal, haven't you wanted to get him back for lying to you? Well, if you are a fan of the game Cards Against Humanity, you know they have a not-so-nice card about the former-bicyclist. The card reads, "Lance Armstrong's missing testicle". Well, when he was recently playing the game, guess what card he got. That one!
So everyone should go out and buy Cards Against Humanity as a thank you for doing something we have all wanted to do.
BTW I wonder how many of the other famous people featured in this game have gotten their card? I feel for them because what makes this game so great, is how bad it is. You have to be sick to play and even sicker to win it. And yes I have won!

---