Sophie Turner is bananas for Joe Jonas' banana
May 20th, 2019 under Captioned By Me, Jonas Brothers. [ Comments: none ]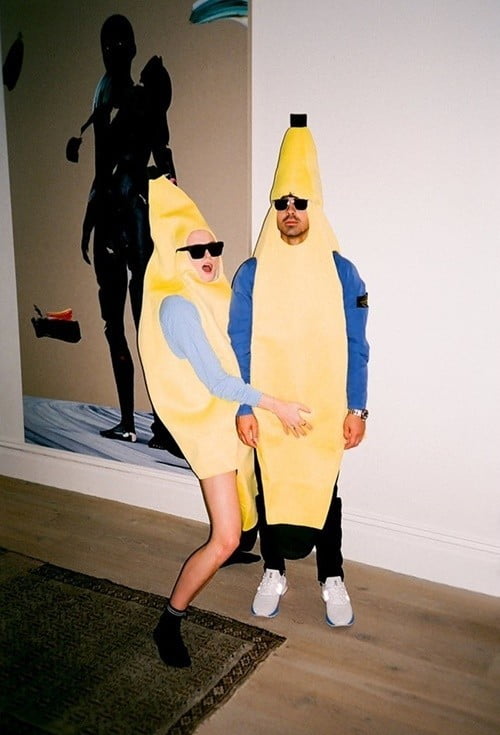 Joe Jonas posted the above photo and told us to caption it, so I did.
He did not tell us why they are dressed as bananas. However, I am sure the reason is just as bananas as how they look. I guess you can say it is a-peal-ing to them.

---
Is Anthony Hopkins about to go all Silence of the Lambs on Chris Hardwick?
June 23rd, 2017 under Anthony Hopkins, Captioned By Me. [ Comments: none ]

Sir Anthony Hopkins and Chris Hardwick were on Jimmy Kimmel Live yesterday and posed for this photo backstage. I don't know about you, but I think it looks like someone needs to put that mask back on Hannibal ASAP before he eats the Nerdist!

---
Caption Steven Tyler!
May 29th, 2017 under Aerosmith, Captioned By Me. [ Comments: none ]

This photo of Steven Tyler has Caption Me written all over it, so go ahead and do it!

---
Adam Scott shows of the beauty of Hawaii
December 27th, 2016 under Captioned By Me. [ Comments: none ]

Adam Scott is in Hawaii and he showed us what the state is all about. Not the beautiful beaches and hula girls, but the bathroom. I guess after 6 years of working at Parks & Rec, that is what he considers the best place to take a Selfie while on vacation.

---
This photobomb is too much to bear!
March 19th, 2014 under Captioned By Me. [ Comments: none ]

via Tosh.0
So a man captured a really huge fish and thought that he was the winning hunter of the day. Turns out the bear behind him really is, because not only will he get fish for dinner that night but he will get to have some meat with it.
BTW I wish someone photographed that guy's face when he saw the bear salivating behind him! It would be like that newsanchor's face on Monday when he felt the quake here in LA!

---