Walter White is dead?
September 23rd, 2019 under Aaron Paul, Bryan Cranston, Netflix. [ Comments:

7

]

Netflix released a new teaser for El Camino: A Breaking Bad Movie during the Emmys. While it did not seem to tell us much about the movie, it told us one very important thing. Nine men died in that final shootout. That means the 8 occupants from the compound were killed and one more individual. Since we know that Jesse Pinkman (Aaron Paul) got away. We are left to assume that the ninth victim is none other than Walter White.
Although, what if he is the suspect they saw flee was White and not Pinkman. Things that make you go hmmmm? I guess we will find out on October 11th when the movie hits the big screens and the smaller ones on the streaming site.
---
Bryan Cranston was a bitch to Aaron Paul!
May 22nd, 2019 under Aaron Paul, Bryan Cranston, Seth Meyers. [ Comments:

none

]

Yesterday on Late Night, Bryan Cranston admitted that he would play jokes on Breaking Bad co-star Aaron Paul.
Since Paul was just a baby at the time, he was very gullible. Therefore, Walter White would take advantage of that. Cranston would go up to him and be like, "Hey man, it's been great." Paul did not know what he meant, so the Tony nom would be like you haven't read the next script yet? Then after a while, he would do it again. This time, he was like, "The next best thing to being on a show for a long time is a great death scene…You're gonna rock that death scene."
Now you know why Paul said bitch all the time on the show, it was his way of him letting his co-star know how he felt about all of the mind games he was playing on him. Poor Pau. It is funny, but mean!
---
The Malcolm in the Middle parents reunite!
May 13th, 2019 under Bryan Cranston. [ Comments:

none

]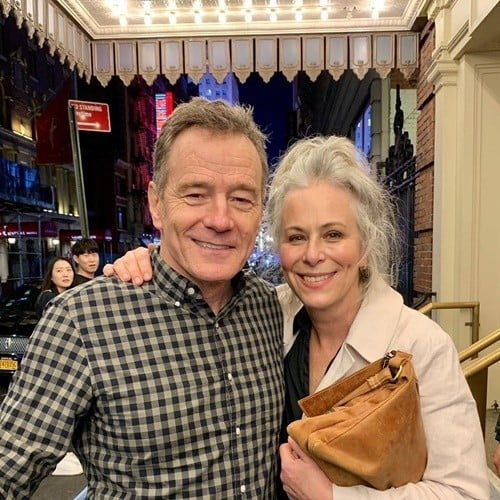 It has been 13 years since Malcolm in the Middle ended its run on Fox and you would think by now Lois and Hal got most of their 5 boys out of the house. That means they can finally have a date night and nothing breaking bad would happen.
What would their night out on the town look like? It would look a lot like when Jane Kaczmarekshowed up to see Bryan Cranston in his Broadway show Network over the weekend.
Seeing them together again, makes me wish that Fox gave their show a revival order today. Am I the only one who still misses Malcolm?
BTW did you know that Linwood Boomer, the creator of the show, played Adam, Mary's husband, on Little House on the Prarie?
---
BTWF: Bryan Cranston on Seinfeld
January 14th, 2019 under Before They Were Famous, Bryan Cranston, Seinfeld, TV News. [ Comments:

none

]

Before Bryan Cranston was making meth on Breaking Bad, he was nitrous oxide inhaling dentist on Seinfeld. How funny is the 38-year-old in that 1995 episode?
To hear him tell Good Morning America how that moment came about, then click here!
---
WTF was The Tonight Show thinking with this bit?
January 11th, 2019 under Bryan Cranston, Jimmy Fallon. [ Comments:

none

]

The Tonight Show is normally the warm and fuzzy late night show, but yesterday they did a bit with Bryan Cranston and Jimmy Fallon that gave me the creeps.
I read that they did some high school musical thingy, and I was like swell. But what The Upside star did was from hell. It is not that he is not the best singer. It was what they had him singing about. Were the writers smoking what he made on Breaking Bad? That is the only excuse I can come up with for that mess.
On a positive note, Cranston can really shake his hips!
---