The Batman halts production because of the corona
September 3rd, 2020 under Batman, Robert Pattinson. [ Comments: none ]

The Batman halted production earlier this year because of the coronavirus pandemic like every other movie that was being made. In the last few days, they got back to work. Only to be shut down again because of COVID-19.
"A member of 'The Batman' production has tested positive for Covid-19 and is isolating in accordance with established protocols," a Warner Bros. spokesperson said in a statement to Variety. "Filming is temporarily paused."
Hopefully, when filming resumes again with Robbert Pattinson in the title role, they will go corona-free for the rest of production. They have three months left to film and are hoping to be done by the new year. If not, then I wonder if it puts the October 1st release date in trouble.
UPDATE: According to Vanity Fair, The Batman is the one has the corona. Hopefully Robert Pattinson will be better soon.

---
Watch Robert Pattinson as The Batman
August 23rd, 2020 under Batman, Robert Pattinson. [ Comments: none ]

Warner Bros released the first teaser for The Batman with Robert Pattison. I will start off with something positive; I love the name. When it comes to the rest, it is the same Batman movie with a different actor as the lead. Why can't they change it up and make it less dark? I always feel like I am watching these movies with sunglasses, and I am not.
Do you want to see it when it comes out on October 1, 2021?

---
Which Batman might be ready to put on the suit again?
June 23rd, 2020 under Batman, Michael Keaton. [ Comments: none ]

Back in 1989, DC Universe brought Batman to the big screen with Michael Keaton as the caped crusader. Now, thirty years later, the actor is in talks to reprise his role in The Flash movie.
It gets better. According to The Hollywood Reporter, if he signs on to do it, he will be like Samuel L. Jackson's Nick Fury in Marvel Universe. As in he would be a mentor to other superheroes in the films that call for it.
If Beetlejuice, Beetlejuice, Beetlejuice turns it down, then I wonder if they will go to Val Kilmer or George Clooney. Personally, I think they should go to the latter because he looks older. That and he killed the franchise once, let's see him do it again. I am so over superhero movies.

---
It's Robert Pattinson as Batman
February 13th, 2020 under Batman, Robert Pattinson. [ Comments: none ]

It seems like it has been forever that we have been hearing about Robert Pattinson playing Batman. Npw we are finally getting to see him as the Caped Crusader. The movie's director Matt Reeves shared a short video of the Vampire as the Dark Knight.
Dark is the keyword. If you don't turn your brightness all the way up, you cannot see him. I was hoping that DC Universe would have learned that by now. People don't like dark movies, as in both the cinematography and the theme. I guess they will learn after another failure like Birds of Prey.
When are they going to listen to the Bible, and "Let there be light"?

---
No virgins allowed to see Joker?
October 5th, 2019 under Batman. [ Comments: none ]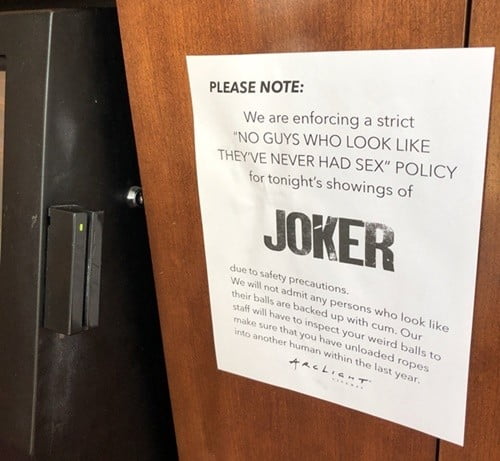 via Nick Ciarelli
Some joker put up a sign at the Arclight screening of Joker. It reads, " Please note: We are enforcing a strict. 'No guys who look like they've never had sex' policy for tonight's screenings of Joker due to safety precautions." Then they added, "We will not admit any person who look like their balls are backed up with cum. Our staff will have to inspect your weird balls to make sure that you have unloaded ropes into another human in the last year."
According to The Hollywood Reporter, the movie chain denies making the sign. However, I would actually believe that it was real. Do you?

---