Nick Carter gets a restraining order against Aaron Carter
September 18th, 2019 under Backstreet Boys /Aaron Carter. [ Comments:

none

]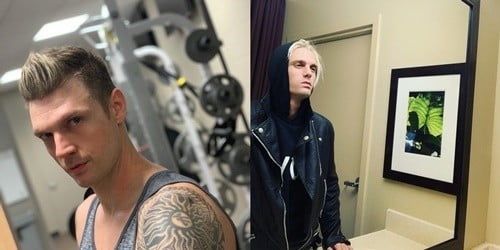 For years, Aaron Carter has been taunting his older brother Nick Carter on Twitter. In the last few weeks, it has gotten really bad. So much so, their fans have joined in on the feud. I guess the little brother went too far because he tweeted, "So my brother just got a restraining order against me. And I was just served lol." Then he added, "Take care. @nickcarter we're done for life…I haven't seen him in four years. And I don't intend."
After Aaron went public, Nick explained why he got the order. He explained, "After careful consideration, my sister Angel and I regret that we were required to seek a restraining order against our brother Aaron today. In light of Aaron's increasingly alarming behavior and his recent confession that he harbors thoughts and intentions of killing my pregnant wife and unborn child, we were left with no choice but to take every measure possible to protect ourselves and our family. We love our brother and truly hope he gets the proper treatment he needs before any harm comes to himself or anyone else,"
Nick also included the hashtag #guncontrolnow with his statement. That is because his baby bro openly admits that he has an arsenal of guns that he will not part with it.
After getting the restraining order, Aaron then accused his brother of rape and beating up Paris Hilton. Claims that have been reported in the media.
It would be nice to see the two of them get along. Especially since their mom is in rehab. However, this seems to be a relationship that looks like it can never be repaired.
---
Aaron Carter cancels his tour dates after appearing on The Doctors
September 16th, 2019 under Backstreet Boys /Aaron Carter. [ Comments:

none

]

On Thursday and Friday, Aaron Carter appeared on The Doctors for a health update and to ask him them to convince his mother to go to rehab. Which she agreed to do for a drinking problem.
On the latter episode, he revealed that he has been diagnosed with multiple personality disorder, schizophrenia and acute anxiety. While he was talking about all the medicines he has been taking for those conditions, neuropsychologist Dr. Judy Ho offered to evaluate him for free and make sure that all of those diagnoses are correct. He agreed to meet with her after the show if he could pay her.
This morning he revealed on social media, "I appreciate the love and efforts from my supporters but after my next two shows coming up in Kentucky & Missouri & after I fly to Vancouver to do the toy drive which I'm donating 400 toys and over 1k of fan donations I'm canceling the rest of my shows for the remaining year." Then he added, "I have to put my health first and I hope you can all understand how much I need this time to heal and recharge my batteries. I love you. Stay strong. Stay healthy, and just know I'll be back next year ready to go. But as a man, this is what I need to do to have some peace. Xo"
No word if he met with Dr. Ho before making this decision. Either way, he made the right choice and needs to put himself first. Hopefully, he will continue to get the help he needs.
---
Aaron Carter lied to The Doctors about why he went to rehab
September 12th, 2019 under Backstreet Boys /Aaron Carter. [ Comments:

none

]

Two years ago, Aaron Carter was on The Doctors after a DUI arrest and they instructed him to go to rehab for his health. The singer said that all of his issues were related to his anxiety which caused him panic attacks.
Today, he returned to the daytime talk show, not for himself but for his mom who he feels is an alcoholic. Before she came on to the show, he admitted that he lied to them back then. The real reason he went to rehab was that he was addicted to huffing. He was inhaling aerosols and dust cans. Which explains why his immune system was so weakened especially his lungs.
Carter says that ever since he got the help they insisted on him getting, he has remained clean. Hopefully, his mother, who made the same decision as her son did two years ago, will get sober too.
The next episode of The Doctors will deal with Carter talking about his diagnosis of multiple personality disorder, schizophrenia, acute anxiety and he is also a manic depressive.
---
Corey Feldman and Aaron Carter join Marriage Boot Camp: Family Edition
August 9th, 2019 under Backstreet Boys /Aaron Carter, The Two Coreys, WeTV. [ Comments:

1

]

Corey Feldman returns to reality TV on October 11th in Marriage Boot Camp: Family Edition. This time, instead of trying to repair his relationship with his best friend, the late Corey Haim, he is trying to bring peace to his relationship with his brother and his sister-in-law.
While he working with his sibling, Aaron Carter is trying to make things work with his mother. He has claimed that she stole money from him, but she denies it.
Also on the WeTV show is Real Housewives of Orange County Alexis Bellino and her mother, and Basketball Wives Laura Govan and her parents Gloria and Michael.
I don't know about you, but this will be appointment viewing for me. Feldman is always interesting to watch on "unscripted" television.
---
A NYC subway car breaks out into the Backstreet Boys
June 18th, 2019 under Backstreet Boys /Aaron Carter. [ Comments:

none

]

We have all heard about the horror stories about taking the NYC subway, but sometimes riding one can lead to a much-needed surprise of joy.
That is what happened to Joel Wertheimer. On Sunday, he posted the above video and said, "Had a really tough week and tonight I was the subway and some guy walks between train cars, shirtless, bumping a speaker. I wasn't in the mood for Showtime particularly. But sometimes people and life surprise you and a little magic happens."
As you can see, the whole subway car full of people from all different backgrounds and ages, united as one to sing the Backstreet Boys' I Want It That Way. No matter how bad their weeks were, for that moment they were all happy. What more can you ask for?
Who knew that BSB were the great uniters? Maybe they should play that song in Congress. Maybe not because they might be worse singers than that one singer on this video. Since this is not The Voice, we will not judge them.
How do the Boys feel about this? They said, "We live for moments like this 🙌🖤" Let's hope they get more moments like this. As Kelly Clarkson said, "Some people wait a lifetime for a moment like this." We should not have to wait a lifetime for unison singing in public with a bunch of strangers. I want it that way!
Hey Joel, I hope you are having a better week because you made mine.
---