A NYC subway car breaks out into the Backstreet Boys
June 18th, 2019 under Backstreet Boys /Aaron Carter. [ Comments:

none

]

We have all heard about the horror stories about taking the NYC subway, but sometimes riding one can lead to a much-needed surprise of joy.
That is what happened to Joel Wertheimer. On Sunday, he posted the above video and said, "Had a really tough week and tonight I was the subway and some guy walks between train cars, shirtless, bumping a speaker. I wasn't in the mood for Showtime particularly. But sometimes people and life surprise you and a little magic happens."
As you can see, the whole subway car full of people from all different backgrounds and ages, united as one to sing the Backstreet Boys' I Want It That Way. No matter how bad their weeks were, for that moment they were all happy. What more can you ask for?
Who knew that BSB were the great uniters? Maybe they should play that song in Congress. Maybe not because they might be worse singers than that one singer on this video. Since this is not The Voice, we will not judge them.
How do the Boys feel about this? They said, "We live for moments like this 🙌🖤" Let's hope they get more moments like this. As Kelly Clarkson said, "Some people wait a lifetime for a moment like this." We should not have to wait a lifetime for unison singing in public with a bunch of strangers. I want it that way!
Hey Joel, I hope you are having a better week because you made mine.
---
BTWF: Backstreet Boys in a school gym
April 22nd, 2019 under Backstreet Boys /Aaron Carter. [ Comments:

none

]

Before Backstreet Boys had a Las Vegas residency, they were playing school gyms. How cute were Nick Carter, 16, Brian Littrell, 21, Howie Dorough, 22, Kevin Richardson, 24, and AJ McLean, 18, back in 1993?
---
Does this camera make Aaron Carter's nose big?
March 20th, 2019 under Backstreet Boys /Aaron Carter. [ Comments:

none

]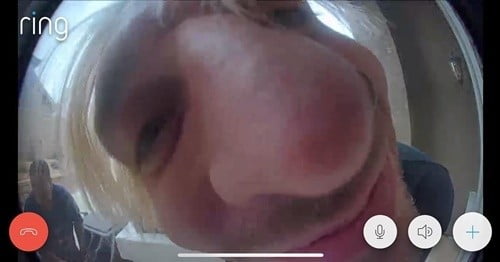 Aaron Carter is not shy around the camera and he knows how to get his best angle. Maybe not all the time. Because in this photo taken by Ring, he looks like he is all nose. Which is not his best angle.
However, it is a good lesson for us. Don't stand too close to the Ring camera.
---
Nick Carter is every parent with a toddler addicted to Baby Shark!
January 10th, 2019 under Backstreet Boys /Aaron Carter. [ Comments:

none

]

Nick Carter's son Odin is 2 years old, so that means he is addicted to Baby Shark by Pinkfong like most kids his age. No matter what the doting dad wants to watch, he can't because his toddler only wants to listen to that tune, that gets stuck in your head, over and over and over again.
Carter can ask to change the channel, but it ain't gonna happen. I am sure seeing his suffering is making a lot of parents of teenagers from the '90s very happy. That's because they had to listen to Backstreet Boys over and over and over again. Now the singer knows how they felt. Not fun!
Revenge is sweet. Like when Kristen Bell's daughters make her dress up as Elsa from Frozen!
---
Did Aaron Carter propose to his girlfriend on Instagram?
September 24th, 2018 under Backstreet Boys /Aaron Carter. [ Comments:

none

]

Aaron Carter has his life back on track and he has a new girlfriend by his side. Yesterday, he posted a sweet message to Lina Valentine and she responded back with just as much love.

Then he followed it up with the engagement ring emoji. What did she say to that? All she wrote was, "my love 😘." Does that mean they are engaged? Only time will tell.

I am not sure how long they have been dating, but they made it Instagram official earlier this month.
---