The Bold Type was renewed for a final season
January 28th, 2021 under Freeform. [ Comments: none ]

Freeform announced today that The Bold Type will be back for a fifth season. However, it will be the drama's final season.
"It has been a joy to watch Kat, Jane and Sutton live out their lives on screen over the last four seasons and become an inspiration for so many young women along the way," said Universal Television president Erin Underhill. "This show will always hold a special place in my heart for its authenticity and ability to provoke meaningful conversations with each episode. I want to thank Wendy Straker Hauser and all the writers for telling these amazing stories that will undoubtedly live beyond the pages of Scarlet Magazine."
"'The Bold Type' has been a gift that has truly changed my life. I spent my twenties in New York City working in magazines, so in many ways the show feels very personal to my experiences," added showrunner and executive producer Wendy Straker Hauser. "I have truly loved writing this show and living in this world. I will miss it terribly, but I am so grateful for the opportunity and glad to know it's been a comfort to so many people out there."
What can we expect for the farewell season? The trio will find a way to leave their mark on the world. How will they do it? We will have to tune in to find out.
When it comes to the show ending, it has been a long time coming. It has felt forced for the last two seasons.
Are you going to miss The Bold Type?

---
Freeform is doing a gift wrapping game show!
August 27th, 2019 under Freeform. [ Comments: none ]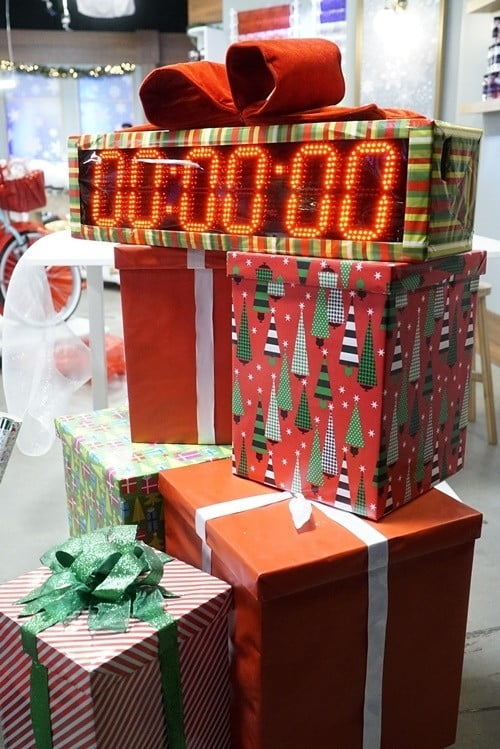 There are game shows that are dedicated to cooking and baking holiday challenges. They also have contests to see who can decorate their homes the best and brightest for Christmas. This year, Freeform is getting into the mix with a gift wrapping challenge with Wrap Battle. Sheryl Underwood will host while Carson Kressley and Wanda Wen will judge.
Nine contestants will battle it out to see who can come up with the most creative way to turn an ordinary gift into something extraordinary. At the end of the six weeks, one person will bring home $50,000 and their own custom wrapping paper to be sold by Paper Source in 120 stores.
Since I cannot wrap a present to save my life, I will watch to see if I can learn something, anything that will help me better wrapper. Gift wrapping is a work of art and about time it had its own competition show.

---
Looks Life Size 2 is happening but without Lindsay Lohan
July 9th, 2018 under Freeform, Tyra Banks. [ Comments: none ]

Tyra Banks and Freeform announced today that Life Size 2 is finally happening this holiday season on Freeform, but there was something missing from the press release. That thing is Lindsay Lohan. Instead, this movie is starring grown-ish's, Francia Raisa.

According to the press release, "Raisa will play Grace Manning, the confident and funny CEO of Marathon Toys, a huge toy company started by her mother that is most famous for manufacturing the iconic Eve doll. Grace is also a hot mess in the middle of her quarter-life crisis and realizing that she is in over her head as CEO. To make matters worse, her wild-child ways are causing the company's stock to plummet." Then they added who is also guest starring in the telemovie, "Gavin Stenhouse as Grace's potential love interest Calum; Shanica Knowles as Tahlia and Hank Chen as Brendan, who are Grace's best friends; along with Alison Fernandez as Lex, Grace's young next-door neighbor."

Missing, as you can see, is Lohan, which makes me wonder is worth making without her? To me, Life Size is more Lohan than Banks. Although, I have admired Raisa since she was brilliant on The Secret Life of an American Teenager, so I am torn.

How do you feel about this news?

---
The Bold Type is back bolder than ever
June 12th, 2018 under Freeform. [ Comments: none ]

The Bold Type is back for its second season on Freeform tonight at 8p and you do not want to miss the two-hour premiere that does not disappoint.
When we last left off, Kat (Aisha Dee) left NYC to be with Adena (Nikohl Boosheri). Tonight's episode starts off with Jane (Katie Stevens) and Sutton (Meghann Fahy) meeting her at the airport to pick her up. Kat is happier than ever and cannot wait for Adena to join her in NY.
When she gets back to work at Scarlet, Jacqueline (Melora Hardin) lets her know she is getting a big promotion. That means she will not have as much time with her new girlfriend.
Talking about work, Jane is starting her new job. As much as she wants it to be like Scarlet, it is not. She comes up with a great subject for her story. The only problem is that her subject has her flaws and she has to decide to what to write about. She finally gets her angle, but her editor changes it up. The changes make her wonder if she did the right thing.
Sutton did the right thing with her new job, but not when it comes to love. Will a new policy at work make things easier or harder for her to choose someone?
No matter what changes Kat, Jane and Sutton go through, they will always have each other and their closets. Which is a good thing because they are going to need each other now more than ever.

---
American Woman is not as groovy as the '70s
June 7th, 2018 under Freeform, Paramount+. [ Comments: none ]

Alicia Silverstone is once again living in Beverly Hills, but tonight at 10p on Paramount Network she is doing it in the '70s. American Woman is not Claire Horowitz grown up because she would have chosen better than this.
Remember in 2008, when CBS took us back to the Disco era with the drama Swingtown? All you wanted to do was put on your boogie shoes and travel back in time? This show will not cause you to feel the same way.
Bonnie (Silvertone) is a rich Beverly Hills wife, who is expected to be just that. Her husband (James Tupper) wants her to stay home and take care of him and their children. Even if he is messing around behind her back. When she finds that out, she kicks him out of the house. Shortly after she does, she finds out he has embezzled all of their money away and she is broke.
Now she has to get a job and support herself. In a time when women are first entering the job force. How will she handle her new life going from a Beverly Hills Housewife to a working single mom?
She still has her small group of friends, but what about the ones who just pretended to like her when she had money. Will they want to know her now that she does not?
When it comes to her friends, Kathleen (Mena Suvari) wants to work in the movies. She will do anything to get that job. Diana (Jennifer Bartels) works in a bank, but all of the men keep getting ahead while she is stuck in the same job. She wants to be treated equal, but her boss does not agree.
This is a time when women were finally getting out of the house and earning their own ways. This is the story of three women hoping to the same.
I wish I could say more positive things about it, but somehow this half-hour drama makes the groovy '70s look absolutely dull. Even the clothes are a downer and they should be upper like the drugs they are taking back then. There is sex, drugs and Rock'n'Roll on this show and even that cannot save American Woman.
I thought of something positive to say. As much as I hated American Woman, I liked it so much better than Freeform's Cloak & Dagger that debuts at 8p tonight. I cannot even review the teen drama because after watching two episodes, I still have absolutely no idea what is going on on the show.

---