Is Aaron Paul smoking what he made in Breaking Bad?
January 3rd, 2020 under Aaron Paul. [ Comments: none ]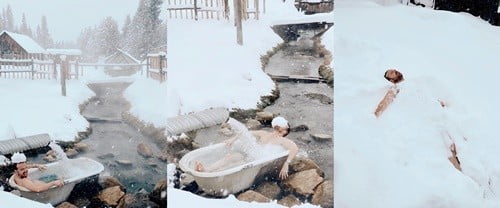 Aaron Paul is on vacation at a location where there is a lot of white stuff. Not cocaine, but snow. Anyways, since we don't get that in Los Angeles, he decided to bathe in it. Then when he was done, he made snow angels in it. Like an angel, he was barely wearing anything. Which makes you wonder, did he get his hands on the stuff that Walter White makes?

---
Aaron Carter can't even give away his merchandise for free
December 5th, 2019 under Aaron Paul, Adam Levine, Jimmy Kimmel. [ Comments: none ]
https://twitter.com/i/status/1202345571241136129
Aaron Carter went to a Burger King drive-thru with his friends and decided to reward the cashier with some of his personalized merchandise. She looked at him, like who are you and what are you giving me?
Therefore, his friend asked if she knows who the singer is. When she said she didn't. The friend wanted to see if she ever heard of the Backstreet Boys and if she likes them. When she said that she did, Carter took back his merchandise.
How sad, no one wants his stuff even when it is free. Talk about an eye-opening moment. Just not the one that anyone wants.
Hey Aaron, don't feel bad. Adam Levine is a bigger star than you, who played the Super Bowl this year, and there was even a woman who didn't recognize him during a Jimmy Kimmel Live bit. Poor Adam and Aaron!

---
Ryan Seacrest got a bitchin' Aaron Paul tramp stamp
October 23rd, 2019 under Aaron Paul, Kelly Ripa. [ Comments: none ]

Ryan Seacrest loves Aaron Paul so much, and today on Live with Kelly and Ryan he revealed how much. The host got a tramp stamp of the Breaking Bad star's face. Except, it is a little higher than where it should be. Isn't that a bitch?

---
Walter White is dead?
September 23rd, 2019 under Aaron Paul, Bryan Cranston, Netflix. [ Comments: 7 ]

Netflix released a new teaser for El Camino: A Breaking Bad Movie during the Emmys. While it did not seem to tell us much about the movie, it told us one very important thing. Nine men died in that final shootout. That means the 8 occupants from the compound were killed and one more individual. Since we know that Jesse Pinkman (Aaron Paul) got away. We are left to assume that the ninth victim is none other than Walter White.
Although, what if he is the suspect they saw flee was White and not Pinkman. Things that make you go hmmmm? I guess we will find out on October 11th when the movie hits the big screens and the smaller ones on the streaming site.

---
Breaking news, the Breaking Bad has been shot and will debut on…
August 24th, 2019 under Aaron Paul, Netflix. [ Comments: none ]

For those have you have been anxiously waiting for a Breaking Bad movie, your wait is nearly over. Netflix announced today that El Camino: A Breaking Bad Movie is premiering on the streaming service on October 11th. The film will focus on what happened to Jesse Pinkman.
Aaron Paul wrote, "Wait, I thought there was only Mezcal on the horizon? I'm so confused. Oh wait, got it. I understand now. It's about patience. I guess there is a movie happening after all? Didn't realize I could talk about it. I guess I can. Thanks New York Times for blowing up this 'secret'💎💰"
How high are you that the movie is really happening and it will debut in less than two months?

---