[ # ] Blue Bloods gets a Treat for their 200th dinner scene
July 24th, 2019 under NKOTB, Treat Williams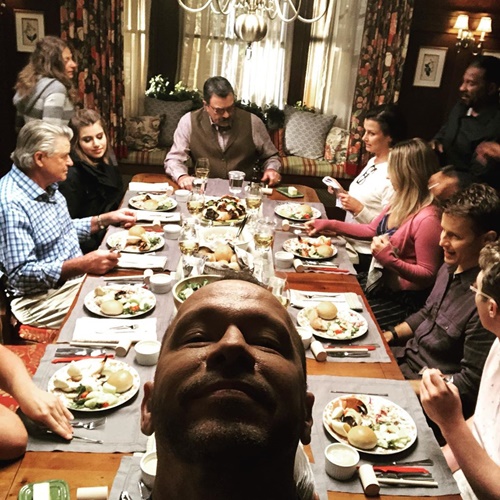 Blue Bloods season premiere will be its 200th episode and they are changing things up at the dinner table for the milestone. Treat Williams, who was Tom Selleck's old partner, is for some reason breaking bread with the Reagans.
We don't know why he is there and grandpa (Len Cariou) is not, but Donnie Wahlberg said this about the scene, "Shooting Family Dinner Scene number 200 today on the set of @bluebloods_cbs! Hard to believe we've been doing this for 10 seasons! #Blessed #Thankful #BlueBloods200
💙🙌🏼🙏🏼👍🏼🚓👮🏼‍♂️"
Ten seasons on Friday nights and it is still one of the most-watched shows on broadcast television. For the obvious reason, it is a really enjoyable show and I don't like police procedurals.
Blue Bloods is back with new episodes September 27th on CBS!

---