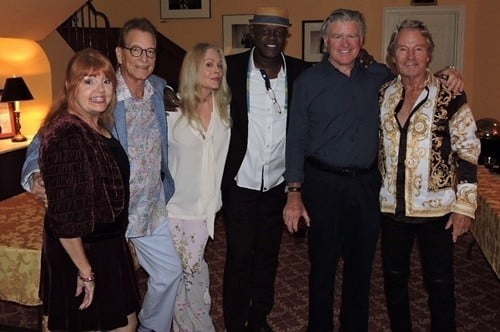 Back in March, Hair (the movie) turned the big 4-0. Last week, several of the film's co-stars met up the Avon Theater in Connecticut to talk about the dawning of the Age of Aquarius.
Annie Golden (Jeannie), Don Dacus (Woof), Beverly d'Angelo (Shelia), Dorsey Wright (Hud), Treat Williams (Berger), John Savage (Claude) still look groovy. However, Dacus, Wright and Williams still don't have that long beautiful hair. What is even weirder is that Savage has the longest locks of the men, I guess Gd still believes in Claude's hair.
Even though Ellen Foley (Meat Loaf's Paradise in the Dashboard Life, Night Court) and Charlayne Woodard (Pose) had smaller roles in the film, I wish they were there too. As we know Nell Carter, Richard Bright and Charlotte Rae were not available because they are no longer with us.
When it comes to Hair, it is tied with All That Jazz, Annie and Little Shop of Horrors as my favorite musicals. Since it is the one I saw first, it was my favorite one first. It had such an impact on me when I was little girl, I still have the same crush on Williams as I did then. Seeing them together again makes me want to watch the film again for the millionth time again.
Who doesn't love Hair?

---