Caption Donny Osmond!
February 12th, 2018 under Caption the Celeb, The Osmonds. [ Comments:

none

]

This photo of Donny Osmond as the dentist has caption me written all over it, so go ahead and do it!
---
BTWF home videos: Donny Osmond
December 6th, 2017 under Before They Were Famous, The Osmonds. [ Comments:

none

]

Before Donny Osmond was climbing the charts, he was coming down the stairs. Who doesn't have puppy love for the 2-year-old back in 1960?
---
Which is the real Marie Osmond and which is the wax one?
September 12th, 2016 under The Osmonds, Wax Figure. [ Comments:

none

]

Donny and Marie Osmond are such staples in Sin City that Madame Tussauds Las Vegas gave the brother and sister their own wax statues. They did such a good job with the lifesize candles, I don't know which was one is the real Marie and which is the fake. Can you tell the difference?
---
Do David Hasselhoff and Donny Osmond have something to tell us?
August 17th, 2012 under David Hasselhoff/Baywatch, Do they have something to tell us?, The Osmonds. [ Comments:

1

]

David Hasselhoff was a guest on ITV's This Morning and Donny Osmond decided to surprise his old friend. The better half of Donny and Marie ran on to the stage, lied down on The Hoff's lap and asked him to sign his hand. Of course the Baywatch lifeguard complied and now the two of them have even more Puppy Love for each other.
Even though there really isn't anything going on between the two, a lot of middle aged women wish there was!
---
Marie Osmond re-married her first husband today!
May 4th, 2011 under The Osmonds. [ Comments:

none

]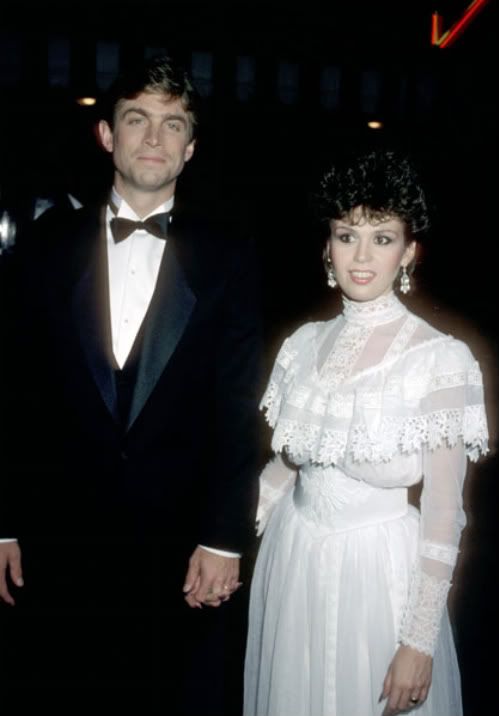 (photo from WireImage)


Marie Osmond is set to get married today for a third time and a second time to her first husband. According to Access Hollywood the two are set to tie the knot at Las Vegas Mormon temple after months of speculation they were engaged. The two reportedly got close after son Michael's death, that she adopted with her second husband.
They were married for the first time from 1982-1985 and have one son together. Hopefully this time will last a lot longer!

UPDATE: Marie Osmond and Stephen Craig got married today, the same day as the birthday of her late son and mom. Access Hollywood added that the Vegas crooner wore the same wedding dress the first time she walked down the aisle. Hopefully the third time is a charm for Donny's little sister!
---