Hot Links!
February 28th, 2023 under Hot Links!. [ Comments: none ]
Courteney Cox talks about Prince Harry – Celebitchy
Elon Musk proves he is an asshole – Dlisted
Watch the trailer for Peter Pan and Wendy – Pajiba
Bella Thorne's nipple ring is showing – Drunken Stepfather
What movie did Woody Harrelson miss out on? – Screen Rant

---
Jack Black makes his case to be Superman
February 28th, 2023 under Jack Black, Superman/Spider-Man. [ Comments: none ]
DC Universe is looking for a new Superman since Henry Cavill is out, and it looks like Jack Black is throwing his cape into the game!
I hope that James Gunn considers him because he would be perfect. Who says Clark Kent has to be tall, dark, and handsome? Have you ever seen a newspaper photographer? They look more like Black than Christopher Reeve or Tom Welling.
After all, the superhero is faster than a speeding bullet. More powerful than a locomotive. Able to leap tall buildings in a single bound. So why does he need to be muscular? Let's change things up and give the role to Black! Plus, it will provide DC with the humor they have been lacking for decades.

---
BTWF: Alyson Hannigan for Mylanta
February 28th, 2023 under Before They Were Famous, How I Met Your Mother. [ Comments: 1 ]
Before Alyson Hannigan was all about meeting the mother on How I Met Your Mother, she was about protecting her dad with Mylanta. She looks the same now as she did when she was 18 in that 1994 commercial.

---
AMC Theaters gets into the home popcorn business!
February 28th, 2023 under Junk Food. [ Comments: none ]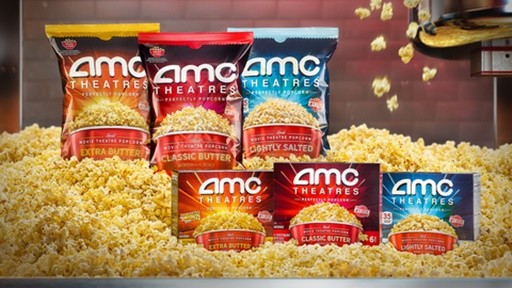 Have you ever watched a movie on your television at home and wished you had popcorn like the stuff they have at AMC Movie Theaters? Well, now you can!
That is because AMC is selling bags of premade popcorn and microwavable popcorn, which come in three flavors: Classic Butter, Extra Butter, and Lightly Salted. Starting on March 11th (the day before the Oscars), you can buy a bag for $3.98 and a box of 6 packets for $4.98 at Walmart.
Adam Aron, Chairman and CEO of AMC Theatres, said, "For years, AMC's in-theatre innovations and initiatives like recliner seating, better food & beverage offerings, enhanced sight & sound presentation technology, AMC Stubs, and premium formats have focused on Making Movies Better at the movie theatre. Through our retail introduction of AMC Theatres microwave and ready-to-eat popcorn, we continue to Make Movies Better, this time in the comfort of your own home. And with popcorn now hitting shelves, we remain focused on future innovations that will continue to surprise and delight movie lovers and our shareholders."
Personally, I don't understand why they came up with three flavors when all they need is extra butter. What type of people eats their popcorn with a normal amount of butter or lightly salted? Those are not people I want to know. If you can't see your reflection in your hand when you're done, what was the point?

---
What if Lily Eriksen and Ted Mosby ended up together on How I Met Your Mother?
February 28th, 2023 under How I Met Your Mother. [ Comments: none ]
We saw Ted Mosby date a lot of women on How I Met Your Mother, but we never saw him hook up with his best friend's wife, Lily Eriksen.
So, what would've happened if Ted and Lily got together in college instead of her marrying Marshall? We got a glimpse of that reality when Alyson Hannigan and Josh Randor met up for lunch yesterday and gave us this photo.
And this is more proof that he chose the wrong mother. Can you tell I am still bitter about who the mother was? Who else is with me?

---