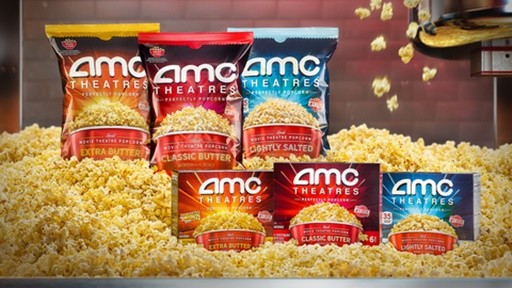 Have you ever watched a movie on your television at home and wished you had popcorn like the stuff they have at AMC Movie Theaters? Well, now you can!
That is because AMC is selling bags of premade popcorn and microwavable popcorn, which come in three flavors: Classic Butter, Extra Butter, and Lightly Salted. Starting on March 11th (the day before the Oscars), you can buy a bag for $3.98 and a box of 6 packets for $4.98 at Walmart.
Adam Aron, Chairman and CEO of AMC Theatres, said, "For years, AMC's in-theatre innovations and initiatives like recliner seating, better food & beverage offerings, enhanced sight & sound presentation technology, AMC Stubs, and premium formats have focused on Making Movies Better at the movie theatre. Through our retail introduction of AMC Theatres microwave and ready-to-eat popcorn, we continue to Make Movies Better, this time in the comfort of your own home. And with popcorn now hitting shelves, we remain focused on future innovations that will continue to surprise and delight movie lovers and our shareholders."
Personally, I don't understand why they came up with three flavors when all they need is extra butter. What type of people eats their popcorn with a normal amount of butter or lightly salted? Those are not people I want to know. If you can't see your reflection in your hand when you're done, what was the point?

---