Hot Links!
January 31st, 2021 under Hot Links!. [ Comments: none ]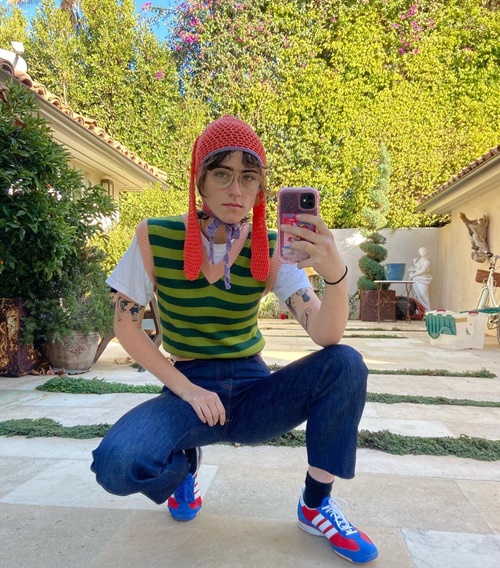 Who is that model related to? – Celebitchy

RIP SOPHIE – The Cut

Why are we canceling Jason Lewis? – Dlisted

Kourtney Kardashian's bikini is too small – GCeleb

Why was The CW show just canceled? – Screen Rant

Victoria Justice's butt is better than J-Lo's – Drunken Stepfather

How much money do Super Bowl halftime performers make? – Grunge

---
John Krasinski cheats on Pam with Pete Davidson
January 31st, 2021 under Saturday Night Live. [ Comments: none ]

Even though The Office ended in 2013, fans of the show still want to see Jim and Pam together. Therefore, yesterday when John Krasinski was hosting Saturday Night Live, they asked to see him with Pam. Since she wasn't there, he kissed the person standing next to him. That person was Pete Davidson.

What a kiss that was? I wonder how Davidson's BFF Machine Gun Kelly, who was the musical guest, felt about that. Oh yeah, he is dating Megan Fox, the singer doesn't care.

---
Anderson Cooper eats babies?
January 31st, 2021 under Anderson Cooper. [ Comments: none ]

Anderson Cooper spoke to a former QAnon follower, and the CNN news anchor learned what conspiracy theories they believe about him.
Cooper asked Jitarth Jadeja if he believed that high-ranking Democrats drank babies' blood. "Anderson, I thought you did that. And I would like to apologize for that right now. So, I apologize for thinking that you ate babies But, yeah, 100%," the guest replied. He also believed that Cooper was a robot.
That was not all he believed when he was a follower of Q. "I didn't just believe that. I at one stage believed that QAnon was part of military intelligence, which is what he says but on top of that, that the people behind him were actually a group of fifth-dimensional intra-dimensional extra terrestrial bi-pedal bird aliens called Blue Avians," he explained.
Even though Jadeja stopped following Q in 2019, he still reads what they post. He says they still believe all of that about Cooper. Do you believe it? It would explain why he is so pale. He is not getting enough blood from babies to give his skin that pinkish hue.

---
Rosario Dawson goes bald
January 29th, 2021 under Rosario Dawson. [ Comments: none ]

Rosario Dawson has had the same hairstyle since Kids. However, not anymore. Now, she has no hair. At least temporarily for a project, she is doing.
Personally, I think she looks so sexy; she should consider actually shaving her head. Then this way, she and her boyfriend Cory Booker could totally be twinning with their bald heads. How hot would that be?

---
Is Wells Adams going to replace Chris Harrison on The Bachelor?
January 29th, 2021 under The Bachelor. [ Comments: none ]

Chris Harrison has been hosting The Bachelor and its spinoffs for almost 20 years. Is he ready to move on? There have been rumors, and some are suggesting that Bartender Wells Adams should replace him.
When People sat down with Sarah Hyland's fiancé, they asked him about the gossip. "No. It's the dumbest thing I've ever heard," he said. "First of all, Chris isn't going anywhere. He's got the best job in Hollywood."
Personally, I would not mind if there is a change-up. Nothing against Harrison; I just like Adams ever since I watched him on Worst Cooks of America: Celebrity Edition. He is funny and likable. Although, I wonder if his fiancée would let him be around all of those women?

---