Misha Collins is pretty in a pink gown
October 14th, 2019 under Supernatural. [ Comments:

none

]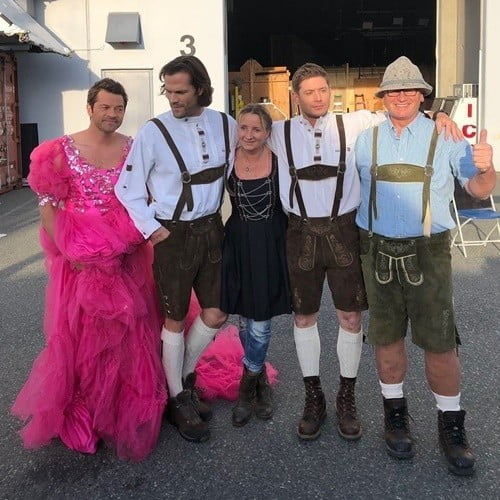 Misha Collins shared a photo of himself wearing a hot pink prom dress along with Jared Padalecki and Jensen Ackles in Lederhosen. Does this mean they are going to deal with a mean Genie who is going to make them wear awful clothes on an upcoming episode of Supernatural? If only!
The three of them put on that attire for a good cause. They were raising money for the Vancouver Food Bank. They did such a good job, the organization is now $46,000 richer just in time for Thanksgiving. Very impressive. As impressive as Castiel who is doing a Molly Ringwald.
This was not all they did to raise the moolah. They also got hit with cream pies. To see that video, then click here!
---
We know the only person renting Solo: A Star Wars Story at the last Blockbuster
October 14th, 2019 under Ron Howard. [ Comments:

none

]

Back in 2004, there were almost 9,100 Blockbusters all over the World. Today, there is just one left in Bend, Oregon.
When in Bend, you have to go. Especially, if you are Oscar-winning director Ron Howard. He went through all of their movies and he picked out three movies to watch. Opie Cunnigham decided to rent 1962's The Music Man where he has his own musical number along with two movies he directed, Cinderella Man and Solo: A Star Wars Story.
I hope he autographed them because it would be a nice surprise for anyone who goes there. Although, who is renting his latest movie of that bunch? I kid Ronny! I love you and your movies.
When it comes to Blockbusters, I so miss going to video stores and checking out the latest releases.
---
Megan Fox and her four boys!
October 14th, 2019 under Megan Fox. [ Comments:

none

]

Disneyland is the happiest place on Earth unless you are a mother trying to get the perfect family photo with your three boys under 8. Megan Fox tried to do just that and not one photo will work for their Christmas card.
She and Brian Austin Green had no problem looking at the camera and smiling at the right time. However, Noah, 7, Bodhi, 5, and Journey, 3, could not do that if you bribed them with a ticket to ride on whatever ride they wanted to go on. That is one of the many reasons why they say boys will boys.
When it comes to the Greens, whether they take the perfect photo or not, they are a beautiful family. Then again, look at their parents, how could their children not be as cute as a button. What does that expression mean anyway?
---
Hot Links!
October 13th, 2019 under Hot Links!. [ Comments:

none

]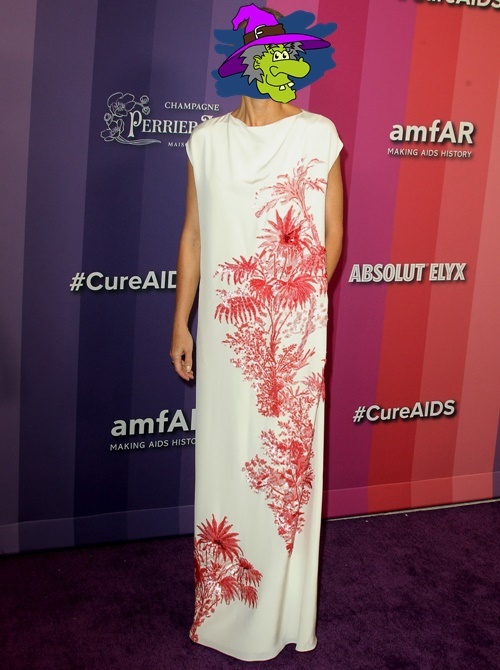 Who wore a dress to match her personality? – Celebitchy
Victoria Justice's cleavage – GCeleb
Nina Dobrev having an orgasm – Drunken Stepfather
Mariah Carey is my hero with her latest Diva act! – Dlisted
Could Joaquin Phoenix's joker be in Batman? – ScreenRant
---
Blake Shelton marries Trace Adkins
October 13th, 2019 under Blake Shelton, Trace Adkins. [ Comments:

none

]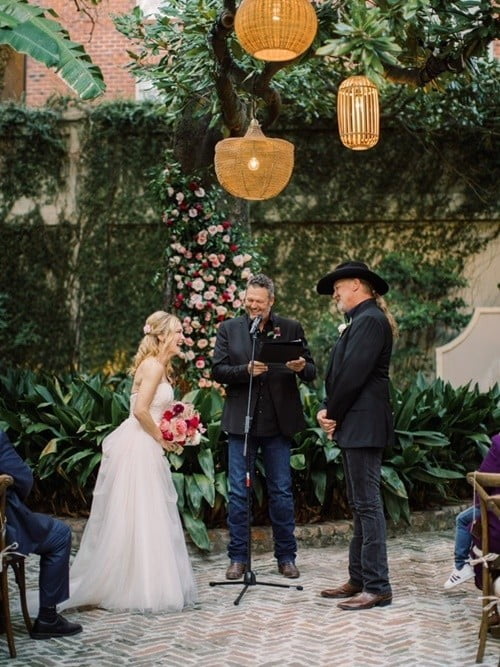 Now that we got the clickbait out of the way. Trace Adkins married actress Victoria Pratt in New Orleans yesterday and Blake Shelton was the one who got them to say I do.
According to Taste of Country,, the two met when they worked together on the 2014 movie The Virginian and have been dating for a while.
This is the 57-year-old's fourth marriage. Hopefully, it will go better than his second one. That is because that wife shot him in the heart. Things I learned by reading his autobiography.
---