Jared Leto, is that you?
October 28th, 2021 under Jared Leto. [ Comments: none ]
We knew that Jared Leto was going to be unrecognizable in House of Gucci. However, we did not know he was going to look like a slimier version of Dr. Phil or Jeffrey Tambor.
Who do you think he looks like?
And if you want to the trailer for the movie that comes out on Thanksgiving, then click here!

---
House of Gucci looks like an overprice Lifetime movie
July 29th, 2021 under Al Pacino, Jared Leto, Lady Gaga. [ Comments: none ]
The first trailer is out for House of Gucci, and I am sure there will be a lot of Oscar buzz about the based on a true story movie. Mostly because there are so many Oscar winners like Al Pacino, Lady Gaga, and Jared Leto in it. I have a feeling the latter will win his second Best Supporting Actor for his part in this film because he is so unrecognizable.
When it comes to the film itself, I hope it streams the same day it comes out on November 24th. Because it feels more like made for TV movie than a big screen one. Therefore, I would rather watch it from bedroom than in a theater

---
When did Jared Leto turn into Fabio?
January 10th, 2020 under Jared Leto. [ Comments: none ]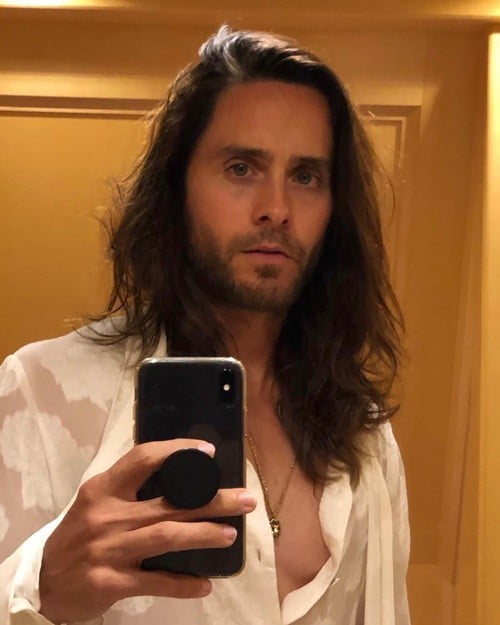 Remember when Fabio was the sexiest man alive on the cover of all of those Harlequin books with his long flowing hair and his white shirt, unbuttoned to show his muscular pecks? That is who I thought of when I saw this selfie that Jared Leto posted today. Doesn't he look like he is ready to take over for the male supermodel? I would read any trashy romance novel with him on the cover looking like that. And I don't read. As if that was not obvious!

---
Is the last time we will see Jared Leto?
October 31st, 2019 under Jared Leto. [ Comments: none ]
https://twitter.com/JaredLeto/status/1190080178560495617
Jared Leto went for a walk in Hollywood Hills and thankfully he recorded it. First, he heard something unusual, then he saw what was making that sound and finally, the video ended suddenly. Which makes you wonder what happened to the actor? Did something get him?
For those of you who don't know LA, there are plenty of stories of people going missing around that location on Halloween, never to be seen again.
At least we will always have his movies. You know as in was that the end of his so-called life.

---
Courteney Cox got her Jared Leto going on!
June 3rd, 2019 under Courteney Cox, Jared Leto. [ Comments: 2 ]

Zach Braff noticed that Jared Leto is Courteney Cox's twin with a beard, so she decided to show the world how true it is. Now that I think about it, have we ever seen the two of them in the same place at the same time? Maybe it is her greatest role yet. Or maybe it is his? Things that make you go hmmmm?

---