Hot Links!
February 18th, 2019 under Hot Links!. [ Comments:

none

]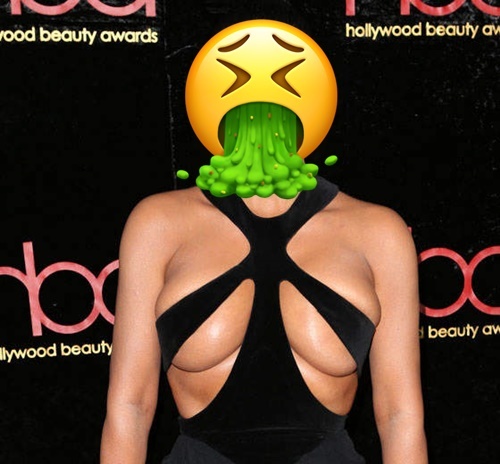 Guess who thought that dress was a good idea? – Dlisted
Who is Anna Wintour's mini-me? – Celebitchy
Which 2 Netflix shows were cancelled? – Pajiba
A big Big Bang Theory spoiler alert – ScreenRant
Katy Perry is more robotic than usual – The Nip Slip
Mandy Moore talks about being married to Ryan Adams – The Cut
---
Caption Kathie Lee Gifford and Craig Ferguson!
February 18th, 2019 under Caption the Celeb, Craig Ferguson, Kathie Lee and Hoda. [ Comments:

none

]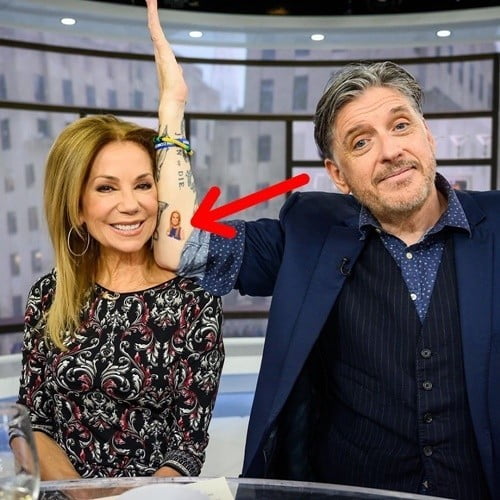 This photo of Kathie Lee Gifford and Craig Ferguson has caption me written all over it, so go ahead and do it.
---
BTWF: Lady Gaga on The Sopranos
February 18th, 2019 under Before They Were Famous, Lady Gaga. [ Comments:

none

]

Before Lady Gaga was nominated for an Oscar for A Star Is Born, she was just an extra on The Sopranos. She looks the same now as she did when she was 14 in that 2001 episode.
---
Descendants 3 looks so good that even villains will enjoy it!
February 18th, 2019 under Disney Kids. [ Comments:

none

]

We are still a few months away from the debut of Descendants 3 and Disney Channel gave us a little sneak peek! Therefore, grab an apple, sit back and enjoy. Hopefully, that apple won't put you to sleep for so long you that you miss the movie.
What happens in the sequel besides some more catchy songs and awesome dance numbers? "Mal (Dove Cameron), Evie (Sofia Carson), Carlos (Cameron Boyce) and Jay (Booboo Stewart) — return to the Isle of the Lost to recruit a new batch of villainous offspring to join them at Auradon Prep. When a barrier breach jeopardizes the safety of Auradon during their departure off the Isle, Mal resolves to permanently close the barrier, fearing that nemeses Uma (China Anne McClain) and Hades (Cheyenne Jackson) will wreak vengeance on the kingdom. Despite her decision, an unfathomable dark force threatens the people of Auradon, and it's up to Mal and the Villian Kids to save everyone in their most epic battle yet."
It is once again, good vs evil. Who will win? Find out this summer, you know want to know if they will live happily ever after.
---
Doug Davidson is back on The Young and the Restless.
February 18th, 2019 under TV Soaps. [ Comments:

none

]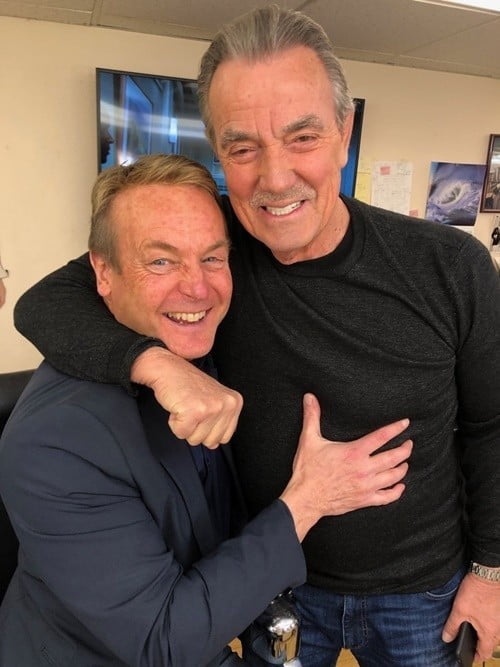 Back in September, shortly after Doug Davidson celebrated his 40th anniversary on The Young and the Restless, the daytime drama fired him. Fans of the show were obviously pissed because you don't mess with soap fans. Thus, they protested Y&R's decision and the bosses listended.
Therefore, he is back on the show! Eric Braeden broke the news on Twitter last week by posting the above photo. Then Paul Williams followed up with, "Okay! So, the cat is out of the bag. NONE of any of this would happen without all of your undying loyalty, support and kindness. All of you are the reason 'Paul' is back on the canvas. THANK YOU SO MUCH. @EBraeden has been incredible the entire time. A huge thanks to him as well!"
It is nice when shows do the right thing. This was the very right thing to do. Soap Operas have to realize viewers prefer the people who have been there for a while over the newbies. They have been welcoming them into their homes, five days a week for years, they have a special bond with them. Take them away, they are pissed and stop watching. With ratings the way they are, they cannot afford to lose any more eyeballs.
---