What is Tom Hanks doing to Craig Ferguson's horse?
October 30th, 2012 under Craig Ferguson. [ Comments: none ]




Tom Hanks was a guest on The Late Late Show yesterday and his chat with Craig Ferguson was one of the funniest things I have seen in a while. They talked about so many things, that I cannot go into all of them in this post. But my favorite part is when Forrest Gump says that he can teach the audience how to talk in a Scottish accent with just two words. Those two words are "silver plate" and Ferguson, who is Scottish, disagreed with him. The CBS late night host then really tried to teach him how to talk like a Scot, but it didn't work out that well. What I think worked out great is when Hanks said that he wanted to ride Secretariat and Ferguson made it happen. If you watch the show show, you know why that is quite an accomplishment. If you don't watch, then you have to watch to see what happened. Let's just say he took it lying down and I am not sure who was more uncomfortable the horse or Hanks. And I am assuming he gave the horse his number because it is the proper thing to do in that situation!
Seriously I love Tom Hanks and this interview just made me love him a little more. So much so he can ride me like Ferguson's horse any time he wants. Joking…

---
Guess who is wearing leg warmers?
October 30th, 2012 under Guess who?. [ Comments: 1 ]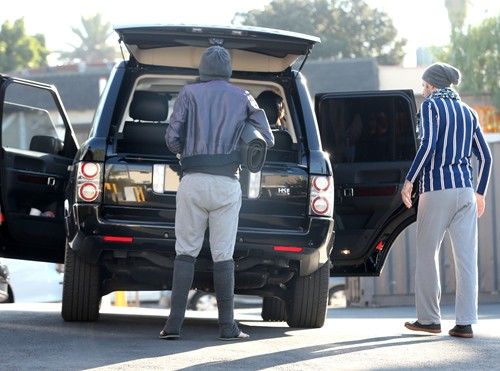 Want to see who has a droopy butt then click here!

---
Octomom is in rehab and not for addiction to have kids
October 30th, 2012 under Rehab. [ Comments: none ]

(photo from WENN.com)


The Octomom has entered rehab for an addiction to Xanax according to TMZ. Her rep released a statement saying, "Nadya wanted to get off the Xanax she was prescribed by her doctor and learn to deal with her stress, exhaustion and anxiety with professional help with a team of doctors. Nadya wanted to deal with her issues and make sure she is the best mother she can be."
And when it comes to who is taking care of her 14 children, TMZ says she left her nannies and not her own parents in charge of them for the 30 days that she away is from them. Which is something I could never understand.
Personally I think she should've entered rehab after having her 5th kid via in vitro because that was an addiction that she really needed help with.

---
Arrow's Stephen Amell suffers for his art
October 30th, 2012 under DC Comics, The CW. [ Comments: none ]

Yesterday Stephen Amell Tweeeted, "I just banged my calf so hard. There's nothing left to do but laugh, cry a little and maybe pee in my pants." Then the Arrow star added, "My calf hurts so bad I just invented a six-syllable curse word and then proactively apologized to the crew. #CliffordTheCalf". No word what it is, but I can't wait to find out what it is so I can use it myself.
Well today he Tweeted the above picture and said, "It was worth it, but my leg definitely shouldn't look like that." I don't know, but I think his calf looks more like a superheroes now that is all swollen like that. Granted the superheroes I am thinking of are the Hulk and the Thing.
Oh and Amell may play a tough guy on TV every Wednesday on The CW at 8p, but in real life he still has to answer to his mom. Because after he posted the picture he Tweeted, "Note to self: Don't put pictures of your comically swollen leg on twitter without first explaining to your Mom you're 100% ok." Good idea! Hopefully you won't hurt yourself like that again so you don't have to worry her and all of your fans!
BTW no word when that episode will air so we can say how he did that, so I guess we will just have to watch Arrow every Wednesday until we see it.

---
Hot Links!
October 29th, 2012 under Hot Links!. [ Comments: none ]

---