Hot Links!
May 30th, 2011 under Hot Links!. [ Comments:

none

]
Could Joseph Gordon-Levitt win an Oscar for 50/50? –
Hollywood PQ
Who did the walk of shame? –
Dlisted
Sean Kingston needs our prayers –
ICYDK
Which Glee star is working on a solo album? –
Rickey
Lady Gaga knows how to make an entrance –
Popbytes
Who thinks they can outdo the Royal Wedding? –
Celebitchy
Wanna be a personal assistant for a Hollywood weasel? –
AB
Justin Bieber and Selena Gomez need to get a room –
Yeeeah!
---
Thanks to Family Feud these women are the popular ones at their office!
May 30th, 2011 under Steve Harvey. [ Comments:

none

]

The Jones family was playing Family Feud when Steve Harvey asked them "Name something you do at work that you wouldn't want your boss to see?" for the steal. And Anitra stole all of her male co-workers' hearts when she said with excitement, "We're going with sex Steve!!!" The host almost fell over with the answer and her family is like good answer. It was a great answer, but sadly they didn't get any points for that winning answer…:(
---
BTWF shorts: Ed Helms in Zombie-American
May 30th, 2011 under Before They Were Famous. [ Comments:

1

]

Before Ed Helmes was walking around with a Hangover, he was the walking undead. His complexion has definitely improved since he was 31 in that 2005 short!
---
Simon Cowell plans on using his left hand a lot tonight!
May 30th, 2011 under American Idol 9+, Simon Cowell. [ Comments:

none

]

(starts at 5:00 in)


Simon Cowell returned to Britain's Got Talent tonight and boy did he make an entrance. The media mogul was elevated to the stage surrounded by smoke as the Superman theme played and he was just as smug as ever. Would we have it any other way?
Then he took his seat among the other three judges and the hosts teased him about Cheryl Cole being fired on the US version of The X Factor. Ant and Dec (since I don't know which is which) said to him, "Can you understand my accent?" Referring to that is the "reason why" she was let go. Simon blew it off with a smile by saying, "Am I missing something here? I just got back, what's been going on?" Nice way to avoid the question that everyone has been waiting to hear about for a week on both sides of the pond. Seriously why hasn't Fox or him said anything about it yet???
But back to Mr Mean, his best line came later on when the hosts asked him if he planned on using his buzzer a lot during the semi-finals. The former-American Idol judge said, "I think I am going to be using my left hand a lot tonight." Once he realized what he said could be interrupted a different way, he had a big laugh and I even think he blushed a little.
I wish he would be as naughty and quick witted here in The States when he returns to the judging table in the fall on Fox because that is the Simon Cowell I love. Seriously after watching his appearance in his home country, doesn't it seem like he is holding back in his adopted one?
---
Finally we get to see Victoria Beckham's baby bump!
May 30th, 2011 under The Beckhams. [ Comments:

none

]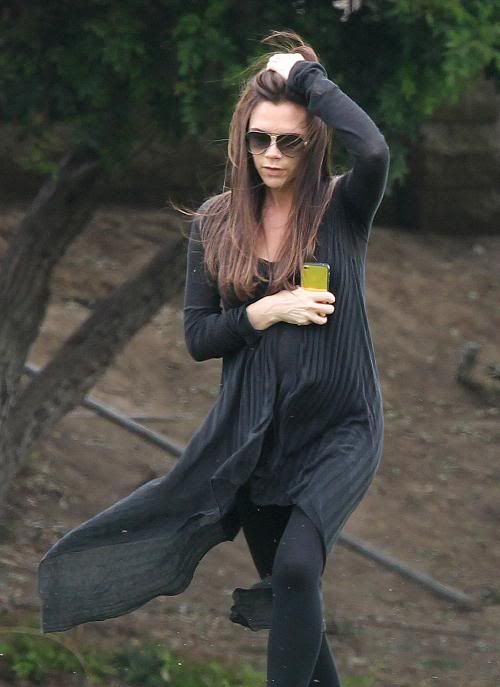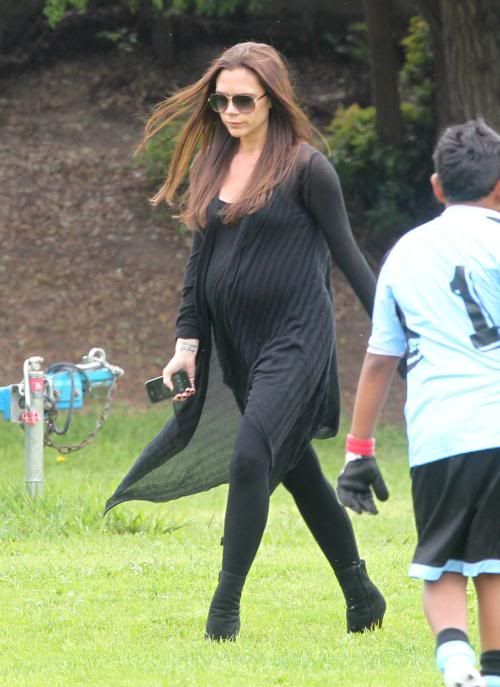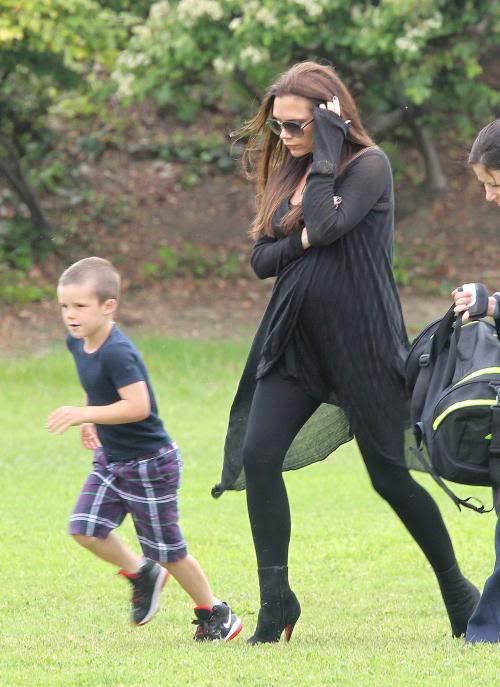 Fame Pictures
Yesterday was a very windy day here in LA and because of that we finally got to see Victoria Beckham's baby bump a little over a month before she gives birth to her first daughter. The mother of three boys took her middle son Romeo to his soccer game and we got to see the little soccer ball growing in her belly. I don't know why she is doing her best to hide her pregnancy, I think it is the best she has ever looked.
---