Justin Bieber gave David Beckham a scary-scar
March 4th, 2020 under Ellen DeGeneres, Justin Bieber, The Beckhams. [ Comments:

none

]

David Beckham is on Ellen today, and he tells Ellen DeGeneres what a good guy Justin Bieber is. Although, I am sure he no longer has the same impression of the Popstar.
That is because Ellen got their friend to hide in her little table and scare Golden Balls. I was so expecting the Becks to scream like a little girl (to match his voice) when the Beeds frightened him. Sadly, he pretty much sat there, stunned into silence.
If I were Bieber, then I would be afraid. Doesn't he realize that Beckham is known for kicking balls!

---
David Beckham is sexy Santa
December 24th, 2019 under The Beckhams. [ Comments:

none

]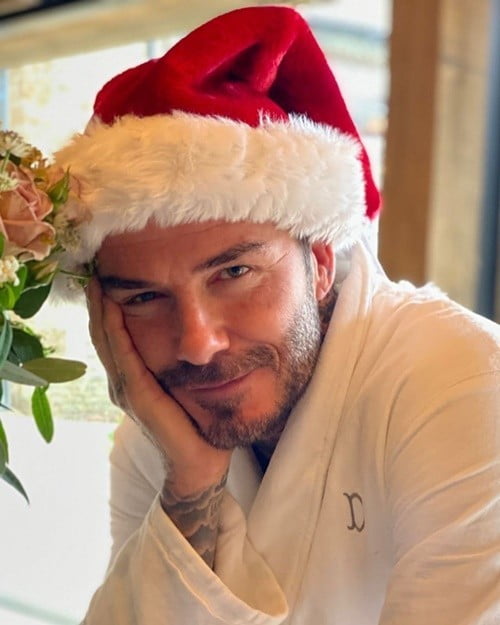 For 364 days a year, David Beckham is just plain sexy. However, for one day a year, he is a sexy Santa. Which means those circular gold ornaments represent his golden balls! That is why we hang them up so high.
Victoria Beckham is one lucky woman to be married to him. Imagine waking up to that face every day. I can think of worse ways to do it. I do it, I wake up facing the wall.

---
Do Courteney Cox and David Beckham have something to tell us?
October 29th, 2019 under Courteney Cox, Do they have something to tell us?, The Beckhams. [ Comments:

none

]

Courteney Cox and David Beckham were seen in a hot tub together, so do they have something to tell us and their lovers? Yes, but not that. They are both going to be on an episode of Modern Family together. We just do not know what leads to this photo. However, I am sure it was really hard for them to film this scene. Not!

---
James Corden plays a cruel joke on David Beckham
March 12th, 2019 under James Corden, The Beckhams. [ Comments:

none

]

David Beckham is getting a bronze statue of his likeness to be displayed at the stadium where he played with the LA Galaxy. As the date was getting closer, James Corden thought he would have some with his friend.
Therefore, he got his prop department to make their own statue of Golden Balls. One that emphasized the two things he hated most about the prototype. He wanted a smaller chin and bum. He got quite the opposite.
Now, the big day was here and the Late Late Show host planned even more ways to annoy his friend. He hired Ben Glieb to call him Dave Beckham. You see, Becks hates to be called Dave, so that would be really annoying.
Finally, it is time for the big reveal. How would he handle seeing such an ugly likeness of himself? Better than you and I would. He had a very calm rage, but you could see he was ready to blow. It gives new meaning to bend it like Beckham.
Just as he was about to leave, they sent in a forklift to destroy the piece of art. As Beckham was going to check out the broken pieces of himself, Corden came out to reveal it was all a joke. Surprisingly, the soccer giant hugged his "mate." I wonder how long until he gets revenge because you know is going to do just that. Even though it was a really kicking prank.

---
Victoria Beckham skips
June 4th, 2018 under The Beckhams. [ Comments:

none

]

If someone told you there is a video of Victoria Beckham skipping, you would never believe them. Right? You would need proof. Well, here it is!
Today, when the doting mom was walking her daughter to school, she and Harper Sever decided to skip to the Lou, my darling. Proving she can let the Posh exterior down for her 6-year-old and us! You know what, I like it because I don't think I have ever seen her happier. Even though we can not see her face.
In honor of Posh Spice. make sure to do some skipping today! Do it like no one is watching because who cares if they are! Maybe they will join in and be happy as you are! We will become a world of skippers and it will all be because of the Beckhams. Who would have thought?

---