RIP Marie Osmond's son Michael Blosil
February 27th, 2010 under Obits, The Osmonds. [ Comments: 1 ]

(photo of Michael, the one in the sweater vest, from WireImage)


Marie Osmond's 18 year old adopted son Michael Blosil committed suicide yesterday by jumping from a building in LA. According to People, he left a note saying that he felt he had no friends and did not fit in. Michael suffered from depression and spent some time in rehab in 2007 around the time when Marie was on Dancing on the Stars.
Marie released this statement, "My family and I are devastated and in deep shock by the tragic loss of our dear Michael and ask that everyone respect our privacy during this difficult time." Her Las Vegas show with her brother Donny Osmond is cancelled for the time being.
My thoughts and prayers go out to Marie, her ex-husband and her 7 children.
Before you get to the point that Michael Blosil and Andrew Koenig were at, please get help. Things can change, death cannot.

---
Craig Robinson is the Last Comic Standing!
February 27th, 2010 under NBC. [ Comments: none ]

NBC announced that Hot Tub Time Machine's Craig Robinson will be the latest person to host their hot summer reality show Last Comic Standing according to The Live Feed! Jay Mohr, Anthony Clark and Bill Bellamy all hosted the show before the Office star took over the ranks. I think Craig is an awesome choice for the show and I can't wait to laugh with him when the show comes back to NBC this summer. But before then we will all be in hysterics with him on March 26th when Hot Tub Time Machine comes out!

---
Guess who looks better with a mask?
February 26th, 2010 under Guess who?. [ Comments: 1 ]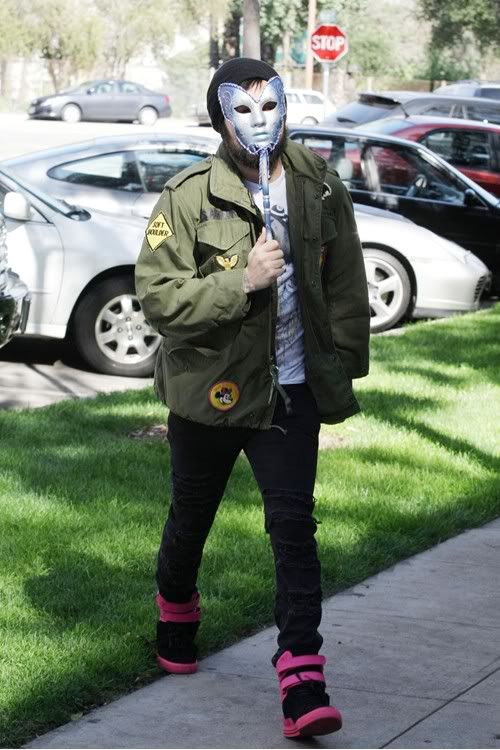 Do you really want to see that guy without a mask then click here!

---
Chuck Liddell's naked workout video!
February 26th, 2010 under Sports figures. [ Comments: none ]

(video from The Big Lead)


One of the most popular videos on the net over the last few days has been Chuck Liddell and his girlfriend, Heidi Northcott working out naked. Everyone has been wondering why and how they could do that? I know I want to know because it would be nice not to have to worry about sweaty clothes, but it does seem like it could get painful you move in the wrong way.

---
Kingston Rossdale is bummed
February 26th, 2010 under Gwen Stefani. [ Comments: none ]

Fame Pictures
Awwwdorable little Kingston Rossdale did not live up to his T-Shirt while he was out shopping with his mom, Gwen Stefani in Beverly Hills. The 3 year old's shirt says "Vote for Big Smile" but as you can see he was pouting. Poor little Kingston. It didn't take the little man too long to realize shopping with women stinks.

---