Boy George responds to Lady Gaga being his Karma Chameleon
December 10th, 2013 under Boy George, Katy Perry / Lady Gaga/ Ke$ha. [ Comments:

none

]




Last week Lady Gaga went out looking a lot like Boy George during his Culture Club days. Well the singer, who's been doing the wild look since before Gaga was even born, responded to her copying his look. Which seems to answer the question of Do You Really Want to Hurt Me? I say we give him Applause for his response.
Who do you think won this battle Boy or Lady?
---
Boy George is a white neck
February 15th, 2011 under Boy George. [ Comments:

3

]

WireImage
You know how some people say the expression redneck is due to the tans that the people get on their necks? Well looking at this picture of Boy George at the Elle Style Awards, he is the opposite. From the back he is as white as a ghost, but from the front he has some color to his skin. I am not saying that is a good thing, I am just saying he is a white neck. If he is going to show off the back of his neck he should put some makeup, so the back matches the front.
---
Culture Club is back!!!
February 1st, 2011 under Boy George. [ Comments:

none

]

Boy George says that not only will Culture Club tour next year, but they are also going to release a new album. According to The Guardian next year is their 30th anniversary which makes the reunion even more special. Not only because with Boy George's track record it is amazing he is still alive, but that means he has been in our lives for that long. Can you believe we have him in our Church of Poison Mind for that long? I guess when they realized they have been around that long instead of having a Crying Game, they decided to Move Away from their difference and come and go and come and go to a city near you!
I saw them at their last reunion tour and I will tell you if they come anywhere within driving distance of you, make sure to see them because they are worth it!!!
---
Boy George got into the makeup department!
December 21st, 2010 under Boy George. [ Comments:

1

]

WireImage
Boy George DJed for Illamasqua at Selfridges and it looks like they paid him in makeup! I know he is known for painting his face, but I think he is wearing more than I do when I go out to a fancy event.
BTW the Culture Club singer is looking really good, I think he lost a few pounds. That or black really is slimming!!!
---
Boy George got fat
July 7th, 2010 under Boy George. [ Comments:

6

]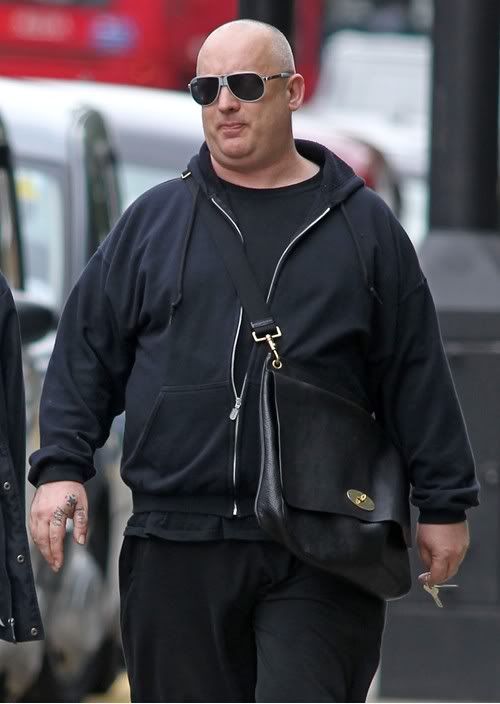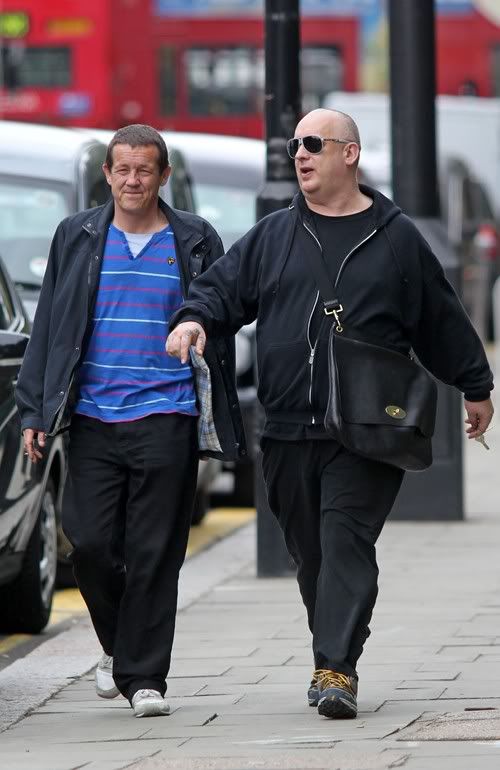 Bauer-Griffin Online
I haven't seen Boy George in a while and boy has the Culture Club singer put on a few pounds. Maybe the next time he sits down to eat he needs to Move Away from all that bad food then ask the meal Do You Really Want to Hurt Me and finally tell those extra calories to Miss Me Blind? He seriously needs to go to the gym and tell the personal trainer that I'll Tumble 4 Ya. So hopefully by the next time we see the Fat Cat, he will Karma Chameleon into a man with a few less pounds on him.
BTW I posted that last picture in case you didn't that that Church of the Poison Mind belonged to him because who else would get that tattoo on the back of their head. Most people would go through a Crying Game if the got inked there.
---
Boy George's big failure
October 13th, 2008 under Boy George. [ Comments:

2

]

Boy George once asked Do You Really Want To Hurt Me? And I guess his fan in the Hampshire decided to do just that after only 89 of them decided to buy tickets to his show at the 2,200 seater Portsmouth Guildhall according to Yahoo! Music. Needless to say he had to cancel the gig due to poor tickets sales. Major ouch!
---
Boy George's US tour off
June 23rd, 2008 under Boy George. [ Comments:

none

]
Looks like Boy George will be back to selling T-Shirts because he was denied the visa he needed to enter The US according to
E!
. Boy George was denied the visa because of his criminal past and his upcoming case in November.
George's rep said the singer was "devastated" he would not be able to play in the States for what would have been the first time in a decade, but that his legal team is working hard to get clearance for the '80s icon to convince officials for a do-over decision.

"George is astounded at the decision and is having lawyers here in the States look at it in the hope that someone will change their mind," the singer's management said in a statement. "George has not been convicted of anything in London and there is a presumption in the Western World of innocence until proven guilty."

"He is clearly not considered any form of risk," his management said. "George really would love to come to America and repay his American fans' loyalty and that is why we are asking the U.S. authorities to reconsider their decision."
I think it serves him right for charging so much to see him without Culture Club. C'mon over $70 bucks to see him perform? Sorry he is not worth. If he really wanted to repay his American fan' loyalty he would charge half the price and then I would fight to have him come in to the country.
---
Boy George from the flea market to a US tour
June 5th, 2008 under Boy George. [ Comments:

none

]
Less than a month after Boy George was seen selling T-Shirts for around $10 in a London flea market, it was announced today that he is selling tickets for over $60 to see him tour solo in The US for the first time in 10 years. If the price of that ticket doesn't hurt you then you can check out where he is playing at
Boy George Live
. But seriously I wouldn't pay more to see him live than what he was selling the T-Shirts for and I think most people will agree with me. I have a feeling most of these dates will be cancelled due to lack of sales.
xoxo Denise
---
Boy George finds work!!!
May 18th, 2008 under Boy George. [ Comments:

none

]
Boy George has a new job! According to
The Sun
he is selling T-Shirts at East End Market Stall in London.
George told The Sun: "It's been all right — quiet today though. I'm bored and cold but we have to do a Friday stall to get a pitch on Sunday."
It isn't all bad news, he was also selling T-Shirts that say "Paris Hiltion Sucks"
---
Peter Andre wanted to marry Boy George
December 3rd, 2007 under Boy George, Jordan/Peter Andre/Harvey. [ Comments:

2

]
When Peter Andre saw Boy George on the telly in 1983 he said "She was hot!" according to
The Sun
. To make things even more telling he also declared, "I thought I was going to marry this woman." I would love to have been there when someone told him Boy George is a boy…assuming he is over him.
OK, knowing how crazy Peter Andre and Jordan's love making is, I wonder if he makes her dress up as a Boy George and sing Do You Really Want to Hurt Me?
---