Madonna sings Music with The Roots playing classroom instruments
August 11th, 2022 under Jimmy Fallon, Madonna. [ Comments: none ]
School is back, and so is one of Jimmy Fallon's segments on The Tonight Show. Yesterday, he, The Roots, and Madonna performed her song Music with classroom instruments.
I wonder if Madonna knew what they were because they didn't have them when she went to school all those decades ago. Did they have paper back then?

---
Evan Rachel Wood is like a Madonna in the Weird Al Yankovic biopic
March 2nd, 2022 under Madonna, Roku, Weird Al Yankovic. [ Comments: none ]
In case you haven't heard, Roku is doing a biopic about Weird Al Yankovic with Funny or Die. Last week, we saw Daniel Radcliffe in character because he is playing the title role.
Today, we found out that Evan Rachel Wood will be playing Madonna, and Shlock Rocker shared a photo of her as the singer. Weird Al covered her song Like a Virgin and parodied it into Like a Surgeon to become one of his biggest hits.
Rolling Stone also revealed who is else is starring in the movie. Rainn Wilson is playing the legendary radio host, Dr. Demento, who gave Weird Al his big break. Toby Huss and Julianne Nicholson will play his late parents, Nick and Mary. Their death still haunts me to this day.

---
Benedict Cumberbatch was rejected by Madonna
February 25th, 2022 under Benedict Cumberbatch, Graham Norton, Madonna. [ Comments: none ]
Before Benedict Cumberbatch was Sherlock, he auditioned for Madonna.
How did it go? He told Graham Norton that when she saw his name on the list, she asked him if that was his real name. The actor said to her, "Yes, it is. Madonna!"
Needless to say, he didn't get the job. Please don't feel bad for him; he is doing OK. I mean, after all, he is nominated for an Oscar. And Madonna has several Razzies to her name.

---
Guess who assumed the position?
August 31st, 2021 under Madonna. [ Comments: none ]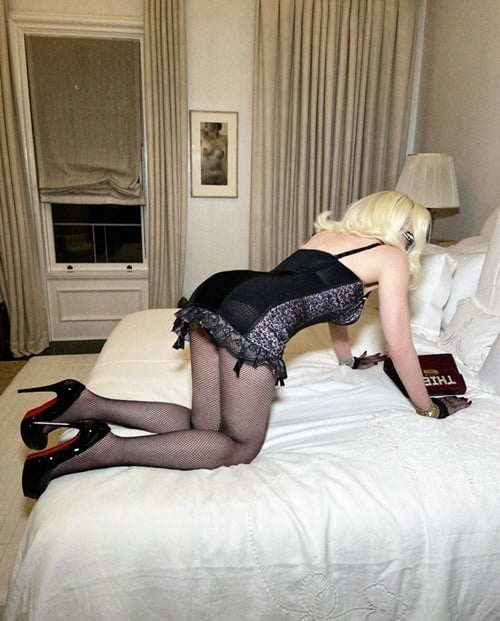 Want to see who is striking a pose, then click here!

---
A first for Madonna
December 7th, 2020 under Madonna. [ Comments: none ]

Madonna is 62, and she has done a lot of adventurous things in her lifetime. However, there is one thing she didn't do until now. What is it? She finally got a tattoo after all of these decades.

What did she get inked on the inside of her wrist? The initials for her six children Lourdes, Rocco, David, Mercy, Estere, and Stella.

As Madonna proves to us time and time again, you are never too old to try new things.

To see the tat, then click here!

---