Keith Urban was told to get out of Country music when he was 9
April 1st, 2015 under Conan O'Brien, Keith & Nicole Urban. [ Comments:

none

]

Long before Keith Urban was judging singers on American Idol, he was a contestant on a talent competition back when was 9. Yesterday on Conan, he told the TBS host about his experience.
His parents told him to go on a show called Pot of Gold and he sang a Country song on it. When he was done, it was time to be judged. Bernard King told the kid, "I desperately encourage you to escape the mediocrity, get out of Country Western and get into some real music." Then the judge added, "Otherwise, you will end up sounding like Dolly Parton and absolutely useless."
Imagine if he took that judge's advice, we probably wouldn't know he is, he wouldn't be married to Nicole Kidman and most importantly he wouldn't be judging American Idol. Would that have been bad thing?
---
Nicole Kidman thought Jimmy Fallon was gay after their failed date
January 7th, 2015 under Jimmy Fallon, Keith & Nicole Urban. [ Comments:

none

]

Many many many years ago, before Nicole Kidman was married; she kind of went on a date with Jimmy Fallon. Only problem is that he didn't know that until she told him about it on The Tonight Show yesterday.
You see, they have a mutual friend, and, she told him that she liked the NBC host. So he called his friend and told him that he is bringing Nicole Kidman over to his apartment. What happened next was such a turn off to the Oscar winner, that she thought he was gay because he didn't seem interested in her. You have to listen to them tell the story about what could've been. It is so endearing because it is so embarrassing for both of them. See celebrities have bad dates just like you and me.
To make matters worse for Fallon, he found out after the show that his wife dated Keith Urban who is now married to the woman he might've been married to if he played his videogames right. Poor Jimmy, I don't know how much worse it could get for him. Maybe if he found out that he was up for Ethan Hunt's role in Mission Impossible, but they decided to go with that unknown Tom Cruise instead. Now that I think about it, Kidman kind of has a look that she goes for because Cruise and Fallon kind of look alike.
---
BTWF talent shows: Keith Urban on New Faces
May 1st, 2014 under Before They Were Famous, Keith & Nicole Urban. [ Comments:

none

]

via Closer Magazine
Before Keith Urban was a judge on American Idol critiquing the singers, he was a competitor on New Faces getting critiqued roughly. How amazing was the 16 year old back in 1983 singing Air Supply's All Out of Love?
---
Keith Urban finally looks good in shirt!
November 26th, 2013 under Keith & Nicole Urban. [ Comments:

none

]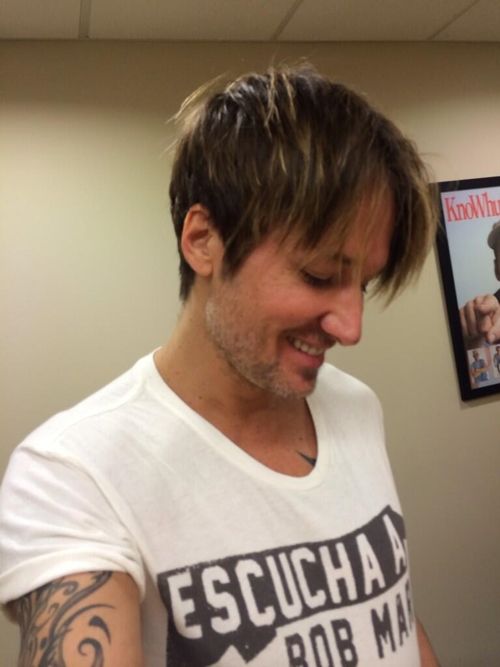 Keith Urban has pretty much had the same haircut since he came to the US, but now he finally got a haircut that frames his face. The American Idol judge is finally looking like the idol he is. Well at least from the side view and I am sure he looks just as good from the front.
---
When bad pictures happen to good people: Nicole Kidman
August 14th, 2013 under Bad Photos Good People, Keith & Nicole Urban. [ Comments:

none

]

Fame Flynet
Nicole Kidman walked the red carpet at the Hollywood Foreign Press Associations 2013 Installation Luncheon yesterdat and one of the photographers took a bad photo of her. I am not sure it is a "if looks could kill" face or a "make love to the camera" one, but either way it is not good picture of the normally stunning actress.
---
Did Keith Urban leave Aussie's The Voice for American Idol?
September 13th, 2012 under Keith & Nicole Urban. [ Comments:

none

]

Keith Urban spent the summer Down Under being a mentor on The Voice and today he announced that he will not be returning for a second season. Nicole Kidman's husband released a statement saying, "I've been so fortunate to have been a part of The Voice, and as much as I'd love to do it again, it's clear that the recording and promoting of a new album, a tour, and other commitments will keep me from being a part of the second season." I am wondering if that other commitment he is referring to is American Idol. Afterall the singer has been rumored to be one of the judges on the show.
Personally I don't really care if he is or if he isn't, but I just wish that the Fox singing competition would announce the new set of judges already. I mean it seems like every musician has been up for the job and it's like they can't even get anyone to do it so they had bring Randy Jackson back. If I were Randy I would've said no because I would've been like what am I dawg food?
Seriously Fox just take anybody at this point and let's move on with already. And on that note can you name the hosts of The X Factor already, so we can't stop wasting thoughts on that too.
---
Nicole Kidman proves she still has a body To Die For
August 22nd, 2012 under Keith & Nicole Urban. [ Comments:

1

]

Nicole Kidman posed for V magazine and the 45 year old has never looked as beautiful as she does in these photos. I don't know what Mario Testino did, but he definitely Bewitched her. Doesn't she look fabulous and then some?
BTW doesn't that top picture look like a Patrick Nagel painting? I would die to one of his beautiful pieces of art!
---
Stop the presses The Paperboy trailer is out
August 1st, 2012 under Keith & Nicole Urban. [ Comments:

none

]

The trailer is out for The Paperboy and as much as I like the cast; I will treat like the daily newspaper and I will forget it exists. Instead of running to see the film when it comes out on October 5th, I will wait until it is on Netflix so I can watch Nicole Kidman pee on Zac Efron. Or better yet I will wait until someone uploads that clip, so I don't have to sit through John Cusack not looking his best.
---
The many faces of Nicole Kidman
May 29th, 2012 under Keith & Nicole Urban, The Many Faces of. [ Comments:

none

]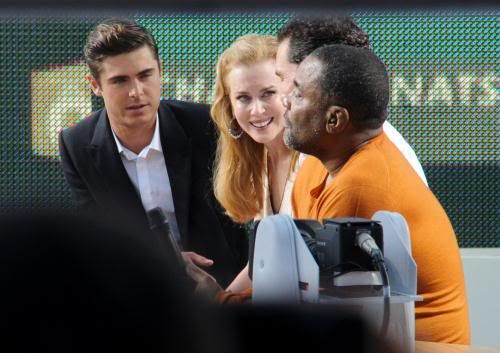 Fame Flynet Pictures
Nicole Kidman, Zac Efron, Matthew McConaughey and Lee Daniels were on Canal+'s Le Grand Journal to talk about their upcoming movie The Paperboy and by the looks of The Stepford Wife's face she is Bewitched by it. Either that or they are talking about filming the scene where she pees on Efron during sex. But then shouldn't The Lucky One be making those face then? Unless he is in to that sort of thing?
---
BTWF music videos: Nicole Kidman in Pat Wilson's Bop Girl
November 10th, 2011 under Before They Were Famous, Keith & Nicole Urban. [ Comments:

none

]

Before Nicole Kidman was married to country singer Keith Urban, she was in a music video for a pop song called Bop Girl by Pat Wilson. She looks the same now as she did when she was 15 in that 1983 music video.
---