Lisa Edelstein married her House!
May 26th, 2014 under Lisa Edelstein/Hugh Laurie/House. [ Comments:

none

]

Lisa Edelstein is playing House with her brand new husband, Robert Russell. The longtime couple got married yesterday and they look like they are ready for a lifetime of happiness. This is her first marriage and let's hope for the actress of Girlfriends' Guide to Divorce, her only one!
---
Oliva Wilde's baby has left her building!
April 23rd, 2014 under Lisa Edelstein/Hugh Laurie/House. [ Comments:

none

]




Olivia Wilde and Jason Sudeikis finally welcomed their baby boy and Otis is as beautiful as his mother. Hopefully he will have his mother's playfulness and his dad's humor, with that and their looks he is going to be a heart breaker. Heck, he will be a heart break even without all of that, but I am sure he will get it all.
---
BTWF roles: Emma Thompson on There's Nothing to Worry About!
December 12th, 2013 under Before They Were Famous, Lisa Edelstein/Hugh Laurie/House. [ Comments:

none

]

Before Emma Thompson starred in Love Actually, she was playing doubles and the other team scored love on There's Nothing to Worry About!. She looks the same now as she did when she was 23 in that 1982 sketch show bit.
BTW she was playing against a 22 year old Hugh Laurie and a 24 year old Stephen Fry, and like her they haven't aged.
---
Hugh Laurie and Celine Dion get crazy with Jimmy Fallon!!!
October 28th, 2013 under Celine Dion, Jimmy Fallon, Lisa Edelstein/Hugh Laurie/House. [ Comments:

none

]




Hugh Laurie and Celine Dion were on Late Night and Jimmy Fallon had them play a game of Password. Since both of them are singers, the one word Password was a song title. So to the two of them had to get their partner to guess the song. The NBC late night was with Vegas Crooner and the Jazz man played with The Roots "Captain" Kirk Douglas.
When I watched the first part of the game, I was going to tell you to watch just for Celine winning dance. Which is quite epic, BTW! But then they got a song title that was so awesome they will have you going crazy with laughter. It is mad good! It is so insane that it will have you go psychotic.
---
Jesse Spencer thought Rick Springfield's Jessie's Girl was about him!
October 10th, 2012 under Lisa Edelstein/Hugh Laurie/House, Rick Springfield. [ Comments:

none

]

Jesse Spencer and Rick Springfield were both guests on The Today Show this morning and both Tweeted about meeting each other back stage. The singer posted a photo, but the House star went all fan like on him. Spencer Tweeted, "Just met Rick Springfield at the today show. I told him 'Jessie's Girl' was my first LP and I thought the song was written about me. Hehe 🎸"
Spencer is 33 years old and he was just about 2 when the song came out, so I have to wonder was he a Lothario back when he was just single digits or was he so into himself Carly Simon would've written a song about him. Chances are he paid no attention to lyrics and just heard there was a song about a guy named Jesse and just assumed he was that Jesse. Just like how I thought Meredith Brooks' song B!tch was about me! It is, isn't it?
You can see Jesse Spencer back on the small screen in Chicago Fire starting on NBC tonight at 10p.
---
Lisa Edelstein's body is still in the House
July 2nd, 2012 under Lisa Edelstein/Hugh Laurie/House. [ Comments:

4

]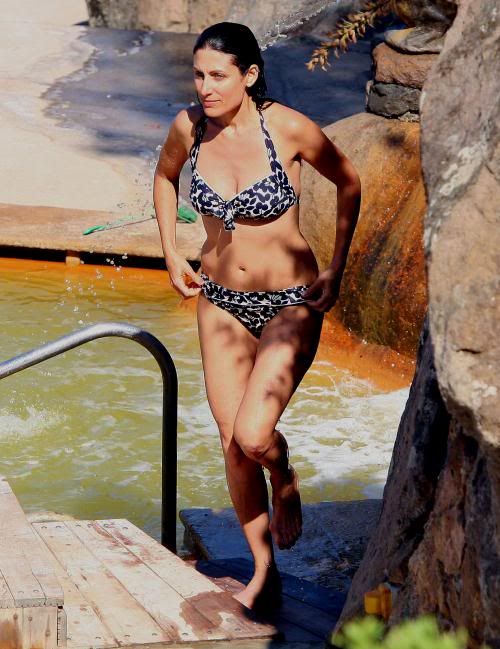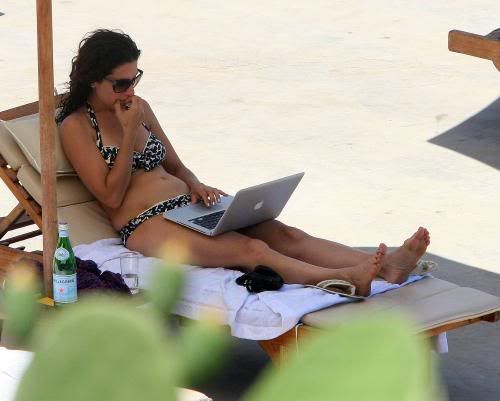 Fame Flynet
Lisa Edelstein is on vacation in Panarea, Italy and Cuddy wore a bathing suit that would make House's leg feel better. So much so he wouldn't need a cane because his third leg work as one.
Seriously how amazing does the 45 year old look in that two piece? Who knew she had that body under those business suits?
---
BTWF roles: Robert Sean Leonard in The Manhattan Project
May 14th, 2012 under Before They Were Famous, Lisa Edelstein/Hugh Laurie/House. [ Comments:

1

]

Before Robert Sean Leonard was playing pranks on House, he was doing them in The Manhattan Project. How awwwdorable was the 15 year old in that 1986 movie.
---
Wilson's fate is decided on tonight's House
May 14th, 2012 under Lisa Edelstein/Hugh Laurie/House. [ Comments:

none

]

Tonight at 9p is the second to last episode of House on Fox and it is one of the most powerful ones yet. You could tell in House's eyes last week that Wilson's tumor did not shrink and tonight we find out what he is going to do about it. The oncologist will decide not to go through with treatment and House will do everything he can to make him change his mind. What he does will leave you laughing and crying and laughing again.
Everyone else is fearing how House will react when he will eventually lose his friend and they are trying different things to keep him sane. But no matter how hard they try only one person can do that and his time is running out.
There will be a moment where everything will be made clear and then something will happen that changes everything. It will leave you speechless and upset that this great show only has one more episode left. It might sound like I told you too much, but I didn't even touch the surface of this heart-wrenching amazing episode.
---
Not a good look for Olivia Wilde
May 3rd, 2012 under Lisa Edelstein/Hugh Laurie/House. [ Comments:

2

]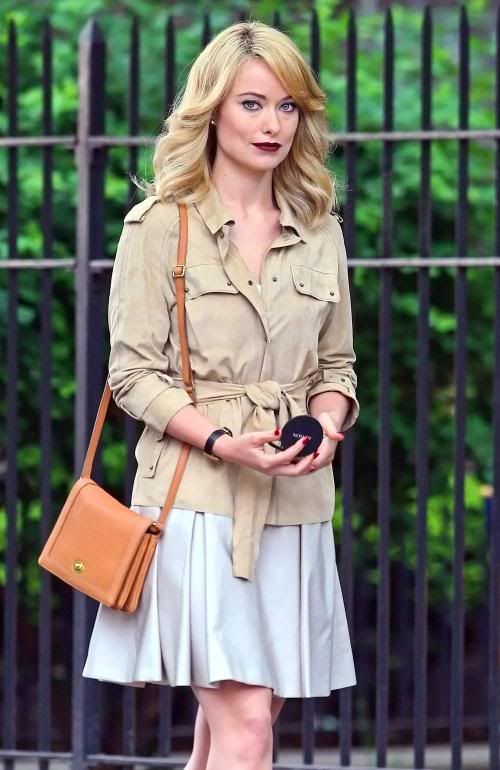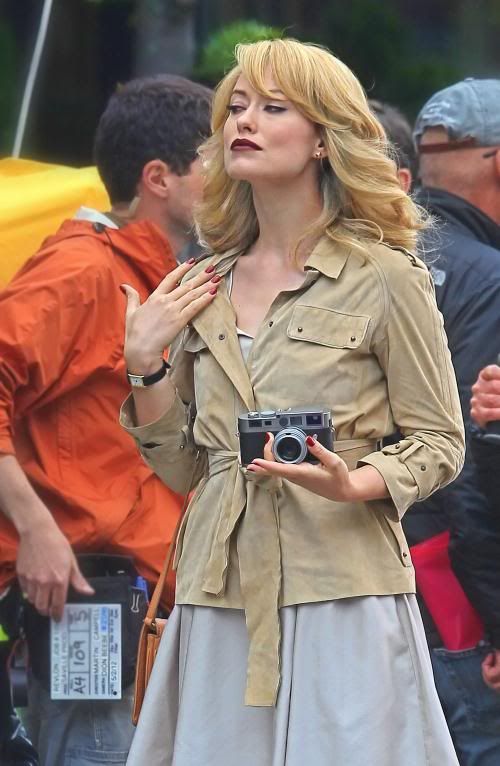 Fame Flynet Pictures
Olivia Wilde is normally stunning, but yesterday when she was shooting a Revlon commercial I don't she looked as good. The brunette just isn't as gorgeous with a blonde '70s do. Hopefully as soon as the movie she is shooting that forced her to get this new look is done, she will go back to be being brown.
---
House is retiring in May
February 8th, 2012 under Lisa Edelstein/Hugh Laurie/House. [ Comments:

none

]

After much speculation that this would be the last season for House, Fox announced today that in fact it will be.
Hugh Laurie, David Shore and Katie Jacobs issued the below statement explaining why they are ending the show after eight years.
After much deliberation, the producers of House M.D. have decided that this season of the show, the 8th, should be the last. By April this year they will have completed 177 episodes, which is about 175 more than anyone expected back in 2004.
The decision to end the show now, or ever, is a painful one, as it risks putting asunder hundreds of close friendships that have developed over the last eight years – but also because the show itself has been a source of great pride to everyone involved.
Since it began, House has aspired to offer a coherent and satisfying world in which everlasting human questions of ethics and emotion, logic and truth, could be examined, played out, and occasionally answered. This sounds like fancy talk, but it really isn't. House has, in its time, intrigued audiences around the world in vast numbers, and has shown that there is a strong appetite for television drama that relies on more than prettiness or gun play.
But now that time is drawing to a close. The producers have always imagined House as an enigmatic creature; he should never be the last one to leave the party. How much better to disappear before the music stops, while there is still some promise and mystique in the air.
The producers can never sufficiently express their gratitude to the hundreds of dedicated artists and technicians who have given so generously of their energy and talent to make House the show it has been – and perhaps will continue to be for some time, on one cable network or another.
The makers of House would also like to thank Fox Broadcasting and Universal Television for supporting the show with patience, imagination and large quantities of good taste. The Studio-As-Evil-Adversary is one of the many clichés that House has managed to avoid, and for that the cast and crew are deeply grateful.
Lastly, the audience: some have come and some have gone, obviously. This is to be expected in the life of any show. But over the course of the last eight years, the producers of House have felt immensely honored to be the subject of such close attention by an intelligent, discriminating, humane and thoughtful – not to mention numerous – audience. Even the show's detractors have been flattering in their way. Making the show has felt like a lively and passionate discussion about as many different subjects as could possibly be raised in 177 hours. The devotion and generosity of our viewers has been marvelous to behold.
So, finally, everyone at House will bid farewell to the audience and to each other with more than a few tears, but also with a deep feeling of gratitude for the grand adventure they have been privileged to enjoy for the last eight years. If the show lives on somewhere, with somebody, as a fond memory, then that is a precious feat, of which we will always be proud.
Everybody Lies.
The President of Fox Broadcasting Company, Kevin Reilly issued this statement:
While it's with much regret, and a lump in our throats, we respect the decision Hugh, David and Katie have made. A true original, on the page and amazingly brought to life by Hugh Laurie, there is only one Dr. House. For eight seasons, the entire HOUSE team has given us – and fans around the world – some of the most compelling characters and affecting stories ever seen on television. They have been creatively tenacious and collaborative throughout this incredible run, and they are amongst the most superior talents in the business. For all the above, we wholeheartedly thank them, and the fans who have supported the show.
As sad as I am to see this show end, it feels like the right time. After watching Monday's episode it felt like they were setting up for the end, and now they know it will be. I have a feeling this show will have the proper ending unlike other shows that knew they were ending, ie. Lost and The Sopranos.
---