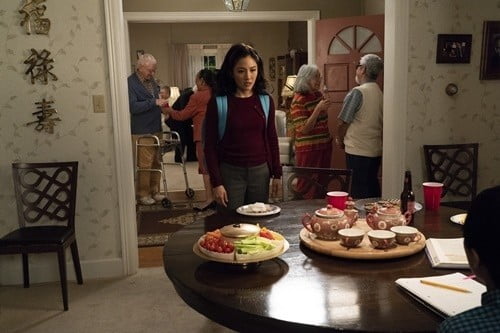 On Friday, when ABC announced that they were renewing Fresh Off the Boat, Constance Wu said it was not a good thing. Her tweets made her the most hated person. Even more so than Jussie Smollett. She tried to say by the show being picked up for another season, it meant that she could not do a role that was more challenging for her.
Ever since then, ABC has been radio silent, but today they had no choice but to respond to reporters on the Upfronts call. Karey Burke, president of ABC Entertainment, said, "There's been no thought to recasting Constance." Then she explained why "We love what she does on the show and we love the show. I did actually know that Constance had another opportunity that had Fresh Off the Boat not gone forward, she would've pursued. But we never really considered not bringing back Fresh Off the Boat. The show is just too strong for us and we love it."
Maybe since Wu has nothing to do during her hiatus, she will take some acting lessons. This way she won't play Jessica so one-dimensional. She is the weakest actor on the sitcom. She could learn a thing or two from her TV husband Randall Park who is one of the funniest guys on television.
BTW I am glad they are not recasting her. Maybe it will teach her lesson in humility. Tiffany Haddish, who we can agree is a much much much bigger star, signed on to do a remake of Kids Say the Darndest Things for ABC. All while still making movies people see. She knows what it means to be grateful for work.
---