Constance Wu worked as a stripper to prep for Hustlers
February 17th, 2020 under Constance Wu, Kelly Clarkson. [ Comments:

none

]

Constance Wu wanted to know how it felt to be a stripper before she played one in Hustlers, so she put on some tattoos and got a job as one. That means she worked the pole that hangs from the ceiling and the one that hangs between a man's legs. The actress told Kelly Clarkson that she did lapdances too. How much did she make? She made $600.
At least now, if she has a problem getting a job, because of how she handled Fresh Off the Boat's renewal, she knows that there is another career available to her.
---
Constance Wu reveals why she was so mad Fresh Off the Boat was renewed
December 30th, 2019 under Constance Wu. [ Comments:

none

]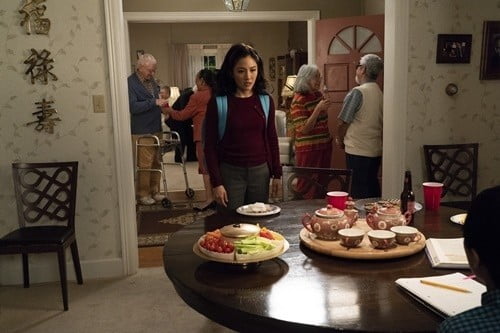 Constance Wu became a household name when her show Fresh Off the Boat was picked up for a fifth season. Not because she was crying happy tears that it was renewed, instead she was crying sad ones.
For 6 months, we wanted to understand why she was so upset about it, and now she revealed the real reason she did not want her sitcom to come back. She told Showbiz 411, "I know everyone hates me now, but I love Fresh off the Boat. I didn't mean anything against the people there. But I will tell you what happened. I was going to do a play in London. I had a boyfriend there, and was looking forward to being with him. But when the show was renewed, that killed the opportunity. And the relationship."
If he really loved her, he would have made it work. Guess even her performance in Hustlers was not enough to keep him warm until her schedule freed up for him. Then again, who saw that movie for Wu?
So now she has no play, no boyfriend and no sitcom. Hopefully, she learned the lesson to be grateful for what you have because it can all be taken away. And it was.
---
Constance Wu got a job outside of Fresh Off the Boat
June 24th, 2019 under Constance Wu. [ Comments:

none

]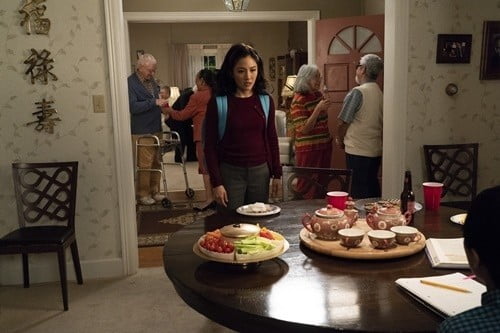 When Constance Wu found out that Fresh Off the Boat was picked up for a fifth season, she was literally crying. Not tears of joy, but she was mad because she had to turn down a job to continue on one that most actors, especially Asian ones, would dream of having.
You would think that would make her persona non grata in Hollywood, but I guess not. Variety is reporting she was cast in the film Goodbye Vitamin. The movie is about, "Ruth Young, who discovers that her father, a renowned history professor, has lost his job after being diagnosed with Alzheimer's. She decides to return home and work with her father's former student to stage a fake class so he can continue to teach."
I hope she finishes in time to film the ABC sitcom. I also hope the writers give her easy storylines for the sitcom that don't challenge her. Although, I do not think we will be able to tell the difference because she plays the role the same way no matter what they give her. Translation. she is so one note.
---
Ungrateful Constance Wu still has her TV job
May 14th, 2019 under ABC, Constance Wu. [ Comments:

none

]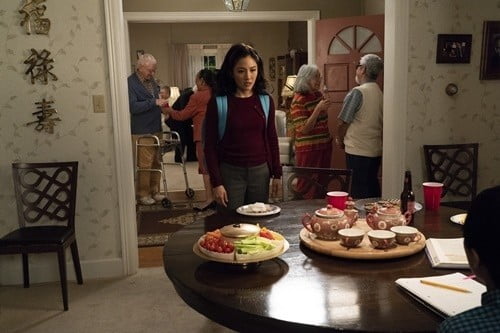 On Friday, when ABC announced that they were renewing Fresh Off the Boat, Constance Wu said it was not a good thing. Her tweets made her the most hated person. Even more so than Jussie Smollett. She tried to say by the show being picked up for another season, it meant that she could not do a role that was more challenging for her.
Ever since then, ABC has been radio silent, but today they had no choice but to respond to reporters on the Upfronts call. Karey Burke, president of ABC Entertainment, said, "There's been no thought to recasting Constance." Then she explained why "We love what she does on the show and we love the show. I did actually know that Constance had another opportunity that had Fresh Off the Boat not gone forward, she would've pursued. But we never really considered not bringing back Fresh Off the Boat. The show is just too strong for us and we love it."
Maybe since Wu has nothing to do during her hiatus, she will take some acting lessons. This way she won't play Jessica so one-dimensional. She is the weakest actor on the sitcom. She could learn a thing or two from her TV husband Randall Park who is one of the funniest guys on television.
BTW I am glad they are not recasting her. Maybe it will teach her lesson in humility. Tiffany Haddish, who we can agree is a much much much bigger star, signed on to do a remake of Kids Say the Darndest Things for ABC. All while still making movies people see. She knows what it means to be grateful for work.
---
Constance Wu is not happy Fresh Off the Boat was renewed
May 10th, 2019 under Constance Wu, Unadmirable People. [ Comments:

none

]

While several actors and crew members are sad today because their shows were cancelled, Constance Wu is sad because Fresh Off the Boat was picked up for another season.
After the news broke, she tweeted, "So upset right now that I'm literally crying. Ugh. F*ck," and "F*cking hell." Now, we do not know if she was talking about the renewal from those tweets. Then I checked her replies and she replied to someone who said it was great news by saying, "No it's not." Therefore, we know she is talking about her sitcom.
Which I think is so f*cked up on her part. She was nothing until this show. Yeah, she was one of the stars of Crazy Rich Asians, but she didn't get an Oscar nom and neither did the movie. She might have had more movies in the works, but she was never going to be a huge star and now she never will be.
Go tell Oliver Hudson, Vicki Lawrence, Micah Fowler and the others how you feel. They all lost their jobs and you still have one. You are the weakest one on the show and I hope they keep you on to f*ck with you, you ungrateful bitch.
UPDATE: Constance Wu later tweeted, "Todays tweets were on the heels of rough day&were ill timed w/the news of the show. Plz know, Im so grateful for FOTB renewal. I love the cast&crew. Im proud to be a part of it. For all the fans support, thank u & for all who support my casual use of the word f*ck-thank u too😘" Do you believe her? I do not. I think she got yelled at by a lot of people and this her trying to save face.
---