Surprise, Constance Wu had a baby over the summer
December 28th, 2020 under Constance Wu. [ Comments: none ]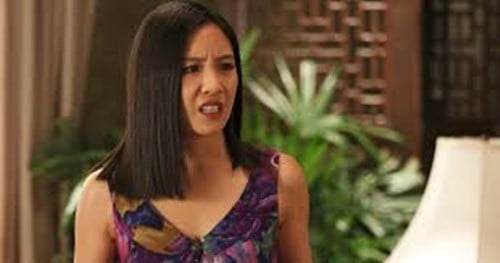 Constance Wu, 38, has been busy during the lockdown. Not with acting, but with her daughter that she secretly delivered over the summer. According to Eonline, the father is her boyfriend, Ryan Kattner, who is a member of the band Man Man. All of the other details are a secret, like her pregnancy.
Wu is not the only celebrity to secretly have a baby this year. She joins Jessica Biel and Justin Timberlake, Billie Lourd, Mindy Kailing, and Amanda Seyfried and Thomas Sadoski.

---
The perfect gift for your friends and family who refuse to wear a mask?
November 12th, 2020 under Constance Wu, Coronavirus. [ Comments: none ]

Let's be honest. We all have friends and family who won't wear a mask. Because of those COVIdiots, over 140,000 people tested positive for COVID-19 yesterday alone, and hospitalizations are skyrocketing. Do you wish they would just put on a f*cking mask and stop whining like Donald Trump?
Well, Conan O'Brien came up with the perfect solution. Tell them to get the new fake face mask. It is so realistic; you would think they were actually wearing a face covering. They are "not," but it looks like they are. I am sure they would be able to get served at Starbucks with that. The best part, it costs the same price as a cup of black java at the coffee franchise.
Why wait until Christmas to get them this gift, especially because the holiday is going to be canceled this year because of them and Trump.

---
Sammy Hagar clarifies that he's willing to die from COVID-19 to restart touring
June 26th, 2020 under Constance Wu, Coronavirus. [ Comments: none ]

The other day, Rolling Stone posted an article where they asked 13 legendary musicians, and Sammy Hagar are they willing to go back on the road before there is a vaccine for COVID-19. Hagar was the only one who said he would.
In fact, he said, "This is hard to say without stirring somebody up, but truthfully, I'd rather personally get sick and even die, if that's what it takes. We have to save the world and this country from this economic thing that's going to kill more people in the long run." Well, as you can expect, that did not go over well with people.
Today, he clarifed what he meant by that on social media:
Hey, Sammy here. Earlier in the week @rollingstone ran a compilation piece from their Quarantine Q&A series. I did that interview a month and a half ago, things change very fast right now, so I wanted to clarify and put a few things into context now.

I did that interview May 8th when we were already several weeks into the stay-at-home, which my family and I took very seriously, and things were starting to look up, the curve was beginning to flatten. So when I was asked if I'd be comfortable enough to get back onstage before a vaccine was out, I was cautiously optimistic. I said, "Yeah, not too soon. I want to make sure it's not escalating. When it's declining and seems to be going away." Big picture, it's about getting back to work in a safe and responsible way and getting this economy rolling again. I will do my part. I stand by that. I employ 200 people directly and when we tour even more. Like everything today, it's a watch and see over the next few months but we remain cautiously optimistic that with the right improvements and safety measures in place, we might be able to play shows this year. That said, as things change, for the better or worse, we will appropriately adjust our plans.
Do you believe that is what he meant or he is just trying to cover his a$$?
BTW I was just wondering. If Hagar didn't join Van Halen, would he be considered a one hit wonder?

---
Constance Wu worked as a stripper to prep for Hustlers
February 17th, 2020 under Constance Wu, Kelly Clarkson. [ Comments: none ]

Constance Wu wanted to know how it felt to be a stripper before she played one in Hustlers, so she put on some tattoos and got a job as one. That means she worked the pole that hangs from the ceiling and the one that hangs between a man's legs. The actress told Kelly Clarkson that she did lapdances too. How much did she make? She made $600.
At least now, if she has a problem getting a job, because of how she handled Fresh Off the Boat's renewal, she knows that there is another career available to her.

---
Constance Wu reveals why she was so mad Fresh Off the Boat was renewed
December 30th, 2019 under Constance Wu. [ Comments: none ]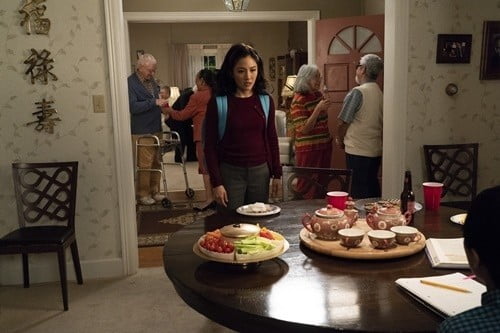 Constance Wu became a household name when her show Fresh Off the Boat was picked up for a fifth season. Not because she was crying happy tears that it was renewed, instead she was crying sad ones.
For 6 months, we wanted to understand why she was so upset about it, and now she revealed the real reason she did not want her sitcom to come back. She told Showbiz 411, "I know everyone hates me now, but I love Fresh off the Boat. I didn't mean anything against the people there. But I will tell you what happened. I was going to do a play in London. I had a boyfriend there, and was looking forward to being with him. But when the show was renewed, that killed the opportunity. And the relationship."
If he really loved her, he would have made it work. Guess even her performance in Hustlers was not enough to keep him warm until her schedule freed up for him. Then again, who saw that movie for Wu?
So now she has no play, no boyfriend and no sitcom. Hopefully, she learned the lesson to be grateful for what you have because it can all be taken away. And it was.

---