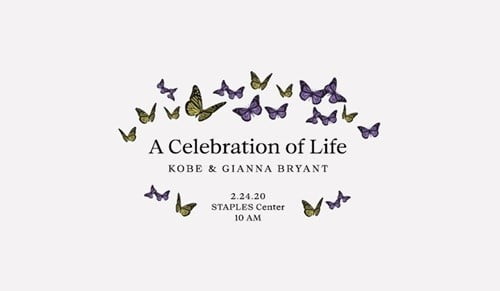 On January 26th, Kobe Bryant, his daughter, Gianna, and seven other people were killed in a helicopter accident. The world was devastasted over the news, no place more than Los Angeles and fans of his basketball team.
On February 24th, The LA Lakers will hold a memorial service at Staples Center, the home he built. Today, the NBA announced how people can get tickets for the event and how much they will cost.
From today until Monday, February 17th, at 10 pm PT fans may register to purchase tickets at https://verifiedfan.ticketmaster.com/kobeandgianna. Then on Tuesday, you will find out if you have been selected to purchase any of the available tickets.
How much do they cost? They are asking for $224 each, 2 for $224 and $24.02 each, and you will have to purchase them through Ticketmaster. All proceeds from the ticket sales will go to Mamba and Mambacita Sports Foundation.
The Lakers strongly encourage people not to go down to the Staples area on that day unless they have a verified ticket. In order to discourage a crowd, they said the service "will not be shown on any video screens or by any other means outside of STAPLES Center, including the L.A. LIVE video screens." There also will not be an overflow area to watch the event. It will be available to watch on your TVs at home or a sports bar.
When it comes to why everything is 2 and 24 related, the 2 is for Gianna's number and 24 for her father's.
I think it should be free like Michael Jackson's memorial service was. It was a great tribute to the singer and it was calm inside and outside of the arena.
---