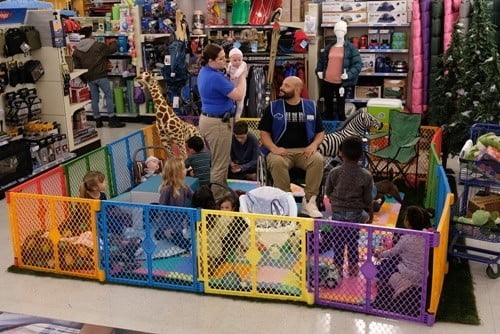 Superstore is finally back with new episodes tonight at 8p on NBC, and they have been stocking up the laughs.
The episode starts off with Amy (America Ferrera) and Cheyenne (Nichole Bloom) going to Cloud 9 Academy to see if they can become managers. Amy is overzealous and very intense about the class, and that causes a problem between the two friends. It gets so bad, it might cost Amy her dream of becoming a manager. Well, not as much of a dream, but a necessity for the new mom.
Talking about new moms, Dina (Lauren Ash) has not seen the baby she gave birth to since that day. When Glen (Mark McKinney) brings her into work, he asks Dina to look after her. Dina thinks she does not have feelings for the baby she was a surrogate to but turns out she does. In fact, she builds a safe place for the two of them in the store and it winds up becoming a makeshift nursery for the shoppers' kids. Now she and Garrett (Colton Dunn), the two people who should not be around kids, are surrounded by them. Will the children be safe?
Finally, Mateo (Nico Santos) is applying for asylum so he can stay in the country. Jonah (Ben Feldman) asks him what is his reason for applying and he does not have one. Therefore, they have to come up with something, so they decide he should be part of a controversial group. What do they come up with and how will they get their co-workers to sign up.
Like I said they have been stocking up on the humor and we just need to sit back and laugh.
---