[ # ] Sarah Hyland shows off her Olay skin!
May 28th, 2019 under Sarah Hyland, Taking a bath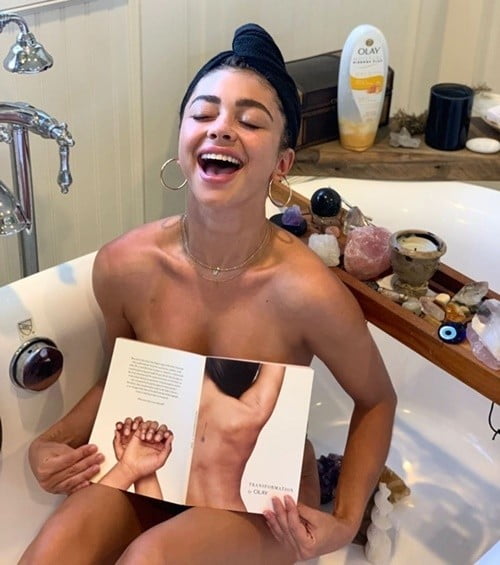 Sarah Hyland took the Olay Two Week Ribbons Body Wash Challenge and her skin changed drastically for the better. Her transformation was documented in a waterproof book, and she got a copy of it in the mail today. What did she do after she opened the package? The actress took a bath with the body wash and showed off her glowing skin. Forget Calgon, let Olay take me away!
Hyland talked about how the challenge changed more than her epidermis. She said, "This bath book captures my #SkinTransformed story and how amazing my skin looked after the #OlayBodyWashChallenge. It will be my daily reminder to pause and take time for myself even though I'm done with the challenge. The book celebrates owning skin transformation, not feeling guilty about fitting time in for yourself and also indulging in a one-of-a-kind bath with @Olay Ribbons."
How many of you are off to the store to try the challenge now?
---