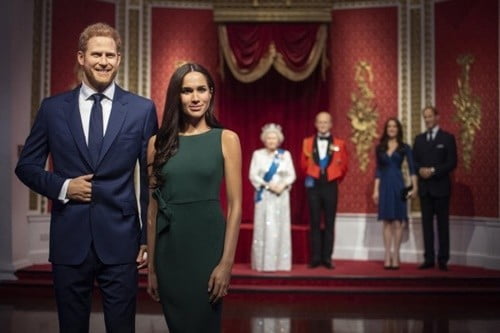 Yesterday, the Duke and Duchess of Sussex announced that they were stepping back from the Royal family, and today Madame Tussauds in London did the same with their wax figures. Meghan Markle and Prince Harry used to stand next to Prince Phillip and Queen Elizabeth, but not anymore. Instead, there is an empty space where they used to be.
Don't fear, their life-size candles will still be part of the museum. Steve Davies, General Manager of the branch told Metro, he does not know where their new home will be. However, he did reiterate that "they will, of course, remain an important feature at Madame Tussauds London."
Kind of like their real life. They said on their website that, "The Duke and Duchess of Sussex will continue to use Frogmore Cottage – with the permission of Her Majesty The Queen – as their official residence as they continue to support the monarchy, and so that their family will always have a place to call home in the United Kingdom."
Considering the rumor is that her grandson did not tell her that they were going to make the announcement before they did, the Queen can easily take it away from them. However, will she do that to grandson? Would anyone blame her if she did?

---